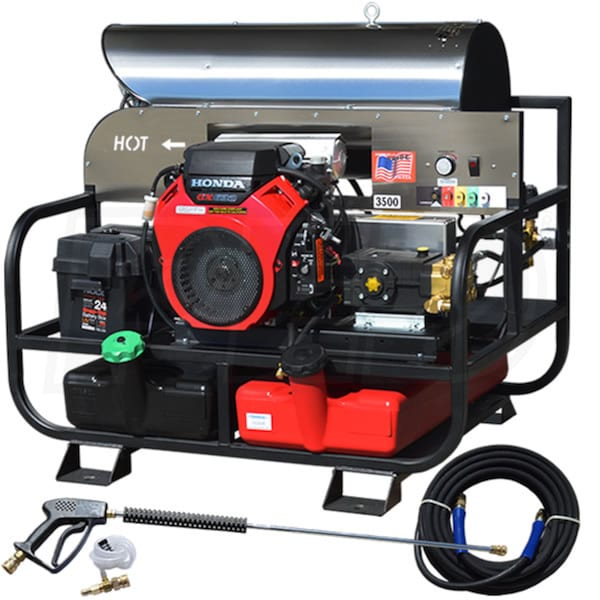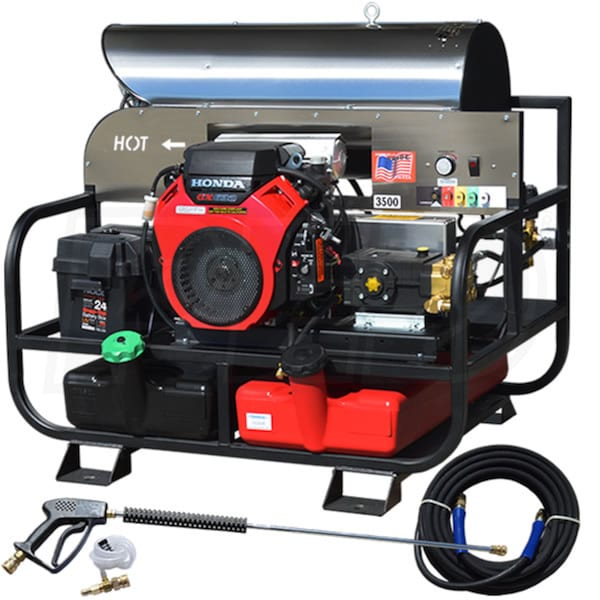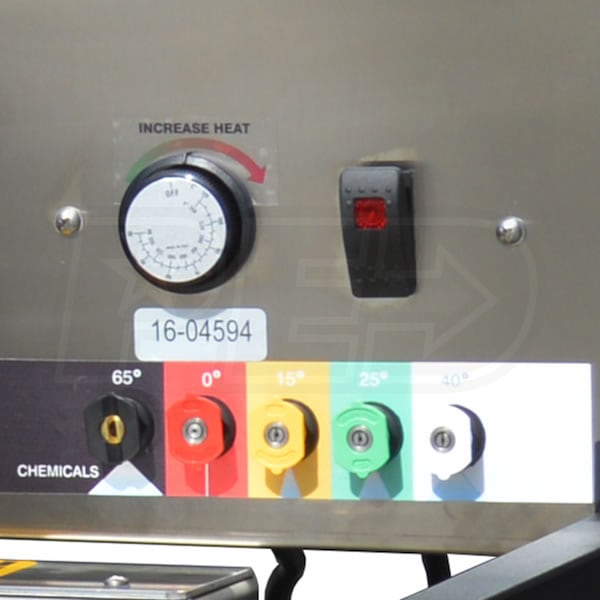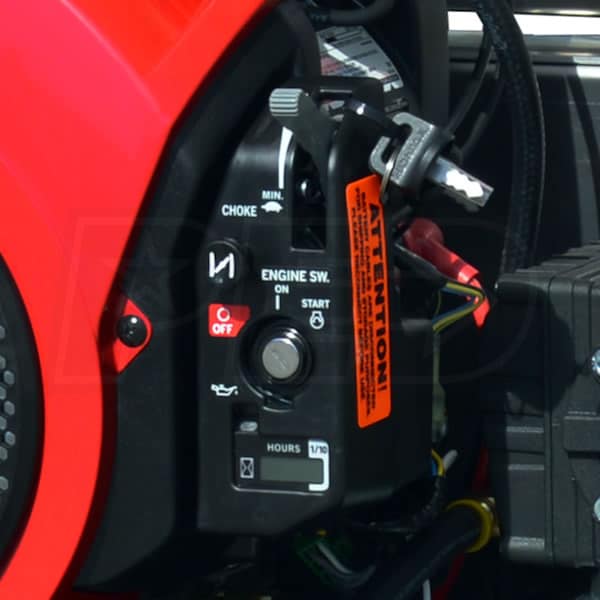 Hover to zoom
1 Of 5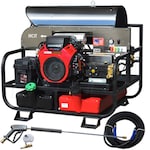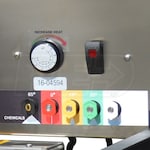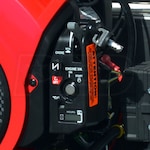 Pressure-Pro Professional 3500 PSI (Gas-Hot Water) Super Skid Belt-Drive Pressure Washer w/ Electric Start Honda GX 630 Engine
Product Description

Specs

Reviews

1

Product Q&A

Recommended Accessories

How-To Articles

Manuals
Features
Features
Water Tank Is Required - Will Not Work Properly With Water Hose
Skid Mounted Power For Industrial Use

5.5 gallons per minute gets large jobs done efficiently

Powerful 20 HP Honda GX630 Engine With Electric Start

Start with the turn of a key; no need to pull or cuss

Includes 12 volt battery and marine battery box

Triplex Plunger Pump by General Pump With V-Belt Drive

Long lasting; easy to maintain and rebuild

Adjustable pressure adds versatility

Schedule 80 Coil Diesel Burner With Stainless Coil Wrap

Adjustable thermostat to suit the task at hand

High limit overtemp protection and safety relief valve

Maximum temperature rise of 120 degrees

Dual Built In Fuel Tanks

Two convenient 9 gallon tanks: one for diesel, one for gas

Professional Quality Gun/Wand Assembly

5 quick connect nozzles: 0º, 15º, 25º, 40º, chemical application

50 feet of steel reinforced high pressure hose

Must Be Properly Vented If Used Indoors!
Manufacturer Limited Warranty

90-day accessories warranty

1-yr pump & 3-yr Vanguard consumer and commercial warranty
Specifications
Engine
Fuel Tank Size
2.25 Gallons
Consumer Engine Warranty
3 Years
Commercial Engine Warranty
3 Years
Pump
Pump Type
Triplex Plunger
Chemical Injection
Siphon Tube
Consumer Pump Warranty
1 Year
Commercial Pump Warranty
1 Year
Housing
Hose
Hose Material
Wire Reinforced
Hose Connections
Quick-Connect
Spray Gun
Spray Gun Connection
Quick-Connect
Spray Gun Grade
Professional
Spray Gun Wand
Single Wand
Spray Tips
Quick Connect Tips (5)
Turbo Nozzle
Sold Separately
Burner
Temperature Control
Adjustable
Overview
Consumer Warranty
90 Days
Commercial Warranty
90 Days
Features
Features
Water Tank Is Required - Will Not Work Properly With Water Hose
Skid Mounted Power For Industrial Use

5.5 gallons per minute gets large jobs done efficiently

Powerful 20 HP Honda GX630 Engine With Electric Start

Start with the turn of a key; no need to pull or cuss

Includes 12 volt battery and marine battery box

Triplex Plunger Pump by General Pump With V-Belt Drive

Long lasting; easy to maintain and rebuild

Adjustable pressure adds versatility

Schedule 80 Coil Diesel Burner With Stainless Coil Wrap

Adjustable thermostat to suit the task at hand

High limit overtemp protection and safety relief valve

Maximum temperature rise of 120 degrees

Dual Built In Fuel Tanks

Two convenient 9 gallon tanks: one for diesel, one for gas

Professional Quality Gun/Wand Assembly

5 quick connect nozzles: 0º, 15º, 25º, 40º, chemical application

50 feet of steel reinforced high pressure hose

Must Be Properly Vented If Used Indoors!
Manufacturer Limited Warranty

90-day accessories warranty

1-yr pump & 3-yr Vanguard consumer and commercial warranty
Specifications
Engine
Fuel Tank Size
2.25 Gallons
Consumer Engine Warranty
3 Years
Commercial Engine Warranty
3 Years
Pump
Pump Type
Triplex Plunger
Chemical Injection
Siphon Tube
Consumer Pump Warranty
1 Year
Commercial Pump Warranty
1 Year
Housing
Hose
Hose Material
Wire Reinforced
Hose Connections
Quick-Connect
Spray Gun
Spray Gun Connection
Quick-Connect
Spray Gun Grade
Professional
Spray Gun Wand
Single Wand
Spray Tips
Quick Connect Tips (5)
Turbo Nozzle
Sold Separately
Burner
Temperature Control
Adjustable
Overview
Consumer Warranty
90 Days
Commercial Warranty
90 Days
Specifications
Engine
Fuel Tank Size
2.25 Gallons
Consumer Engine Warranty
3 Years
Commercial Engine Warranty
3 Years
Pump
Pump Type
Triplex Plunger
Chemical Injection
Siphon Tube
Consumer Pump Warranty
1 Year
Commercial Pump Warranty
1 Year
Housing
Hose
Hose Material
Wire Reinforced
Hose Connections
Quick-Connect
Spray Gun
Spray Gun Connection
Quick-Connect
Spray Gun Grade
Professional
Spray Gun Wand
Single Wand
Spray Tips
Quick Connect Tips (5)
Turbo Nozzle
Sold Separately
Burner
Temperature Control
Adjustable
Overview
Consumer Warranty
90 Days
Commercial Warranty
90 Days
Be the First to Write a Review
Do you own this product?
Please share your insights with fellow shoppers.
Search Product Q&A's
Answered by Jim. the Pressure Washer Expert
Can you only run one wand off this psi washer?
Bobby
from Oklahoma
May 13, 2011
Answer
You would be able to set up another wand on this unit, you will just be pulling only half the pressure. Pretty much all the pressure washers we carry are set up for one connection, but you could put a 'Y' in this unit to use to guns.

Thanks,

Pressure Washers Direct
Was this answer helpful?
Yes
0
No
0
Expert Recommended Accessories
Hand Picked By Our Expert Jim
Required Accessories
Add All Required
+
Ask Jim, Our Product Expert, A Question!
*Required Fields
+
Thank You For Submitting Your Question
Your submission has been sent successfully. Please give our experts up to two business days to respond.
Media Gallery
Pressure-Pro Professional 3500 PSI (Gas-Hot Water) Super Skid Belt-Drive Pressure Washer w/ Electric Start Honda GX 630 Engine