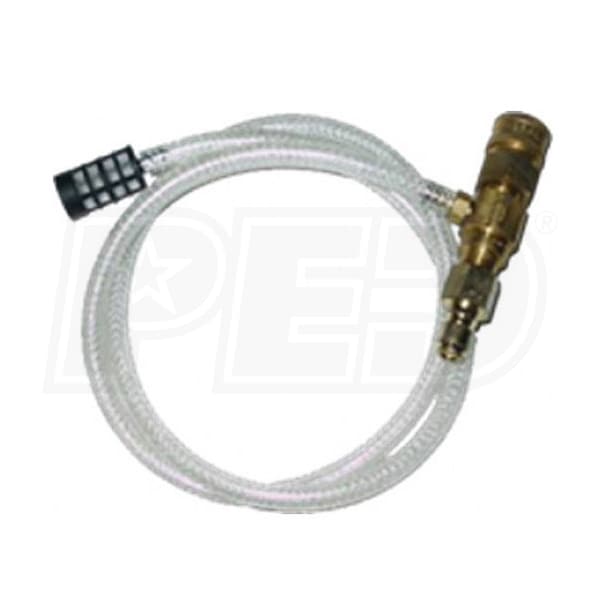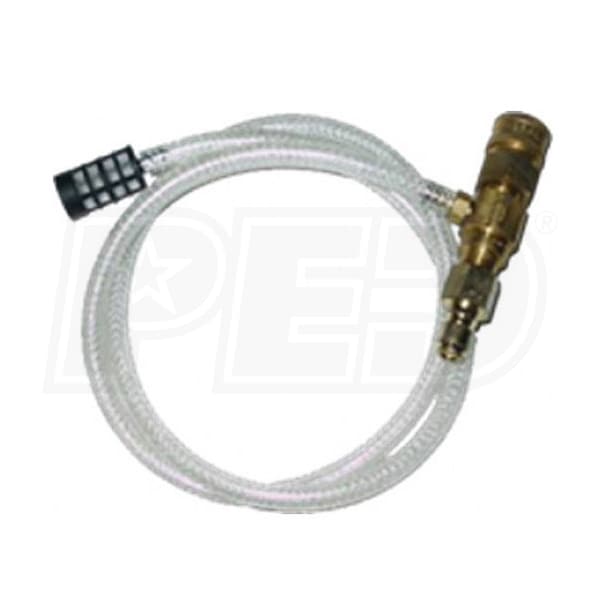 Hover to zoom
1 Of 5
Pressure-Pro Low Pressure 4000 PSI Chemical Suction Injector
Product Description

Specs

11

Reviews

9

Product Q&A

Recommended Accessories

How-To Articles
Grade
Style

Inflow
3/8" Snap Coupler (Female)
Outflow
3/8" Snap Coupler (Male)
Inflow
3/8" Snap Coupler (Female)
Outflow
3/8" Snap Coupler (Male)
Features
Features
Apply Soap At Low Pressure

Increase your pressure washer's effectiveness

Spray soap with a black spray tip

Chemical Does Not Run Through The Pump

Allows for a wider choice of chemicals

Heavy Duty Construction

Durable and long lasting

Includes 4 feet of hose with strainer

Quick Connect To Your Pump

Connect after pump, before 3/8" high pressure hose

Easy to snap on, snap off

4000 PSI maximum at 3-5 GPM

Fixed 80 / 20 dilution ratio
Specifications
Spray Gun
Spray Gun Connection
Quick-Connect
Pump
Chemical Injection
Down-Stream
Accessories
Inflow
3/8" Snap Coupler (Female)
Outflow
3/8" Snap Coupler (Male)
Minimum GPM
Gallon per Minute
2
Maximum GPM
Gallon per Minute
5
Overview
Consumer Warranty
90 Days
Additional Model Numbers
ACI005, AC1005
Grade
Style

Inflow
3/8" Snap Coupler (Female)
Outflow
3/8" Snap Coupler (Male)
Inflow
3/8" Snap Coupler (Female)
Outflow
3/8" Snap Coupler (Male)
Features
Features
Apply Soap At Low Pressure

Increase your pressure washer's effectiveness

Spray soap with a black spray tip

Chemical Does Not Run Through The Pump

Allows for a wider choice of chemicals

Heavy Duty Construction

Durable and long lasting

Includes 4 feet of hose with strainer

Quick Connect To Your Pump

Connect after pump, before 3/8" high pressure hose

Easy to snap on, snap off

4000 PSI maximum at 3-5 GPM

Fixed 80 / 20 dilution ratio
Specifications
Spray Gun
Spray Gun Connection
Quick-Connect
Pump
Chemical Injection
Down-Stream
Accessories
Inflow
3/8" Snap Coupler (Female)
Outflow
3/8" Snap Coupler (Male)
Minimum GPM
Gallon per Minute
2
Maximum GPM
Gallon per Minute
5
Overview
Consumer Warranty
90 Days
Additional Model Numbers
ACI005, AC1005
Specifications
Spray Gun
Spray Gun Connection
Quick-Connect
Pump
Chemical Injection
Down-Stream
Accessories
Inflow
3/8" Snap Coupler (Female)
Outflow
3/8" Snap Coupler (Male)
Minimum GPM
Gallon per Minute
2
Maximum GPM
Gallon per Minute
5
Overview
Consumer Warranty
90 Days
Additional Model Numbers
ACI005, AC1005
Search Product Q&A's
Answered by Jim. the Pressure Washer Expert
What pressure washer does this work with? I'm looking at a karcher k3 follow me since it was a pump. Couple questions. 1. Does this siphon hose work well? Looks like it has good reviews. 2. Will this work with the k3 follow me? If so do you recommend this PW? 3. Any other pressure washer that can work with a suction hose? I need to pull from a still water source. Thinking of reliance hydroller. Thanks
Patrick
from New Jersey
July 10, 2016
Answer
This is meant to attach to a spray wand that has a female quick connector on the end- so it won't work with the Karcher K3. The filter end goes into a chemical container, and the flow of water picks up the chemical, mixes with it and sprays the mix out through the tip.
Karcher is one of the few brands that will pull from a still water source,
Kranzle
is another if you're looking for a high-quality unit. This
Yard Force
unit has it's own water bucket and is handy off-road. You will see them described as "self priming".
This is the Karcher
Suction Hose
. The video is very informative.
The
K3 Follow Me
is a good unit for around the house or boat- washing a car or two; cleaning a small to medium size patio, washing off lawn furniture. It's not the best choice for big jobs like cleaning the siding on a large house.
Please remember that the self-priming action depends on a siphon- so you either need gravity from the bottom of a tank (as shown in the video), or if you're trying to pull from a lake you may need to start the siphon by sucking on the hose to get the water started, then adjusting the level of the pressure washer to keep the water flowing.
Neither the Karcher nor the Kranzle unit will "pull" water very far- the closer you can get to the water source the better it will work. If you lose the siphon action, running dry will ruin the Karcher pump, but the Kranzle pump will be fine.
I'm sorry, but I'm not familiar with Reliance pressure washers; we don't sell them.
I hope I've been able to help!
Was this answer helpful?
Yes
0
No
0
Does 20%fixed dillution mean 20:1 if not please explain
Michael Chace
from Massachusetts
July 07, 2016
Answer
20% is easier to understand in terms of 5 parts water 1 part detergent solution.
Was this answer helpful?
Yes
1
No
0
Quick connect is what size for male and female
Marty Vodicka
from Missouri
July 05, 2016
Answer
This is for in between the pump and high pressure hose so quick connect fittings will be 3/8".
Was this answer helpful?
Yes
0
No
0
I am looking to purchase a 3400 psi 2.5 gpm powerwasher. My old one quit. It would not supply chemical very far due to the low pressure on the chemical application side. Is there a chemical applicator that will go on the high side, on the output of the pump, so that I can reach those 2nd story walls? I noticed that this one is recommended for 3-5gpm. Will this one work on a 2.5gpm?
Robert
from Georgia
August 11, 2015
Answer
This is not what you would be looking for for your application. This is a low pressure chemical injector as well. I have included two links for you, for your options for high pressure soap. These will both attach to the end of the lance where the colored spray tips usually go. This will also allow you a wider choice in chemicals as nothing will be running through your pressure washer equipment.
Soap Shooter
Foamer
Was this answer helpful?
Yes
0
No
0
Does this attach to the end of the hose or directly to the discharge side of the pump?
Scott Haviland
from New York
May 19, 2015
Answer
It uses quick connect fitting and will go in between your high pressure hose and pressure washer pump.
Was this answer helpful?
Yes
0
No
0
What are the main advantages to having a high pressure chemical injector vs. low pressure. Is it just the dilution ratio? I have a Maxus 2500psi pressure washer are there any high pressure injectors that I can attach to the output of the pump?
Scott Haviland
from New York
May 17, 2015
Answer
Low pressure ensures the detergent sticks to the surface but the stream is usually not very far vs. high pressure which can just bounce off. However, high pressure would be fine for far away applications such as a second story you would need the extra power to reach the detergent to those locations.
Was this answer helpful?
Yes
0
No
0
How do you use the Injector. I am not getting any suction.
Franklin Sardina
from Florida
March 12, 2015
Answer
The black spray tip needs to be on the end of the lance in order for it to tell the pressure washer you want to siphon the detergent. Also, make sure you have opened the black mesh screen on the end that goes into detergent. If those two things do not solve your problem, please give Pressure Pro a call for additional troubleshooting at (772) 461-4486
Was this answer helpful?
Yes
0
No
0
What is the minimum water flow required for this to siphon?
James
from Florida
June 02, 2014
Answer
This only works properly when used with 3-5 GPM.
Was this answer helpful?
Yes
0
No
0
I'm looking for a downstream low pressure injector with a ceramic ball thet is OK for chlorine bleach.Do you know of any?? Thanks.
Ralph Fowler
from Louisiana
April 02, 2011
Answer
You could absolutely use this chemical injector for your task, however, you will have to worry about the chlorine bleach drying out your hose and gun o-rings. This injector attaches to the discharge outlet on your pump, then your hose connects to it.
We carry a high pressure soap injector that can be attached at the end of the wand which would prevent any damage to your hose and gun. I'm posting a link below to the product I am referring to for you to look at:
General Pump Soap Shooter Nozzle
Was this answer helpful?
Yes
0
No
0
Expert Recommended Accessories
Hand Picked By Our Expert Jim
Required Accessories
Add All Required
+
Ask Jim, Our Product Expert, A Question!
*Required Fields
+
Thank You For Submitting Your Question
Your submission has been sent successfully. Please give our experts up to two business days to respond.
Media Gallery
Pressure-Pro Low Pressure 4000 PSI Chemical Suction Injector