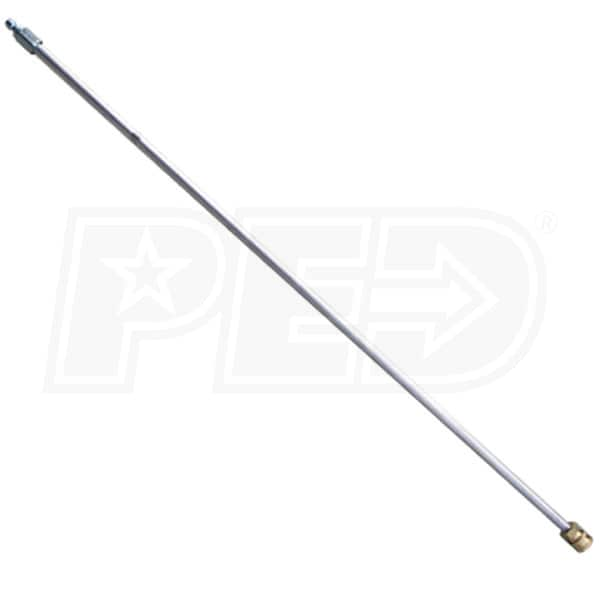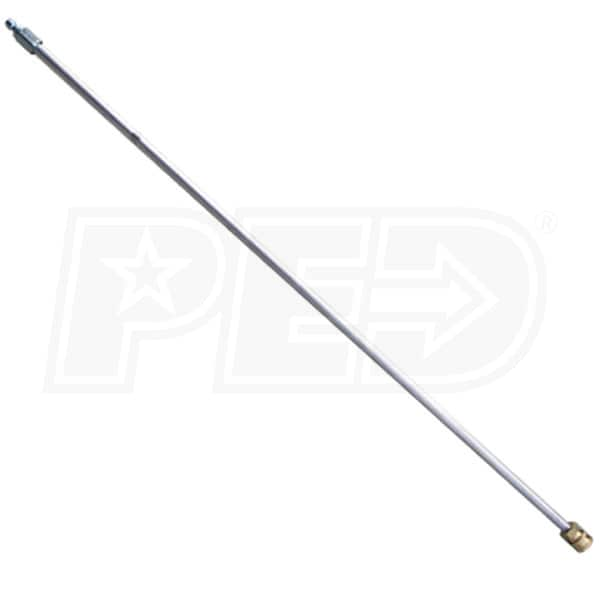 Hover to zoom
1 Of 5
Pressure-Pro 36-Inch Aluminum Extension Lance w/ Quick Connects & Wand Saver (Hot / Cold Water)
Product Description

Specs

8

Reviews

1

Product Q&A

Recommended Accessories

How-To Articles
Grade
Style

Inflow
1/4" Snap Coupler (Male)
Outflow
1/4" Snap Coupler (Female)
Inflow
1/4" Snap Coupler (Male)
Outflow
1/4" Snap Coupler (Female)
Features
Features
Aluminum Extension Lance For Your Pressure Washer

Adds 36 inches to your spray wand's reach

Wand Saver On Plug End

Makes your extension lance more durable

Great for surface cleaners, cleaning brushes, & nozzles

Works With Hot & Cold Water Spray Wands

Rated up to 4060 PSI & 10 GPM; 302° F maximum

Light weight & economical

Quick Connectors On Both Ends

Male quick connect attaches to spray wand coupler

Female quick connect accepts standard nozzles & accessories

Quality Construction

General Pump quick-connectors on each end

GP QC D10001 socket & ST2F2-S-E Wand Saver plug
Specifications
Accessories
Accessory Grade
Professional
Inflow
1/4" Snap Coupler (Male)
Outflow
1/4" Snap Coupler (Female)
Minimum GPM
Gallon per Minute
1
Maximum GPM
Gallon per Minute
10.5
Extension Length
36 Inches
Overview
Consumer Warranty
30 Days
Commercial Warranty
30 Days
Grade
Style

Inflow
1/4" Snap Coupler (Male)
Outflow
1/4" Snap Coupler (Female)
Inflow
1/4" Snap Coupler (Male)
Outflow
1/4" Snap Coupler (Female)
Features
Features
Aluminum Extension Lance For Your Pressure Washer

Adds 36 inches to your spray wand's reach

Wand Saver On Plug End

Makes your extension lance more durable

Great for surface cleaners, cleaning brushes, & nozzles

Works With Hot & Cold Water Spray Wands

Rated up to 4060 PSI & 10 GPM; 302° F maximum

Light weight & economical

Quick Connectors On Both Ends

Male quick connect attaches to spray wand coupler

Female quick connect accepts standard nozzles & accessories

Quality Construction

General Pump quick-connectors on each end

GP QC D10001 socket & ST2F2-S-E Wand Saver plug
Specifications
Accessories
Accessory Grade
Professional
Inflow
1/4" Snap Coupler (Male)
Outflow
1/4" Snap Coupler (Female)
Minimum GPM
Gallon per Minute
1
Maximum GPM
Gallon per Minute
10.5
Extension Length
36 Inches
Overview
Consumer Warranty
30 Days
Commercial Warranty
30 Days
Specifications
Accessories
Accessory Grade
Professional
Inflow
1/4" Snap Coupler (Male)
Outflow
1/4" Snap Coupler (Female)
Minimum GPM
Gallon per Minute
1
Maximum GPM
Gallon per Minute
10.5
Extension Length
36 Inches
Overview
Consumer Warranty
30 Days
Commercial Warranty
30 Days
Search Product Q&A's
Answered by Jim. the Pressure Washer Expert
Will this extension accept the standard 1/4 power washer tips that have a 3/4 inch shank.
Gordon Davis
from Michigan
June 02, 2016
Answer
Gordon,

Yes, this attaches to the end of the wand where your colored spray tips attach. Then your standard tips will fit at the end of this extension wand. Any additional questions, don't hesitate to ask.
Was this answer helpful?
Yes
0
No
0
Expert Recommended Accessories
Hand Picked By Our Expert Jim
Required Accessories
Add All Required
+
Ask Jim, Our Product Expert, A Question!
*Required Fields
+
Thank You For Submitting Your Question
Your submission has been sent successfully. Please give our experts up to two business days to respond.
Media Gallery
Pressure-Pro 36-Inch Aluminum Extension Lance w/ Quick Connects & Wand Saver (Hot / Cold Water)