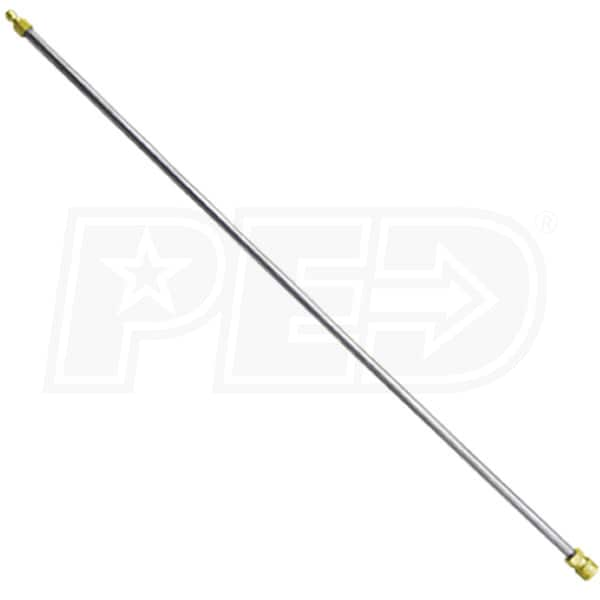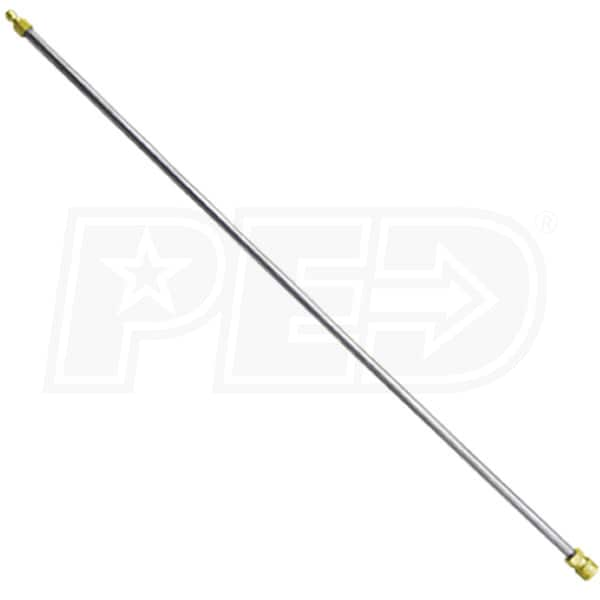 Hover to zoom
1 Of 5
Pressure-Pro 84-Inch Aluminum Extension Lance w/ Quick Connects (Hot / Cold Water)
Product Description

Specs

58

Reviews

1

Product Q&A

Recommended Accessories

How-To Articles
Grade
Style

Inflow
1/4" Snap Coupler (Male)
Outflow
1/4" Snap Coupler (Female)
Inflow
1/4" Snap Coupler (Male)
Outflow
1/4" Snap Coupler (Female)
Features
Features
Aluminum Extension Lance For Your Pressure Washer

Adds 84 inches to your spray wand's reach

Great for surface cleaners, cleaning brushes, & nozzles

Works With Hot & Cold Water Spray Wands

Rated up to 4060 PSI & 10.5 GPM; 302° F maximum

Light weight & economical

Quick Connectors On Both Ends

Male quick connect attaches to spray wand coupler

Female quick connect accepts standard nozzles & accessories

Quality Construction

General Pump quick-connectors on each end

GP QC D10001 socket & G10006 plug installed
Specifications
Accessories
Accessory Grade
Professional
Inflow
1/4" Snap Coupler (Male)
Outflow
1/4" Snap Coupler (Female)
Minimum GPM
Gallon per Minute
1
Maximum GPM
Gallon per Minute
10.5
Extension Length
84 Inches
Overview
Consumer Warranty
30 Days
Commercial Warranty
30 Days
Grade
Style

Inflow
1/4" Snap Coupler (Male)
Outflow
1/4" Snap Coupler (Female)
Inflow
1/4" Snap Coupler (Male)
Outflow
1/4" Snap Coupler (Female)
Features
Features
Aluminum Extension Lance For Your Pressure Washer

Adds 84 inches to your spray wand's reach

Great for surface cleaners, cleaning brushes, & nozzles

Works With Hot & Cold Water Spray Wands

Rated up to 4060 PSI & 10.5 GPM; 302° F maximum

Light weight & economical

Quick Connectors On Both Ends

Male quick connect attaches to spray wand coupler

Female quick connect accepts standard nozzles & accessories

Quality Construction

General Pump quick-connectors on each end

GP QC D10001 socket & G10006 plug installed
Specifications
Accessories
Accessory Grade
Professional
Inflow
1/4" Snap Coupler (Male)
Outflow
1/4" Snap Coupler (Female)
Minimum GPM
Gallon per Minute
1
Maximum GPM
Gallon per Minute
10.5
Extension Length
84 Inches
Overview
Consumer Warranty
30 Days
Commercial Warranty
30 Days
Specifications
Accessories
Accessory Grade
Professional
Inflow
1/4" Snap Coupler (Male)
Outflow
1/4" Snap Coupler (Female)
Minimum GPM
Gallon per Minute
1
Maximum GPM
Gallon per Minute
10.5
Extension Length
84 Inches
Overview
Consumer Warranty
30 Days
Commercial Warranty
30 Days
Search Product Q&A's
Answered by Jim. the Pressure Washer Expert
I have a Honda GCV 160, 3,000 psi pressure washer. I need a 7-8 foot extension to get to the upper level on my house. Will this wand fit my machine and get the job done for me? Also, do you a an end fitting for an extension that adjusts to an angle to do these higher levels?
Ed ODonnell
from South Carolina
July 12, 2016
Answer
If your pressure washer has a quick connector on the end of your wand, this wand will fit (most do).
The only angled lance we carry is
AR M22 30" Angled Spray Wand
. It's mostly used to clean under cars & equipment, and you would have to have an M22 connector between your spray gun and wand to use it.
You might also want to consider a
2nd Story Soap & Rinse Nozzle Kit
.
Was this answer helpful?
Yes
0
No
0
Expert Recommended Accessories
Hand Picked By Our Expert Jim
Required Accessories
Add All Required
+
Ask Jim, Our Product Expert, A Question!
*Required Fields
+
Thank You For Submitting Your Question
Your submission has been sent successfully. Please give our experts up to two business days to respond.
Media Gallery
Pressure-Pro 84-Inch Aluminum Extension Lance w/ Quick Connects (Hot / Cold Water)