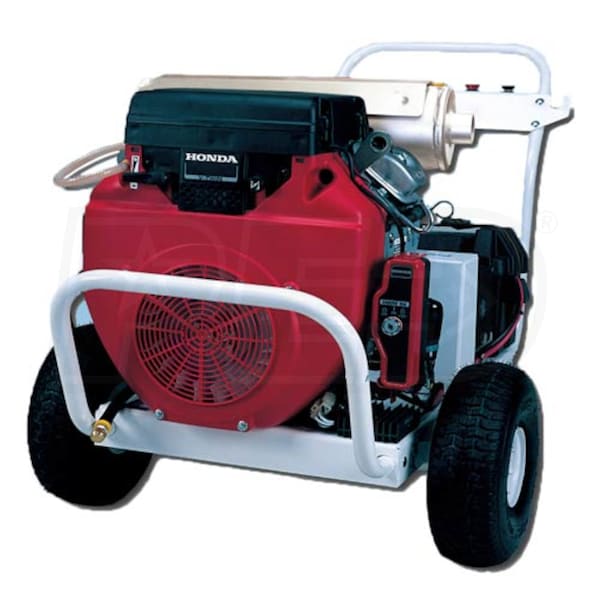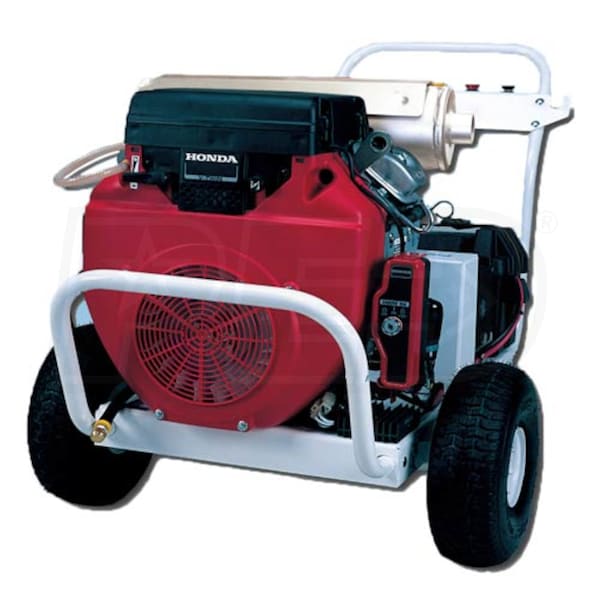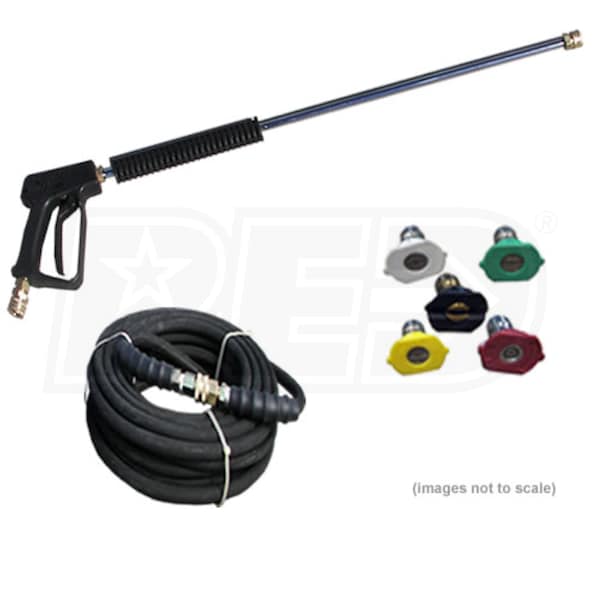 Hover to zoom
1 Of 5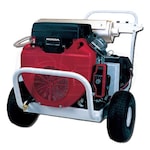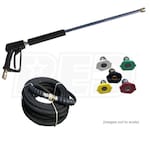 Pressure-Pro Professional 6000 PSI (Gas-Cold Water) Polychain Belt-Drive Aluminum Frame Pressure Washer w/ Honda GX Engine
Product Description

Specs

Reviews

3

Product Q&A

Recommended Accessories

How-To Articles

Manuals
Features
Features
Water Tank Is Recommended - Will Not Work Properly With Water Hose Due to High GPM Rating
Pump Powered By Durable Gates Polychain Cogged Belt

10,000 hour rated; 2 year belt warranty

Powerful 24 HP Honda GX Engine With Electric Start

World class Honda reliablility & a 3 year warranty

Includes battery & marine grade battery box

Revolutionary Aircraft Grade, Powdercoated Aluminum Frame

Light weight with no welds to crack or fail

Easy access tip, gun & hose holders built onto handle

Lifetime frame warranty

General Triplex Plunger Pump

Ceramic components run cooler, last longer

Easy to maintain and rebuild; includes a 5 year warranty

Thermo Sensor

Prevents overheating in bypass mode

Low oil shutdown protects the engine and pump

Professional Quality Gun/Wand Assembly

5 quick connect nozzles: 0º, 15º, 25º, 40º, chemical application

50 feet of steel reinforced high pressure hose
Specifications
Engine
Consumer Engine Warranty
3 Years
Commercial Engine Warranty
3 Years
Pump
Pump Type
Triplex Plunger
Consumer Pump Warranty
5 Years
Commercial Pump Warranty
5 Years
Housing
Hose
Hose Material
Wire Reinforced
Hose Connections
Quick-Connect
Spray Gun
Spray Gun Connection
Quick-Connect
Spray Gun Grade
Professional
Spray Gun Wand
Single Wand
Spray Tips
Quick Connect Tips (5)
Turbo Nozzle
Sold Separately
Overview
Consumer Warranty
90 Days
Commercial Warranty
90 Days
Features
Features
Water Tank Is Recommended - Will Not Work Properly With Water Hose Due to High GPM Rating
Pump Powered By Durable Gates Polychain Cogged Belt

10,000 hour rated; 2 year belt warranty

Powerful 24 HP Honda GX Engine With Electric Start

World class Honda reliablility & a 3 year warranty

Includes battery & marine grade battery box

Revolutionary Aircraft Grade, Powdercoated Aluminum Frame

Light weight with no welds to crack or fail

Easy access tip, gun & hose holders built onto handle

Lifetime frame warranty

General Triplex Plunger Pump

Ceramic components run cooler, last longer

Easy to maintain and rebuild; includes a 5 year warranty

Thermo Sensor

Prevents overheating in bypass mode

Low oil shutdown protects the engine and pump

Professional Quality Gun/Wand Assembly

5 quick connect nozzles: 0º, 15º, 25º, 40º, chemical application

50 feet of steel reinforced high pressure hose
Specifications
Engine
Consumer Engine Warranty
3 Years
Commercial Engine Warranty
3 Years
Pump
Pump Type
Triplex Plunger
Consumer Pump Warranty
5 Years
Commercial Pump Warranty
5 Years
Housing
Hose
Hose Material
Wire Reinforced
Hose Connections
Quick-Connect
Spray Gun
Spray Gun Connection
Quick-Connect
Spray Gun Grade
Professional
Spray Gun Wand
Single Wand
Spray Tips
Quick Connect Tips (5)
Turbo Nozzle
Sold Separately
Overview
Consumer Warranty
90 Days
Commercial Warranty
90 Days
Specifications
Engine
Consumer Engine Warranty
3 Years
Commercial Engine Warranty
3 Years
Pump
Pump Type
Triplex Plunger
Consumer Pump Warranty
5 Years
Commercial Pump Warranty
5 Years
Housing
Hose
Hose Material
Wire Reinforced
Hose Connections
Quick-Connect
Spray Gun
Spray Gun Connection
Quick-Connect
Spray Gun Grade
Professional
Spray Gun Wand
Single Wand
Spray Tips
Quick Connect Tips (5)
Turbo Nozzle
Sold Separately
Overview
Consumer Warranty
90 Days
Commercial Warranty
90 Days
Be the First to Write a Review
Do you own this product?
Please share your insights with fellow shoppers.
Search Product Q&A's
Answered by Jim. the Pressure Washer Expert
With the Pressure-Pro 6000 PSi Honda model, is there an additional attachment or some part that will allow the machine to shoot out hot water?
Jorge
from Maryland
June 01, 2011
Answer
There is an attachment for this, but you would have to add a burner system on the pressure washer. You would not want to run hot water directly through the pump, as this is a cold water pressure washer.

Thanks,

Pressure Washers Direct
Was this answer helpful?
Yes
0
No
0
Bill, I own a const. co. and we are repairing flood damaged basements. We will install a waterproof cement coating, but on some of the basements, we must remove the paint coatings, to allow the new coating to bond to the cement block. I need a power washer that will cut off the old paint residue. Also what is the scoop on the rotating tips, as one supplier stated this will improve the cuttting action of the washer.? I have read the spec. on the 5000-6000 psi models? is this the right machione to do the job? roger
Roger
from Iowa
April 09, 2011
Answer
For your application, a pressure washer above 5000 psi would work perfectly. A psi rating of this high should have no problem removing the paint with ease.
In regards to a rotating turbo nozzle, these attachments increase your pressure by about 200 psi and work great for hard to remove areas. These nozzles use a jet stream pattern that rotates in a circle which absolutely increases the capability of the machine. Using this type of nozzle would speed up the process significantly.
I'm posting a link below to the turbo nozzle we carry:
Rotary Turbo Nozzles
Was this answer helpful?
Yes
0
No
0
Is there a right angle pressure washer wand for any washer? I need to clean(again) the sides of my house. I have to use an extension ladder and the angle I need for a standard wand really is dangerous. I have done this at least twice and always dreamed of a right angle wand. I'm used to being up high. My job involves climbing the antenna masts on US Navy ships so the height ain't the problem. I would like not to have to lean back to get most areas.
Peter Notarfrancesco
from Pennsylvania
March 27, 2011
Answer
Was this answer helpful?
Yes
0
No
0
Expert Recommended Accessories
Hand Picked By Our Expert Jim
Required Accessories
Add All Required
+
Ask Jim, Our Product Expert, A Question!
*Required Fields
+
Thank You For Submitting Your Question
Your submission has been sent successfully. Please give our experts up to two business days to respond.
Media Gallery
Pressure-Pro Professional 6000 PSI (Gas-Cold Water) Polychain Belt-Drive Aluminum Frame Pressure Washer w/ Honda GX Engine