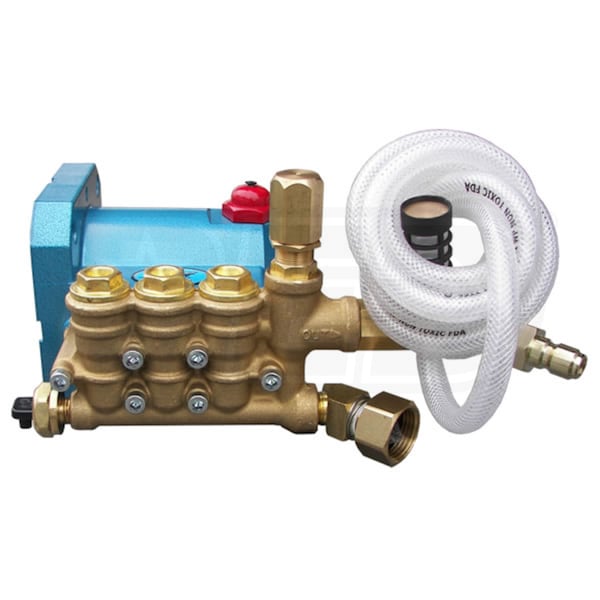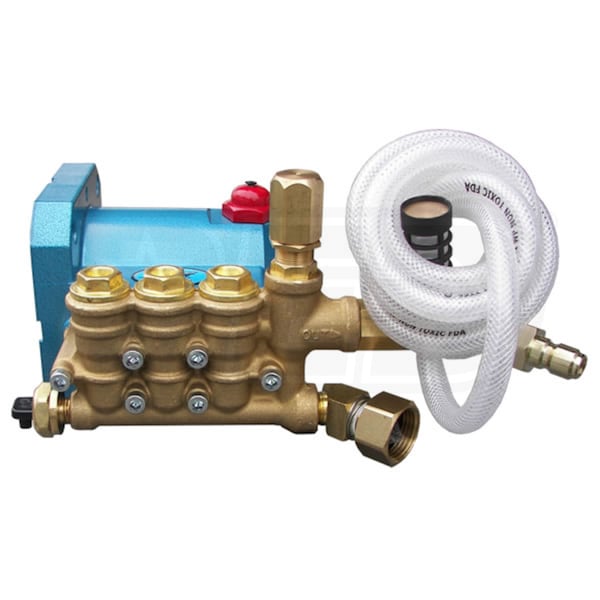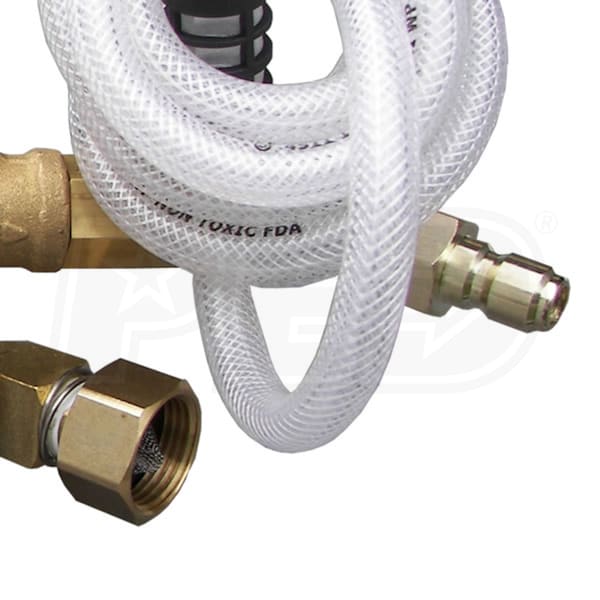 Hover to zoom
1 Of 5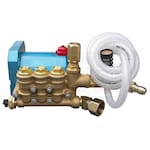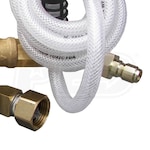 Pressure-Pro Fully Plumbed CAT 3300 PSI 2.5 GPM Triplex Pressure Washer Pump w/ Plumbing Kit
Product Description

Specs

12

Reviews

1

Product Q&A

Recommended Accessories

How-To Articles

Manuals
Grade
Style

Inflow
Garden Hose (Female)
Outflow
3/8" Snap Coupler (Male)
Inflow
Garden Hose (Female)
Outflow
3/8" Snap Coupler (Male)
Features
Features
Why Repair A Worn Out Pump?

Fully Plumbed are ready to go - 4 bolts off - 4 bolts on.

Get a great quality replacement assembly for less than a repair

CAT Brand Pump Kit Is Ready To Install

Comes with unloader, pressure relief valve, siphon tube,

3/8in male quick connect fitting, & garden hose inlet w/ filter

Concentric Solid Ceramic Plungers

Ceramic runs cooler, lasts longer; assures true wear surface

Specially formulated seals deliver extended seal life

Stacked Valve Design

Makes servicing easy

1/4" fixed chemical injector hose barb with siphon tube

Ultra-Compact 3/4" Hollow-Shafted Pump

Designed for direct mounting to gas engine; 3450 maximum RPM

Integral Pressure Unloader

Standard built-in bypass controls pressure & protects the pump

Be Sure To Measure Shaft & Flange Bolt Holes Accurately!

There is a 25% restock fee on returned pumps

See the Owner's Manual (under the Specs tab) for dimensions

Please Call Us For Sizing Assistance w/ Information Below:

1. Age of Pump and Model # (must be no more than 15-yrs old)

2. Is the pump Vertical or Horizontal

3. Shaft Size - 3/4", 7/8" (vertical ONLY), 1", or Belt Drive XXmm

4. Engine Brand and HP (model # if available would be helpful)

***Shaft Size Measurements Must Be Precise***
Specifications
Accessories
Pump Type
Triplex Plunger
Accessory Grade
Professional
Inflow
Garden Hose (Female)
Outflow
3/8" Snap Coupler (Male)
Maximum GPM
Gallon per Minute
2.5
Chemical Injections
Siphon Tube
Overview
Consumer Warranty
2 Years
Commercial Warranty
2 Years
Product Length
5.28 Inches
Product Height
8.03 Inches
Grade
Style

Inflow
Garden Hose (Female)
Outflow
3/8" Snap Coupler (Male)
Inflow
Garden Hose (Female)
Outflow
3/8" Snap Coupler (Male)
Features
Features
Why Repair A Worn Out Pump?

Fully Plumbed are ready to go - 4 bolts off - 4 bolts on.

Get a great quality replacement assembly for less than a repair

CAT Brand Pump Kit Is Ready To Install

Comes with unloader, pressure relief valve, siphon tube,

3/8in male quick connect fitting, & garden hose inlet w/ filter

Concentric Solid Ceramic Plungers

Ceramic runs cooler, lasts longer; assures true wear surface

Specially formulated seals deliver extended seal life

Stacked Valve Design

Makes servicing easy

1/4" fixed chemical injector hose barb with siphon tube

Ultra-Compact 3/4" Hollow-Shafted Pump

Designed for direct mounting to gas engine; 3450 maximum RPM

Integral Pressure Unloader

Standard built-in bypass controls pressure & protects the pump

Be Sure To Measure Shaft & Flange Bolt Holes Accurately!

There is a 25% restock fee on returned pumps

See the Owner's Manual (under the Specs tab) for dimensions

Please Call Us For Sizing Assistance w/ Information Below:

1. Age of Pump and Model # (must be no more than 15-yrs old)

2. Is the pump Vertical or Horizontal

3. Shaft Size - 3/4", 7/8" (vertical ONLY), 1", or Belt Drive XXmm

4. Engine Brand and HP (model # if available would be helpful)

***Shaft Size Measurements Must Be Precise***
Specifications
Accessories
Pump Type
Triplex Plunger
Accessory Grade
Professional
Inflow
Garden Hose (Female)
Outflow
3/8" Snap Coupler (Male)
Maximum GPM
Gallon per Minute
2.5
Chemical Injections
Siphon Tube
Overview
Consumer Warranty
2 Years
Commercial Warranty
2 Years
Product Length
5.28 Inches
Product Height
8.03 Inches
Specifications
Accessories
Pump Type
Triplex Plunger
Accessory Grade
Professional
Inflow
Garden Hose (Female)
Outflow
3/8" Snap Coupler (Male)
Maximum GPM
Gallon per Minute
2.5
Chemical Injections
Siphon Tube
Overview
Consumer Warranty
2 Years
Commercial Warranty
2 Years
Product Length
5.28 Inches
Product Height
8.03 Inches
Search Product Q&A's
Answered by Jim. the Pressure Washer Expert
I have a Simpson model PS3228T 3200 psi 2.8 gpm with a honda GX200 motor. 3/4 shaft x 2 3/8 " long. The bolts are 2 9/16 apart horizontal and vertically.. I would like to get as much pressure and gpm as I can with this motor. I need a good dependable pump that can be rebuilt when needed. Is the cat model slp4ppx25gs1-057 3300psi 2.5 gpm pump the one I need and if not what do you recommend?
Brian Miller
from Texas
July 12, 2016
Answer
I sent 2 emails last week to Pressure-Pro with your question and I'm sorry, I haven't gotten a response.

I would suggest calling the folks at Pressure-Pro directly at (772) 461-4486 so they can discuss with you directly what will best meet your needs.
Was this answer helpful?
Yes
0
No
0
Expert Recommended Accessories
Hand Picked By Our Expert Jim
Required Accessories
Add All Required
+
Ask Jim, Our Product Expert, A Question!
*Required Fields
+
Thank You For Submitting Your Question
Your submission has been sent successfully. Please give our experts up to two business days to respond.
Media Gallery
Pressure-Pro Fully Plumbed CAT 3300 PSI 2.5 GPM Triplex Pressure Washer Pump w/ Plumbing Kit