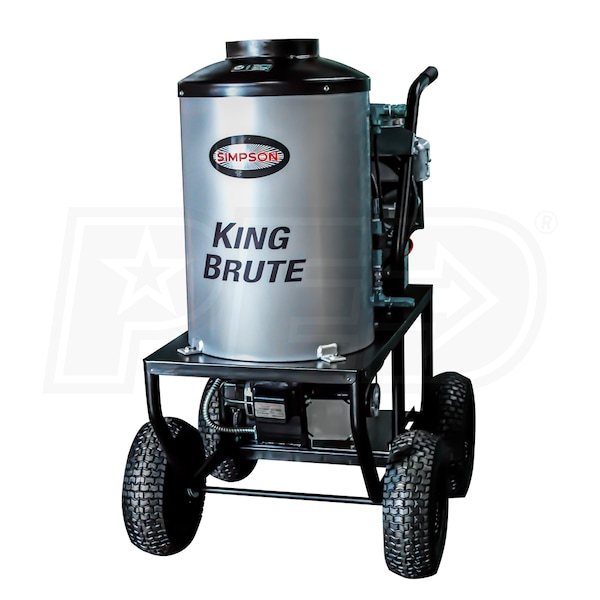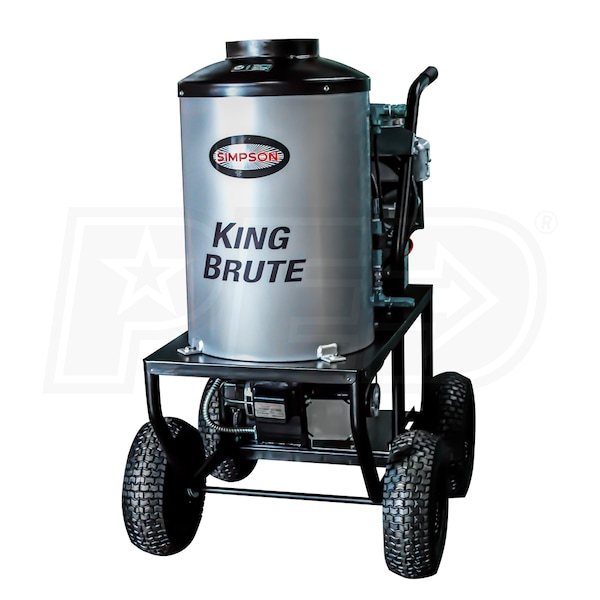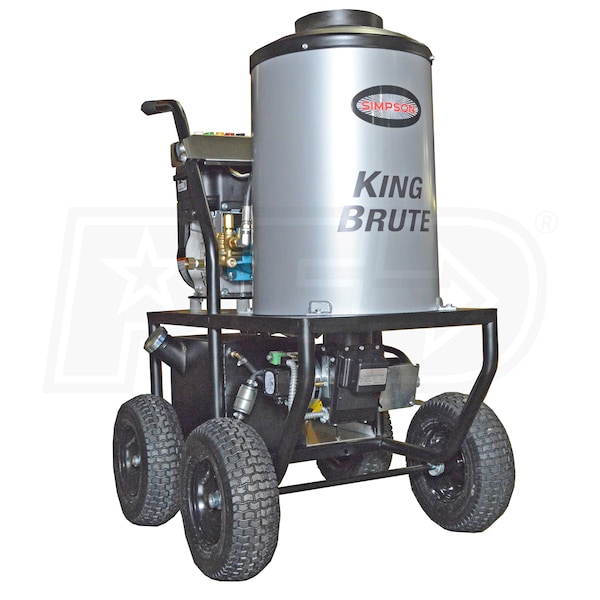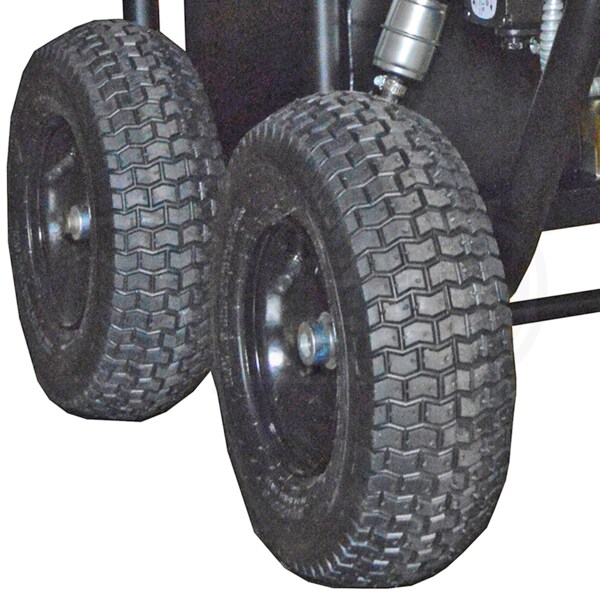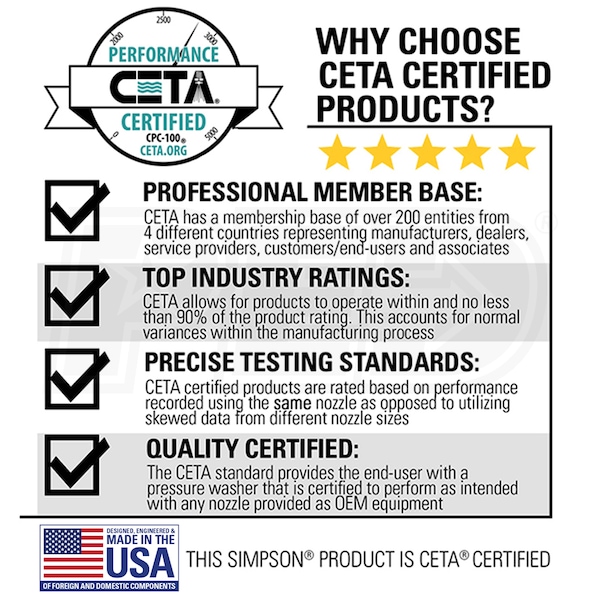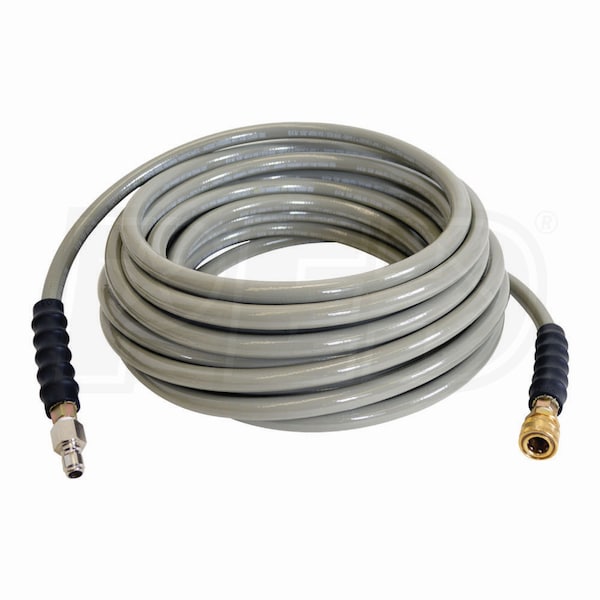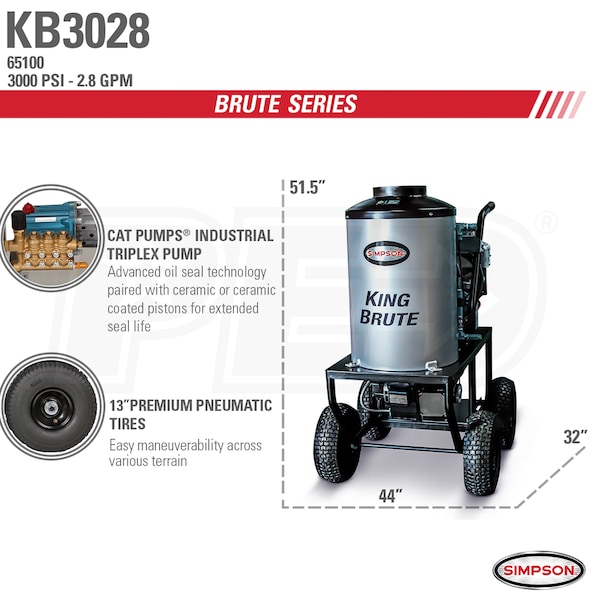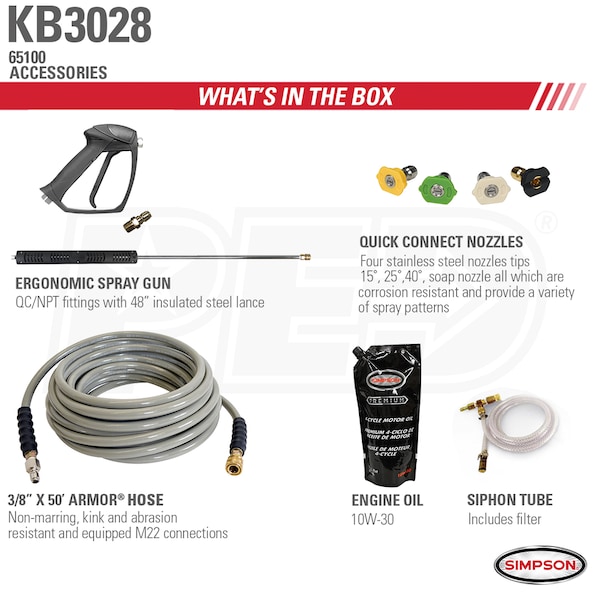 Hover to zoom
1 Of 5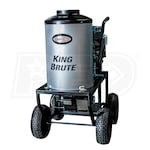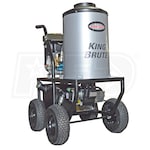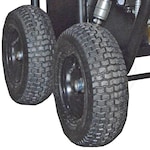 Simpson King Brute KB3028 Professional 3000 PSI (Gas-Hot Water) Pressure Washer
Product Description

Specs

8

Reviews

2

Product Q&A

Recommended Accessories

How-To Articles

Manuals
Features
Features
Briggs & Stratton 1100 Series Intek OHV Engine

Provides direct-drive power to the pump

Industrial Triplex Pump

Ceramic components run cooler and last longer

Easy to maintain and rebuild

Clean Burning, Steel Wrapped Vertical Combustion Chamber

Fuel efficient; can use either kerosene or #2 diesel

Burner can heat water to 100° over water input temperature

Heavy duty coil is backed by a 5-year warranty

Extra large steel fuel tank provides all day cleaning w/o refill

Professional Grade Wand And Nozzle

4 quick connect cleaning nozzles

50 ft of high pressure, steel reinforced non-marring hose

Low Pressure detergent injector with pickup hose included

Square Steel Powder-Coated Frame

13 inch pneumatic tires are stable and easy to move

Battery Not Included

Requires a 12 volt, deep cycle battery w/ minimum 335 CCA

Engine has 30 Amp alternator

Meets UL 1776 standards
Specifications
Engine
Engine Brand
Briggs and Stratton Intek
Fuel Tank Size
0.8 Gallons
Consumer Engine Warranty
3 Years
Commercial Engine Warranty
3 Years
Pump
Pump Type
Triplex Plunger
Chemical Injection
Siphon Tube
Consumer Pump Warranty
5 Years
Commercial Pump Warranty
5 Years
Housing
Hose
Hose Material
Wire Reinforced
Hose Connections
Quick-Connect
Spray Gun
Spray Gun Connection
Quick-Connect
Spray Gun Grade
Professional
Spray Gun Wand
Single Wand
Spray Tips
Quick Connect Tips (5)
Turbo Nozzle
Sold Separately
Burner
Burner Fuel
Diesel/Kerosene
Burner Fuel Tank Size
7 Gallons
Overview
Consumer Warranty
90 Days
Commercial Warranty
90 Days
Product Length
40.5 Inches
Product Height
44.75 Inches
Additional Model Numbers
KB3028, 65100
Features
Features
Briggs & Stratton 1100 Series Intek OHV Engine

Provides direct-drive power to the pump

Industrial Triplex Pump

Ceramic components run cooler and last longer

Easy to maintain and rebuild

Clean Burning, Steel Wrapped Vertical Combustion Chamber

Fuel efficient; can use either kerosene or #2 diesel

Burner can heat water to 100° over water input temperature

Heavy duty coil is backed by a 5-year warranty

Extra large steel fuel tank provides all day cleaning w/o refill

Professional Grade Wand And Nozzle

4 quick connect cleaning nozzles

50 ft of high pressure, steel reinforced non-marring hose

Low Pressure detergent injector with pickup hose included

Square Steel Powder-Coated Frame

13 inch pneumatic tires are stable and easy to move

Battery Not Included

Requires a 12 volt, deep cycle battery w/ minimum 335 CCA

Engine has 30 Amp alternator

Meets UL 1776 standards
Specifications
Engine
Engine Brand
Briggs and Stratton Intek
Fuel Tank Size
0.8 Gallons
Consumer Engine Warranty
3 Years
Commercial Engine Warranty
3 Years
Pump
Pump Type
Triplex Plunger
Chemical Injection
Siphon Tube
Consumer Pump Warranty
5 Years
Commercial Pump Warranty
5 Years
Housing
Hose
Hose Material
Wire Reinforced
Hose Connections
Quick-Connect
Spray Gun
Spray Gun Connection
Quick-Connect
Spray Gun Grade
Professional
Spray Gun Wand
Single Wand
Spray Tips
Quick Connect Tips (5)
Turbo Nozzle
Sold Separately
Burner
Burner Fuel
Diesel/Kerosene
Burner Fuel Tank Size
7 Gallons
Overview
Consumer Warranty
90 Days
Commercial Warranty
90 Days
Product Length
40.5 Inches
Product Height
44.75 Inches
Additional Model Numbers
KB3028, 65100
Specifications
Engine
Engine Brand
Briggs and Stratton Intek
Fuel Tank Size
0.8 Gallons
Consumer Engine Warranty
3 Years
Commercial Engine Warranty
3 Years
Pump
Pump Type
Triplex Plunger
Chemical Injection
Siphon Tube
Consumer Pump Warranty
5 Years
Commercial Pump Warranty
5 Years
Housing
Hose
Hose Material
Wire Reinforced
Hose Connections
Quick-Connect
Spray Gun
Spray Gun Connection
Quick-Connect
Spray Gun Grade
Professional
Spray Gun Wand
Single Wand
Spray Tips
Quick Connect Tips (5)
Turbo Nozzle
Sold Separately
Burner
Burner Fuel
Diesel/Kerosene
Burner Fuel Tank Size
7 Gallons
Overview
Consumer Warranty
90 Days
Commercial Warranty
90 Days
Product Length
40.5 Inches
Product Height
44.75 Inches
Additional Model Numbers
KB3028, 65100
Search Product Q&A's
Answered by Jim. the Pressure Washer Expert
I am looking for a Simpson brand 3000 PSI water shotgun machine. It is on four-wheel trailer. The model number I have is SHW 3000 GV. It has a 16 HP Briggs engine. I cannot seem to find this model. Is this comparable? Is the SHW 3000 GV an older model? I am looking for a manual. Thanks for your input and consideration.
Roberta Waters
from Ohio
July 08, 2016
Answer
I checked the
Simpson User Manual page
and didn't see your model listed with the current models.
I think your best bet will be calling the folks at Simpson directly at 877-362-4271 to see if they have a manual for your unit in their archives. They should be able to email it to you as a PDF at no charge.
Was this answer helpful?
Yes
0
No
0
Does this unit have a temperature control!!
Kasey Thompson
from North Carolina
February 13, 2014
Answer
The burner on this unit has an on/off switch for the burner that will allow for up to 100 degree rise in temperature.
Was this answer helpful?
Yes
0
No
0
Expert Recommended Accessories
Hand Picked By Our Expert Jim
Required Accessories
Add All Required
+
Ask Jim, Our Product Expert, A Question!
*Required Fields
+
Thank You For Submitting Your Question
Your submission has been sent successfully. Please give our experts up to two business days to respond.
Media Gallery
Simpson King Brute KB3028 Professional 3000 PSI (Gas-Hot Water) Pressure Washer