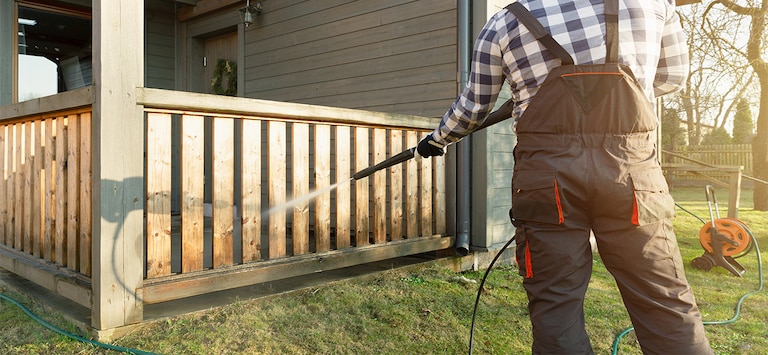 Homeowner's Pressure Washer Buyer's Guide
How to Pick the Perfect Consumer Pressure Washer
You're not just a homeowner or a seasoned pro; you're a perfectionist. You love to see the before/after of a project. You love to marvel at your work when it's finished and know you got the best results by using the right tool for the job.

With the right pressure washer, you will elevate your home maintenance game and take your small cleaning business to the next level. After all, you are the ruler of your castle, and your property is your domain. Shouldn't it gleam like royalty?

This guide will help you choose the best pressure washer for homeowners, semi-professionals, and small business owners.


Electric vs Gas-Powered Pressure Washers
Which is better? Read our comparison guide to learn the important differences between each. Whether you're considering an entry-level pressure washer or a semi-professional unit, you get what you pay for, and your decision should be based on your preferences, project expectations, and desired usage. If you plan to complete many projects around the home and want to do it efficiently, buying the wrong pressure washer will only disappoint you. Make sure to do your research and set your expectations accordingly.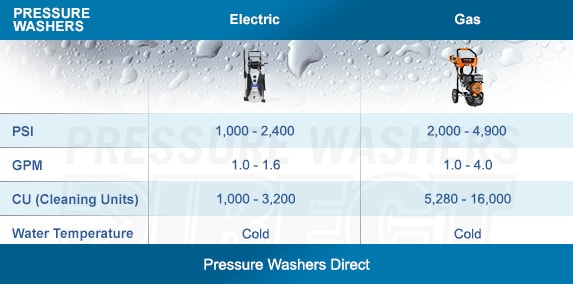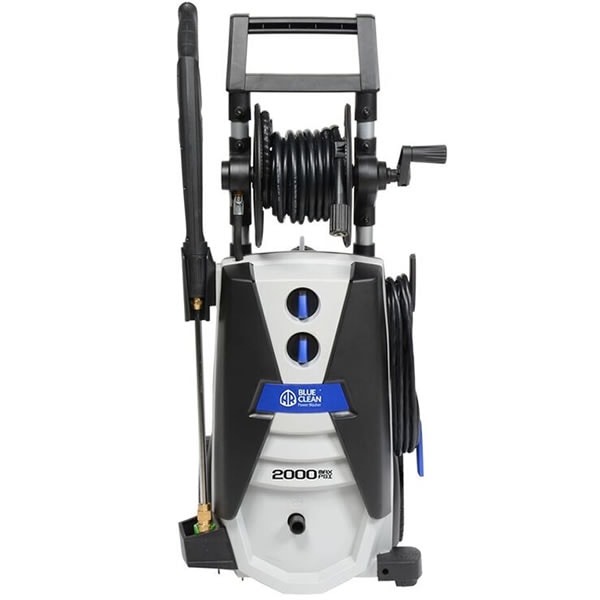 Electric power washers are great for cleaning small surface areas like cars, boats, grills, etc. Choosing an electric power washer can be simple. The biggest advantage electric power washers have over gas units is they hardly require any maintenance and are much quieter when they run. They are also very affordable and portable.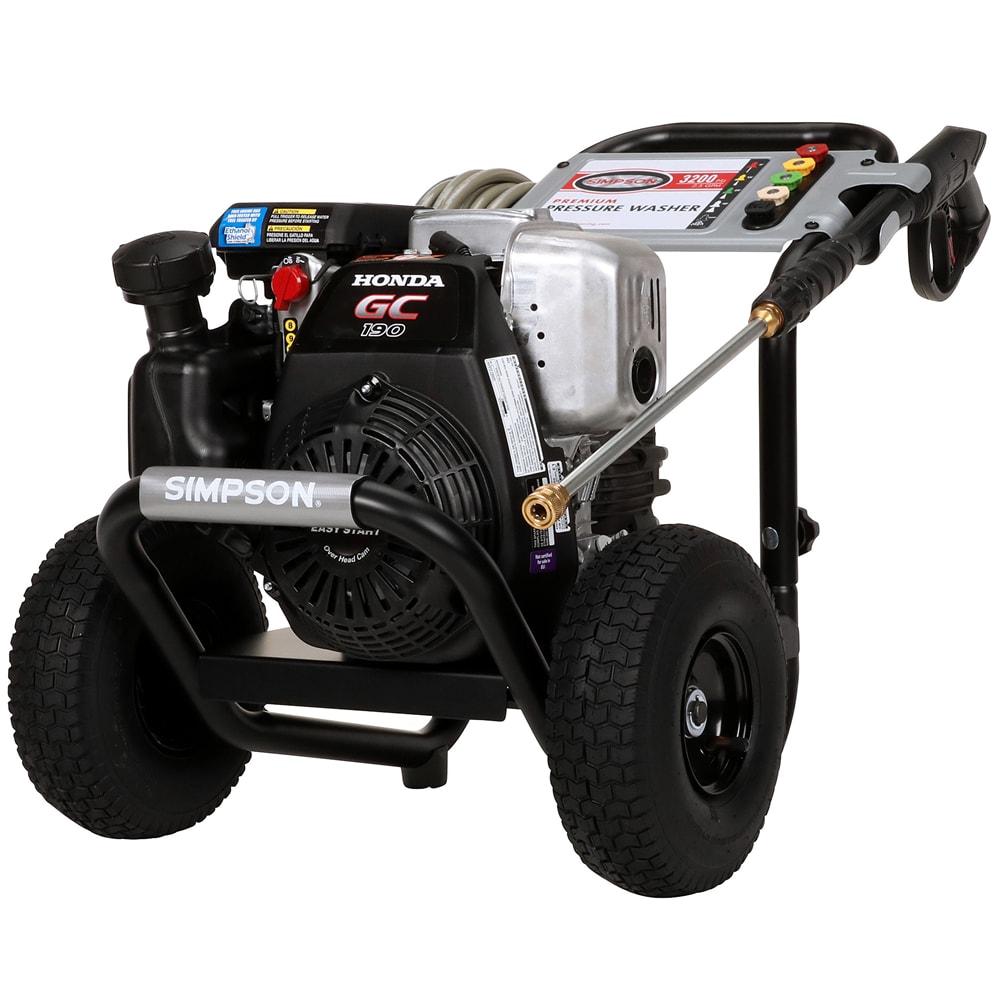 Gas pressure washers
are generally much more powerful than electric power washers.
Choosing a gas pressure washer
, even a small one, is still more powerful than the largest electric power washer. Likewise, the cheapest gas pressure washer is about the same price as the most expensive electric unit. Gas power washers clean large surface areas like decks, driveways, and homes with less time and effort. Gas pressure washers are particularly great for two reasons: They have more cleaning power than electric units, and they can be used away from an electrical source. With PSI ranges from 2200-2700, you can clean a wider variety of things that you can with a consumer electric pressure washer, and you can clean them faster.
Brush vs Brushless Motors

Universal (or brush) motors are typically found in small, hand-carry pressure washers and perform the job at a very inexpensive price. If you rarely use your pressure washer, you can save some money by purchasing an electric power washer with a universal motor. It just won't last as long.
Induction (or brushless) motors, however, are typically used in larger, more powerful electric power washers. They typically last longer than universal motors. They also cost more. If you want an electric pressure washer that lasts, spend the extra few dollars and buy one with an induction motor. Look to one of our other categories for pressure washers with induction motors.
Engine Size and CC's
The size of the engine, however, determines the strength (and price) of the pressure washer. Basically, you're buying cc's. The greater the cc's – the larger the engine – the more expensive the pressure washer.
Axial vs Triplex Pumps
There are some key differences between the type of pump you want to be included in your pressure washer. Some can be replaced, and others cannot. Most entry-level pressure washers have pumps that are not replaceable, and in those cases, you're better off buying a whole new unit if they fail.
Read this article
to learn how to tell what type of pump you have, how to select a replacement, and how to install your new pump.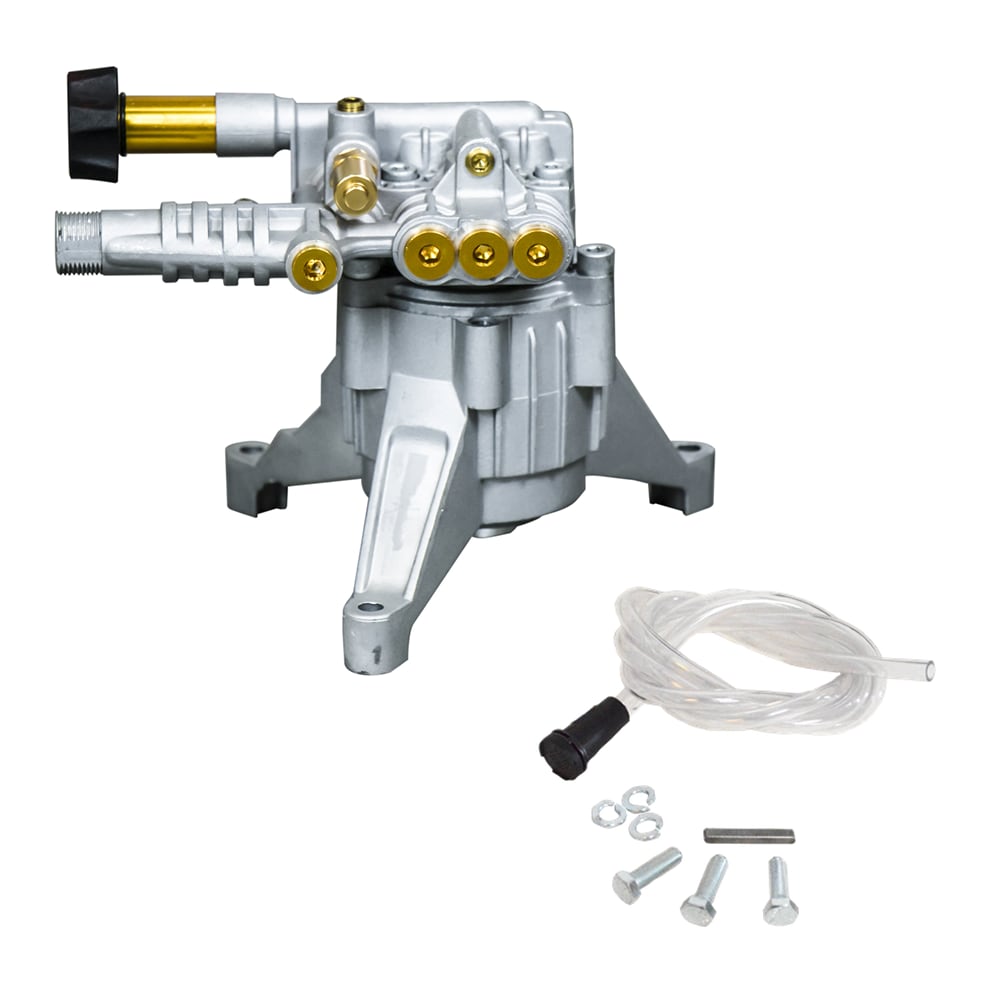 Wobble and
axial cam pumps
are found on cheaper pressure washers. They are generally rated for between 60-100 hours of use. If you'll be using your washer occasionally this is fine. In fact, with these pumps, it's usually cheaper to buy a new pressure washer than it would be to replace the pump.
Axial cam pumps are found on cheaper pressure washers. They are not meant for everyday use - if you'll be using your washer on less than a regular occasion, this is fine. In fact, with these pumps, it can be cheaper to buy a new pressure washer than it would be to replace the pump.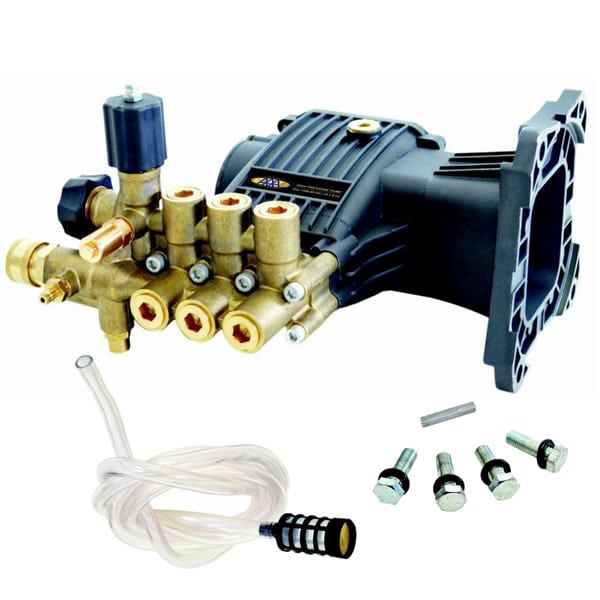 Triplex pumps are a higher quality pressure washer pump, offering longer life and better performance. They also include a larger price tag, but if you intend to use your power washer frequently, it's well worth the expense. If the pump breaks down, you can get it rebuilt instead of getting a new washer.

Triplex pumps are higher-quality pressure washer pumps, offering longer life and better performance. They also include a larger price tag, but if you intend to use your power washer frequently, it's well worth the expense. If the pump breaks down, you can get it rebuilt instead of getting a new washer.



Applications and PSI Recommendations
The biggest determining factor for a pressure washer purchase should be what tasks can the washer accomplish. These are great for use around the home and are best suited for smaller chores. The units range from 1350 to 1600 PSI.
These types of chores include, but are not limited to: washing your car, cleaning patio furniture, and other outdoor items such as grills. If you're planning on doing larger projects, get a larger pressure washer and you'll save yourself a lot of time.
With 3000 PSI, the more appropriate question may be, what can't it do? These pressure washers have the power to take on some of the toughest stains. They even have enough power to strip old paint.

Most gas units are cold water - meaning, your main limitations will be related to hot water cleaning. If you need to remove oil or grease stains, a cold water power washer probably won't cut it. To get these messes clean, you'll want to step up to a hot water unit.



Cleaning Tips From the Pros
As far as cleaning projects you can undertake, a small gas pressure washer can handle most tasks, short of stripping paint. Some stains may be too resilient for cold water alone - you might need detergent or a hot water unit for the most serious stains. When cleaning things like siding or a boat, make sure to start a good distance away and get in closer as needed. The pressure can be strong enough to damage these things.
Accessories & Detergent Tanks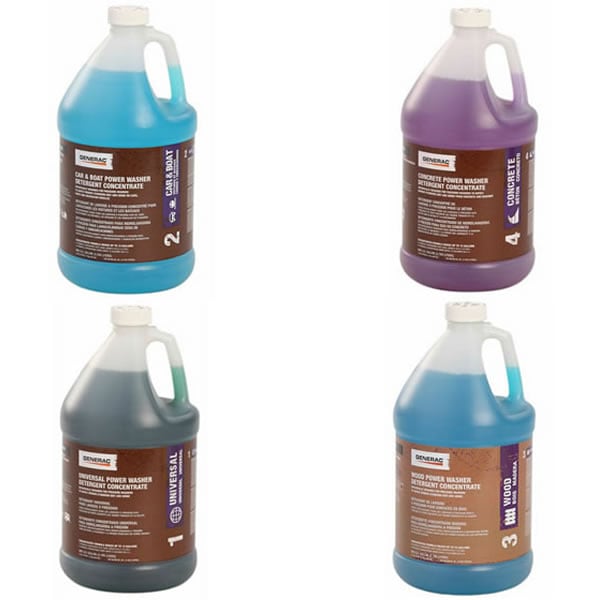 Due to the larger size than their handheld counterparts, extra-large electric pressure washers have room for onboard detergent tanks. This will save you time versus a siphon tube, which requires the use of an additional bucket for your detergent.

When you're cleaning really tough stains, the power of water alone is sometimes not enough. But with the addition of concentrated detergents, cleaning mildew and mold from patios and brick is much easier.

While none of the small gas pressure washers offer onboard detergent tanks, our best medium units offer this feature. The other option, though less convenient, is a siphon tube, which you place in a bucket of detergent and water. The more efficient option is definitely the use of an onboard detergent tank.

A lot of cleaning projects, such as washing your siding, require additional detergent. Just add detergent to the tank, conveniently located on your pressure washer, and you'll be able to use it without having to stop and set up a separate bucket.


Spray Tips

A nice feature that accompanies small gas pressure washers is an assortment of spray tips - allowing you to tailor your spray pattern to your cleaning task. If you're rinsing detergent from your siding, go with a wider spray. But if you're blasting mold and mildew from your walkway, choose a concentrated jet spray.
In a 5-pack, the tips are:
0° - red, concentrated pencil jet
15° - yellow, high performance
25° - green, multi-purpose
40° - white, sensitive surfaces
65° - black, low-pressure detergent application

NEXT: View the Best Gas Pressure Washers
Was this article helpful?