With an extended warranty* from Pressure Washers Direct, you can add 1 or 2 additional years of warranty coverage for your new power washer.

Just like an extended warranty on a car or truck, this provides you with the protection and the peace of mind that comes with knowing you're covered for longer.

These extended service plans provide your new washer with the best protection against any potential failures.

Under warranty, products may be repaired an unlimited number of times. The plan covers repair costs up to the full, original price of the product.

Just select your extended warranty plan as you check out.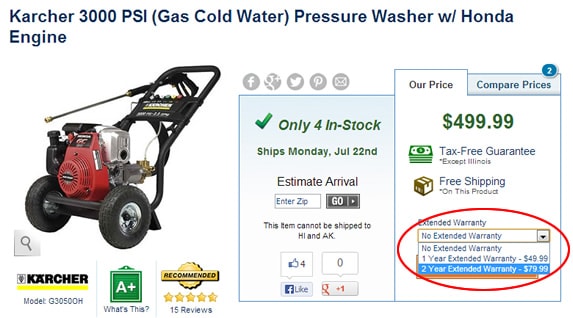 Replacement Plans
These plans cover the replacement of new pressure washers with a purchase price of $400 or less. The product replacement plan becomes active once the manufacturer's' warranty expires.

The replacement will cover the product for equal or greater value and can be fulfilled by a physical replacement, gift certificate, voucher or co-payable check.

Repair Plans
Repair plans cover the full cost of needed repairs of for new power washers with a purchase price more than $400. Repair plans activate following the expiration of the manufacturer's warranty, but generally cover repairs throughout the duration of the contract.

For products that are difficult to transport, choose an On-Site Repair Plan, allowing your product to be serviced from your home or business. For washers that can be dropped off at an authorized service center, choose the Shop Repair Plan.



See Extended Warranty Terms & Conditions
Features & Benefits
Enhanced extension of the manufacturer's warranty


Covers defects and failures


Customer service available SEVEN days a week


Unlimited number of repairs


If product cannot be repaired, it will be replaced


Covers 100% of parts & labor (service calls included with specific plans)
*Extended Warranty not available in California