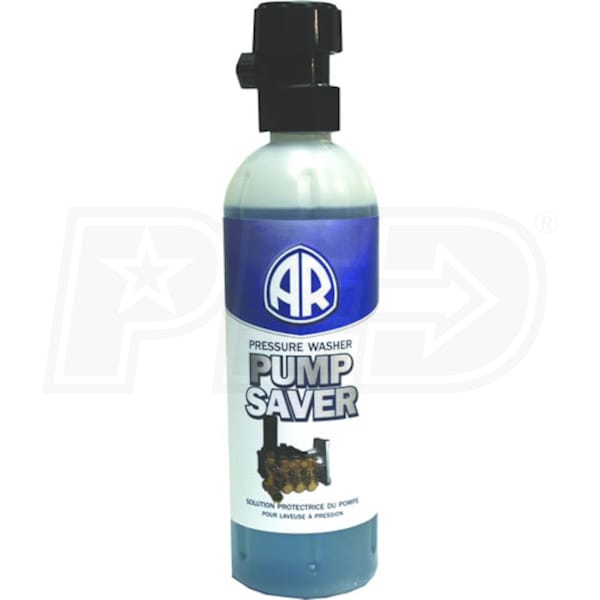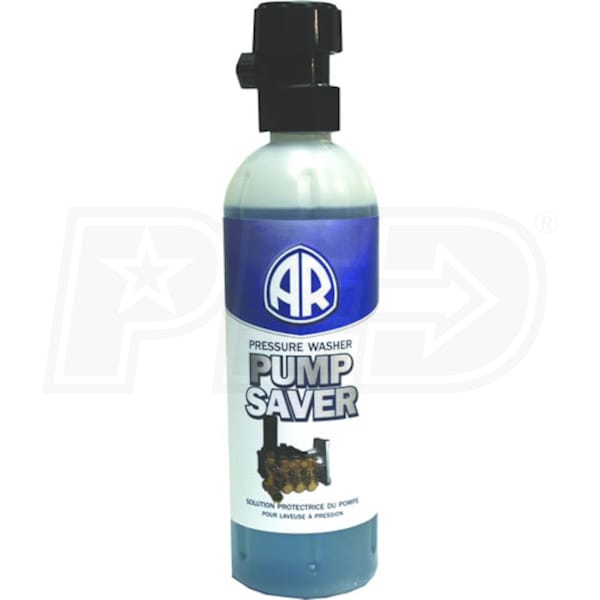 Hover to zoom
1 Of 5
AR Blue Clean Pump Saver (16 Oz.)
Product Description

Specs

4

Reviews

4

Product Q&A

Recommended Accessories

How-To Articles

Manuals
Features
Features
Pressure Washer Safe Anti-Freeze Solution

16 oz. will treat any size pressure washer

Attaches to garden hose inlet to fill pump chamber

Protects Your Pump

Excludes water so your pump won't freeze over the winter

Provides longer pump life

Prevents Harmful Deposits

Cleans out hard water mineral deposits

Preserves seals & pistons

Should also be used during warm weather in hard water areas
Specifications
Overview
Consumer Warranty
90 Days
Features
Features
Pressure Washer Safe Anti-Freeze Solution

16 oz. will treat any size pressure washer

Attaches to garden hose inlet to fill pump chamber

Protects Your Pump

Excludes water so your pump won't freeze over the winter

Provides longer pump life

Prevents Harmful Deposits

Cleans out hard water mineral deposits

Preserves seals & pistons

Should also be used during warm weather in hard water areas
Specifications
Overview
Consumer Warranty
90 Days
Specifications
Overview
Consumer Warranty
90 Days
Search Product Q&A's
Answered by Jim. the Pressure Washer Expert
I am not worried about freezing problems at this time . I pump saver recommended to be used anytime?? Anything I can do to preserve this electric pressure pump??
JImmy
from Alabama
May 25, 2015
Answer
Along with the antifreeze properties of pump savor, it also has a pump seal conditioner in it for any hard water or lime build up in the pump. Anytime you store the unit over 30 days, I would recommend using a pump savor.
Was this answer helpful?
Yes
0
No
0
I see ithisrecommended for warm weather as well. How often should it be used, and how long should it be left to work? Is the bottle a one use size?
Dominic Lupico
from New Jersey
July 23, 2014
Answer
This is good to use in all temperatures when storing your pressure washer for longer than 30 days. It lubricates and protects the seals of the pump. This bottle will usually give 3-4 applications.
Was this answer helpful?
Yes
0
No
0
Does the product foam up like the B&S version or is it purely a liquid?
Doug
from Maryland
October 05, 2011
Answer
This AR pump saver is a liquid version like the Karcher pump guard. This product is not similar to the B&S version that foams up.
Was this answer helpful?
Yes
0
No
0
HOW DO YOU GET THE PUMP SAVER IN THE POWER WASHER? I didn't see any attachment.
Greg Fahey
from California
August 18, 2011
Answer
This pump saver like all pump saver products, come with a threaded adapter directly on the bottle that screws into the garden hose water inlet connection.
Was this answer helpful?
Yes
0
No
1
Expert Recommended Accessories
Hand Picked By Our Expert Jim
Required Accessories
Add All Required
+
Ask Jim, Our Product Expert, A Question!
*Required Fields
+
Thank You For Submitting Your Question
Your submission has been sent successfully. Please give our experts up to two business days to respond.
Media Gallery
AR Blue Clean Pump Saver (16 Oz.)