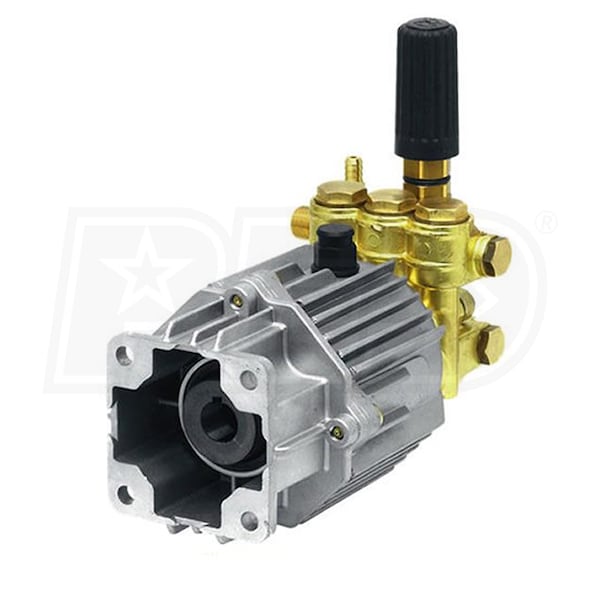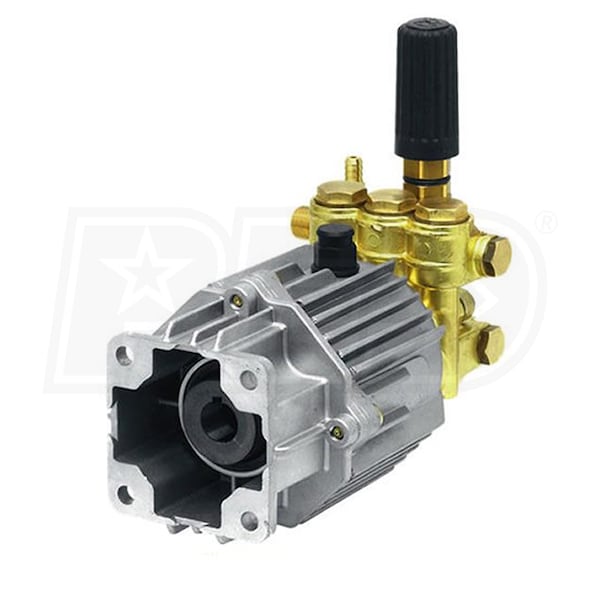 Hover to zoom
1 Of 5
AR 2700 PSI 2.5 GPM 3/4" Hollow Shaft Axial Pressure Washer Pump w/ Unloader
Product Description

Specs

10

Reviews

6

Product Q&A

Recommended Accessories

How-To Articles

Manuals
Grade
Style

Outflow
3/8" Threaded (Male)
Outflow
3/8" Threaded (Male)
Features
Features
High Quality Replacement For Worn Out Pumps

Professional grade is ideal for all general cleaning applications

Axial Cam Pump With Unloader

Direct drive for convenience and durability

Built-in pressure control valve for optimal performance

Standard Matching Gasoline Mounting Flange

Convenient connection to most 3/4" gas engine flange

3/4" hollow shaft spins at 3400 rpm

Bore diameter 15mm; stroke 5.8 mm

Water inlet: 1/2" male NPT; water outlet: 3/8" male NPT

4.5 horsepower pump

Powerful And Versatile

Will push 2.5 gpm @ 2700 psi

Ideal for 5 to 6.5 HP engines

Diecast crankcase with large cooling fins

Seals designed to continuously self lubricate

Please Measure Shaft And Flange Bolts Holes Carefully!

There is a 25% restock fee on returned pumps

This is a bare pump; you will need to re-use your current fittings or purchase new ones (sold separately)

Please Call Us For Sizing Assistance w/ Information Below:

1. Age of Pump and Model # (must be no more than 15-yrs old)

2. Is the pump Vertical or Horizontal

3. Shaft Size - 3/4", 7/8" (vertical ONLY), 1", or Belt Drive XXmm

4. Engine Brand and HP (model # if available would be helpful)

***Shaft Size Measurements Must Be Precise***
Specifications
Pump
Chemical Injection
Siphon Tube
Accessories
Accessory Grade
Professional
Outflow
3/8" Threaded (Male)
Maximum GPM
Gallon per Minute
2.5
Chemical Injections
Siphon Tube
Overview
Grade
Style

Outflow
3/8" Threaded (Male)
Outflow
3/8" Threaded (Male)
Features
Features
High Quality Replacement For Worn Out Pumps

Professional grade is ideal for all general cleaning applications

Axial Cam Pump With Unloader

Direct drive for convenience and durability

Built-in pressure control valve for optimal performance

Standard Matching Gasoline Mounting Flange

Convenient connection to most 3/4" gas engine flange

3/4" hollow shaft spins at 3400 rpm

Bore diameter 15mm; stroke 5.8 mm

Water inlet: 1/2" male NPT; water outlet: 3/8" male NPT

4.5 horsepower pump

Powerful And Versatile

Will push 2.5 gpm @ 2700 psi

Ideal for 5 to 6.5 HP engines

Diecast crankcase with large cooling fins

Seals designed to continuously self lubricate

Please Measure Shaft And Flange Bolts Holes Carefully!

There is a 25% restock fee on returned pumps

This is a bare pump; you will need to re-use your current fittings or purchase new ones (sold separately)

Please Call Us For Sizing Assistance w/ Information Below:

1. Age of Pump and Model # (must be no more than 15-yrs old)

2. Is the pump Vertical or Horizontal

3. Shaft Size - 3/4", 7/8" (vertical ONLY), 1", or Belt Drive XXmm

4. Engine Brand and HP (model # if available would be helpful)

***Shaft Size Measurements Must Be Precise***
Specifications
Pump
Chemical Injection
Siphon Tube
Accessories
Accessory Grade
Professional
Outflow
3/8" Threaded (Male)
Maximum GPM
Gallon per Minute
2.5
Chemical Injections
Siphon Tube
Overview
Specifications
Pump
Chemical Injection
Siphon Tube
Accessories
Accessory Grade
Professional
Outflow
3/8" Threaded (Male)
Maximum GPM
Gallon per Minute
2.5
Chemical Injections
Siphon Tube
Overview
Search Product Q&A's
Answered by Jim. the Pressure Washer Expert
What size are the threads on the inlet side of the pump? I need to get from my garden hose to the pump with an adapter.
David Allis
from Michigan
June 08, 2012
Answer
Garden hose thread (GHT) is a specific size and pitch that is not compatible with any other plumbing fittings. Its design facilitates a secure seal with hand tightening only, under most circumstances.

You really shouldn't need an adaptor to hook up your garden hose to your new pump.

You can always ask the folks at AR by calling them, toll free, at 866-235-5112 about any other applications you have in mind.



Was this answer helpful?
Yes
0
No
0
I have a Troy Built with 2.6 gpm,6.75hp,2850psi, 3/4 hollow shaft. Will the AR blue Clean #sjv25g27d fit, picture looks identical but cant see other end.
Steve
from
March 24, 2012
Answer
Yes, as long as your current pump is mounted horizontally to the engine then this pump would definitely work with your machine. This pump cannot be mounted vertically.
Was this answer helpful?
Yes
0
No
0
I hae a honda motor model number D25133 and it has a 7/8 horizontal shaft. I am looking for a AR water pump that will fit the 7/8 shaft. what do you recommend
Michael Sallus
from California
April 07, 2011
Answer
Unfortunately we do not carry a replacement pump for that engine. We only carry one 7/8" shaft pump (model RMW2G25D) and it is a vertical mount pump.
Was this answer helpful?
Yes
0
No
0
where do you add the oil in a preasure washer pump
Richard Forrester
from Alabama
April 04, 2011
Answer
Certain style pumps cannot have the oil changed or added. These are sealed pumps and will normally be labeled as "Axial Cam" style pumps. "Triplex Plunger" style pumps can have oil added and/or changed. If you have this type of pump, there will be a fill port on top of the pump that unscrews. You will also have a threaded plug on the bottom of the pump so that you can drain the old used oil.
Was this answer helpful?
Yes
0
No
0
Im replacing my pressure washer pump that has the part number ar xtv 3g22 with an ar sjv25g27d-f7-270. Do u know if the mounting holes are the same and if this part will even work for my pressure washer.
Kenneth E Smith
from Kansas
March 27, 2011
Answer
The AR pump model XTV3G22 actually comes in two different shaft sizes, 5/8" and 3/4". If you have the 3/4" shaft version then yes this pump will definitely work with your current set up. If you have the 5/8" shaft version then no this pump will not work for your machine. The mounting holes will be the same with all of the pumps mentioned

You should definitely verify the shaft size on the engine you currently have before making the purchase.


Was this answer helpful?
Yes
0
No
0
I need a new 2500-3000 psi pump to replace my existing. I have a 5 hp honda engine and need to know what details you need to size the correct replacement pump.
Dave Moeller
from Indiana
March 27, 2011
Answer
This particular pump will definitely mount up to a Honda engine flange with no problem. One thing you have to confirm on your end is the engine shaft size. This pump has a 3/4" shaft and would only fit engines with a 3/4" shaft too. More than likely your engine does have a 3/4" shaft but there are also 7/8" and 1" shafts on engines made so it is always best to verify before you make the purchase.

Also, this is a horizontal mounted pump and cannot be used in vertical applications.
Was this answer helpful?
Yes
0
No
0
Expert Recommended Accessories
Hand Picked By Our Expert Jim
Required Accessories
Add All Required
+
Ask Jim, Our Product Expert, A Question!
*Required Fields
+
Thank You For Submitting Your Question
Your submission has been sent successfully. Please give our experts up to two business days to respond.
Media Gallery
AR 2700 PSI 2.5 GPM 3/4" Hollow Shaft Axial Pressure Washer Pump w/ Unloader