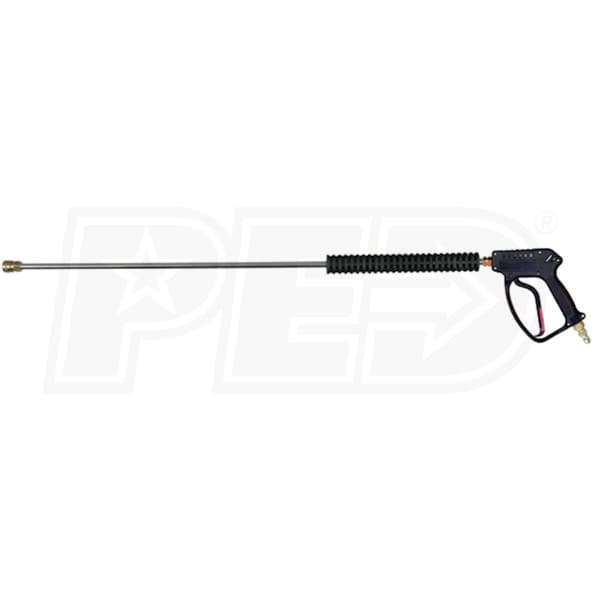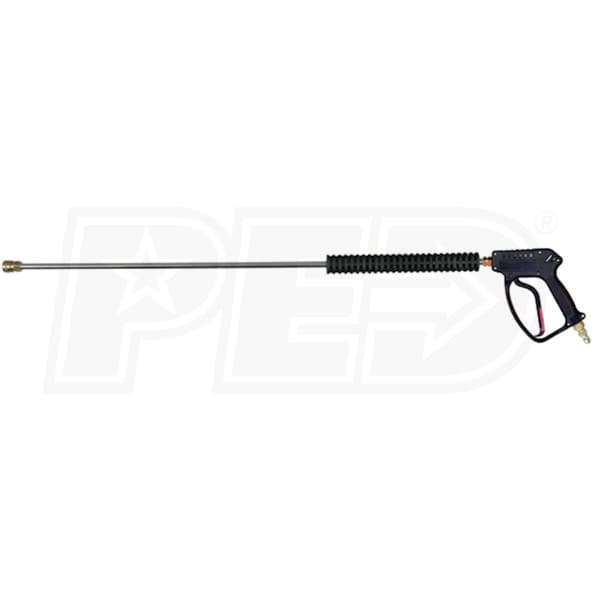 Hover to zoom
1 Of 5
BE Spray Gun and 36" Wand Kit
Product Description

Specs

17

Reviews

2

Product Q&A

Recommended Accessories

How-To Articles
Grade
Style

Inflow
3/8" Snap Coupler (Male)
Outflow
1/4" Snap Coupler (Female)
Inflow
3/8" Snap Coupler (Male)
Outflow
1/4" Snap Coupler (Female)
Features
Features
Complete Industrial Grade Pressure Washer Spray Gun & Lance

Replace or upgrade your current gun & wand

3/8" Male Quick Connect Plug On Gun

Snaps into female quick connector on your hose (not included)

Rated Up To 5000 PSI, 8 GPM, & 210° F

Fits many brands of consumer, prosumer, & pro pressure washers

1/4" Quick Connector Coupler On Lance

Accepts most quick connect nozzles & accessories

Also accepts quick connect rotary nozzles

36" Spray Lance

Less bending while cleaning pavement and decks

Better reach with surface cleaners & water brooms (not included)
Specifications
Accessories
Accessory Grade
Professional
Inflow
3/8" Snap Coupler (Male)
Outflow
1/4" Snap Coupler (Female)
Overview
Consumer Warranty
90 Days
Commercial Warranty
90 Days
Grade
Style

Inflow
3/8" Snap Coupler (Male)
Outflow
1/4" Snap Coupler (Female)
Inflow
3/8" Snap Coupler (Male)
Outflow
1/4" Snap Coupler (Female)
Features
Features
Complete Industrial Grade Pressure Washer Spray Gun & Lance

Replace or upgrade your current gun & wand

3/8" Male Quick Connect Plug On Gun

Snaps into female quick connector on your hose (not included)

Rated Up To 5000 PSI, 8 GPM, & 210° F

Fits many brands of consumer, prosumer, & pro pressure washers

1/4" Quick Connector Coupler On Lance

Accepts most quick connect nozzles & accessories

Also accepts quick connect rotary nozzles

36" Spray Lance

Less bending while cleaning pavement and decks

Better reach with surface cleaners & water brooms (not included)
Specifications
Accessories
Accessory Grade
Professional
Inflow
3/8" Snap Coupler (Male)
Outflow
1/4" Snap Coupler (Female)
Overview
Consumer Warranty
90 Days
Commercial Warranty
90 Days
Specifications
Accessories
Accessory Grade
Professional
Inflow
3/8" Snap Coupler (Male)
Outflow
1/4" Snap Coupler (Female)
Overview
Consumer Warranty
90 Days
Commercial Warranty
90 Days
Search Product Q&A's
Answered by Jim. the Pressure Washer Expert
I have a hot water pressure washer, is this compatible with hot water?
Ian
from New York
June 06, 2013
Answer
Yes this spray gun kit is rated for up to 210 F degrees.
Was this answer helpful?
Yes
0
No
0
Will a 4000psi wand work on a 2000psi washer? I am looking for a washer wand for a 4hp 2000psi gas powered pressure washer.
David
from Mississippi
March 09, 2013
Answer
Yes, absolutely. The 4000 psi rating just means that the wand can handle pressure up to 4000 psi. Any pressure rating below is fine, this wand does not have a minimum working pressure rating.
Was this answer helpful?
Yes
0
No
0
Expert Recommended Accessories
Hand Picked By Our Expert Jim
Required Accessories
Add All Required
+
Ask Jim, Our Product Expert, A Question!
*Required Fields
+
Thank You For Submitting Your Question
Your submission has been sent successfully. Please give our experts up to two business days to respond.
Media Gallery
BE Spray Gun and 36" Wand Kit