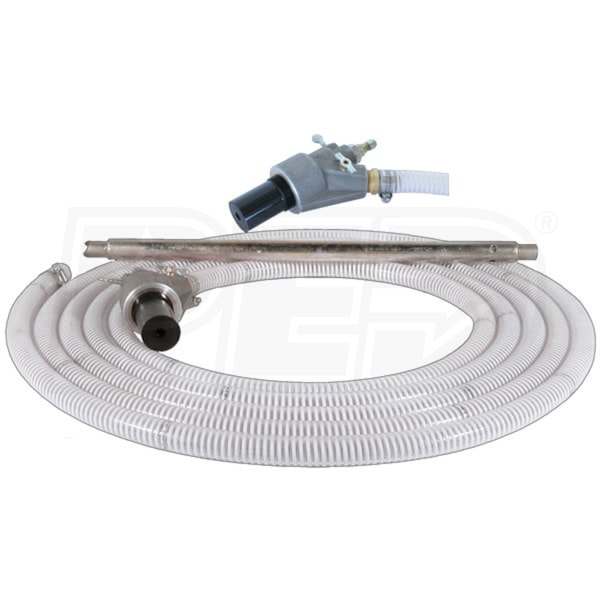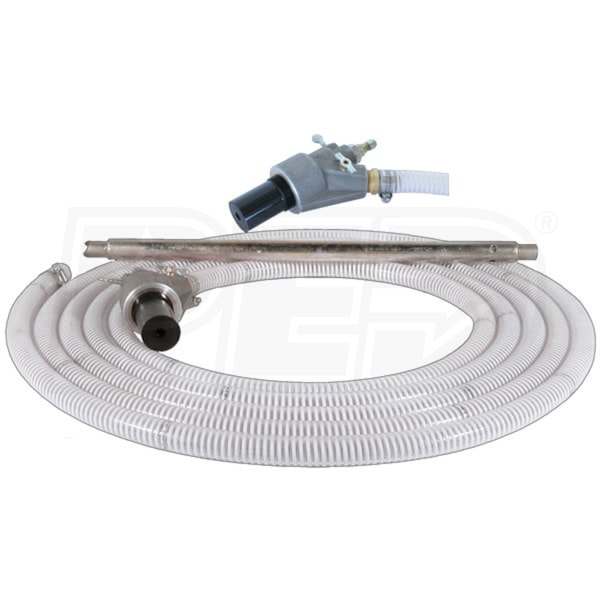 Hover to zoom
1 Of 5
BE Professional 5000 PSI Heavy-Duty Sandblasting Kit
Product Description

Specs

20

Reviews

3

Product Q&A

Recommended Accessories

How-To Articles

Manuals
Grade
Style

Inflow
1/4" Snap Coupler (Male)
Outflow
Wet Sandblast
Inflow
1/4" Snap Coupler (Male)
Features
Features
Wet Sandblaster For Abrasive Cleaning

For suction-fed injection of media into the water stream

Wet media keeps dust & debris out of the air

5000 PSI Maximum Working Pressure; 1500 PSI Minimum

10 GPM maximum water flow

1/4" Male Quick Connect Fitting

Connects to most gas engine pressure washers

Heavy-Duty 3/4" Hose

Includes hose clamp

10TCS5BE Nozzle, 9050-9 Probe, & 9051-9C Head Included

Comes with a #3.5 nozzle to work with many pressure washers

Other 1/4" male NPT sandblaster nozzles sold separately

Match The Nozzle To The Media & Your Pressure Washer

High pressure sandblasting nozzles fit inside the spray head

Nozzle sizing chart link included on each sandblasting nozzle page
Specifications
Accessories
Inflow
1/4" Snap Coupler (Male)
Minimum GPM
Gallon per Minute
3
Maximum GPM
Gallon per Minute
10
Overview
Consumer Warranty
90 Days
Commercial Warranty
90 Days
Grade
Style

Inflow
1/4" Snap Coupler (Male)
Outflow
Wet Sandblast
Inflow
1/4" Snap Coupler (Male)
Features
Features
Wet Sandblaster For Abrasive Cleaning

For suction-fed injection of media into the water stream

Wet media keeps dust & debris out of the air

5000 PSI Maximum Working Pressure; 1500 PSI Minimum

10 GPM maximum water flow

1/4" Male Quick Connect Fitting

Connects to most gas engine pressure washers

Heavy-Duty 3/4" Hose

Includes hose clamp

10TCS5BE Nozzle, 9050-9 Probe, & 9051-9C Head Included

Comes with a #3.5 nozzle to work with many pressure washers

Other 1/4" male NPT sandblaster nozzles sold separately

Match The Nozzle To The Media & Your Pressure Washer

High pressure sandblasting nozzles fit inside the spray head

Nozzle sizing chart link included on each sandblasting nozzle page
Specifications
Accessories
Inflow
1/4" Snap Coupler (Male)
Minimum GPM
Gallon per Minute
3
Maximum GPM
Gallon per Minute
10
Overview
Consumer Warranty
90 Days
Commercial Warranty
90 Days
Specifications
Accessories
Inflow
1/4" Snap Coupler (Male)
Minimum GPM
Gallon per Minute
3
Maximum GPM
Gallon per Minute
10
Overview
Consumer Warranty
90 Days
Commercial Warranty
90 Days
Search Product Q&A's
Answered by Jim. the Pressure Washer Expert
my machine is 13HP, 4200 PSI, 4GPM...rated...not certain what it will do with your equipment attached. ALso confused about the specs, says it includes a nozzle, buit other noizzle required...and where would I find that other nozzle?
Tommy
from New York
May 24, 2015
Answer
This kit would be the best choice for you. However, you do need to purchase the correct nozzles with the unit. I always recommend purchasing 3 nozzle sizes for the different types of media you may use. For your unit, you would want a 3.5,4.0, and 4.5 orifice nozzle. I have attached links for you to view the nozzles you should buy with the unit.
4.0 Orifice Nozzle
3.5 Orifice Nozzle
4.5 Orifice Nozzle
Was this answer helpful?
Yes
0
No
0
How long is the hose in this Sandblasting Kit?
Margaret Mulberry
from Illinois
August 28, 2014
Answer
This has a 25 foot hose.
Was this answer helpful?
Yes
0
No
0
What is the minimum gpm and psi that can be used to get good results with the ----- BE Professional 5000 PSI Heavy-Duty Sandblasting Kit
Steve
from New York
April 13, 2014
Answer
This requires a minimum 3.0 GPM in order to function properly. GPM is the most important specification as it is creating suction with the media of your choice. I do recommend purchasing 3 separate MEG nozzles, one a size larger and one a size smaller in addition to where your ratings fall on our size chart. This is so you can have the best performance and you are able to use all types of media.
Was this answer helpful?
Yes
0
No
0
Expert Recommended Accessories
Hand Picked By Our Expert Jim
Required Accessories
Add All Required
+
Ask Jim, Our Product Expert, A Question!
*Required Fields
+
Thank You For Submitting Your Question
Your submission has been sent successfully. Please give our experts up to two business days to respond.
Media Gallery
BE Professional 5000 PSI Heavy-Duty Sandblasting Kit