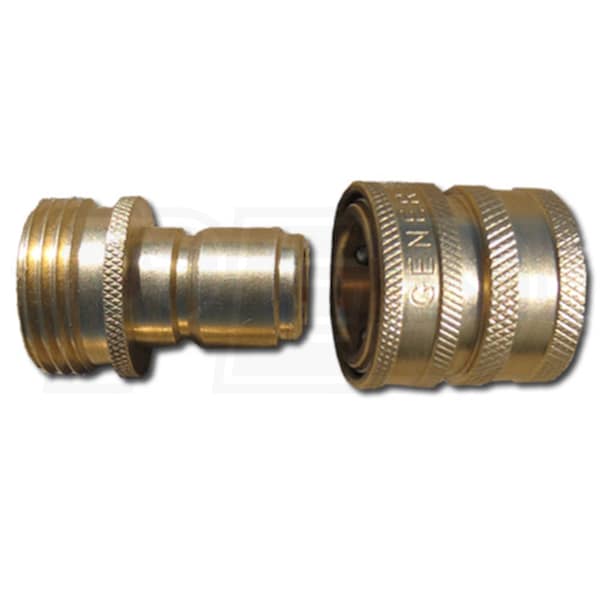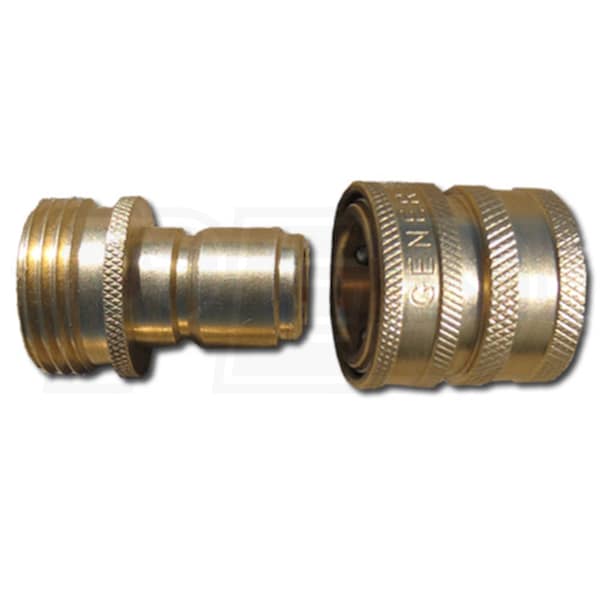 Hover to zoom
1 Of 5
General Pump Garden Hose Quick-Connect Kit
Product Description

Specs

21

Reviews

3

Product Q&A

Recommended Accessories

How-To Articles
Grade
Style

Inflow
Garden Hose Quick Connect (Female)
Outflow
Garden Hose (Male)
Inflow
Garden Hose Quick Connect (Female)
Outflow
Garden Hose (Male)
Features
Features
Quick Connection

Snap hoses together instead of twisting and twisting

Install by simply twisting hoses together one last time

No more bruised knuckles or dripping faucets

Connects One End

Connects spigot/hose OR hose/pressure washer (not both)

Order two sets to connect both ends of garden hose

Compatability

Quick-connects most water spigots and garden hoses

Quick-connects most garden hoses and pressure washers

Used with common garden hose sizes 3/4" & 5/8"

Will NOT work with pressure washers with male water inlet
Specifications
Accessories
Inflow
Garden Hose Quick Connect (Female)
Outflow
Garden Hose (Male)
Overview
Consumer Warranty
90 Days
Grade
Style

Inflow
Garden Hose Quick Connect (Female)
Outflow
Garden Hose (Male)
Inflow
Garden Hose Quick Connect (Female)
Outflow
Garden Hose (Male)
Features
Features
Quick Connection

Snap hoses together instead of twisting and twisting

Install by simply twisting hoses together one last time

No more bruised knuckles or dripping faucets

Connects One End

Connects spigot/hose OR hose/pressure washer (not both)

Order two sets to connect both ends of garden hose

Compatability

Quick-connects most water spigots and garden hoses

Quick-connects most garden hoses and pressure washers

Used with common garden hose sizes 3/4" & 5/8"

Will NOT work with pressure washers with male water inlet
Specifications
Accessories
Inflow
Garden Hose Quick Connect (Female)
Outflow
Garden Hose (Male)
Overview
Consumer Warranty
90 Days
Specifications
Accessories
Inflow
Garden Hose Quick Connect (Female)
Outflow
Garden Hose (Male)
Overview
Consumer Warranty
90 Days
Search Product Q&A's
Answered by Jim. the Pressure Washer Expert
mike . I have a Ryobi 2100 pressure waher with only a 25' pressure hose which has a male water hoes thread on one end and a threaded female connector on the other end. I need a longer pressure hoss. ere copatible hoses i can buy or adater fittings for the new hose.
Mark Peranich
from Tennessee
July 13, 2014
Answer
I do not sell that unit here so I do not have the specs. However, looking online it shows a M22 threaded connections on both sides of the hose. Can you confirm the connections? Does the hose look the same on both sides?
Was this answer helpful?
Yes
0
No
0
i have a nw sportsman 2000psi pressure washer model nww5105 and need the garden hose connect kit ,would this one work the D10010 ?
Bert Buchler
from Tennessee
August 07, 2011
Answer
I'm not real familar with that model as far as the connections, however as long as your machine has female threads on the garden hose inlet then this quick connect kit would be compatible. If the garden hose connection on your machine has male threads, then you would want to purchase quick connect kit model 81K030SH
Was this answer helpful?
Yes
0
No
0
would this item fit a Campbell Hausfeld 1800 PSI (Electric-Cold Water) Pressure Washer w/Reel in place of the plastic hose connector?
Bob
from Tennessee
July 29, 2011
Answer
No it would not because that machine has male threads that the plastic hose connector attaches to. The correct part number that you would want to purchase for that machine would be 81K030SH. That garden hose quick connect kit comes with both a male and female adapter.
Was this answer helpful?
Yes
0
No
0
Expert Recommended Accessories
Hand Picked By Our Expert Jim
Required Accessories
Add All Required
+
Ask Jim, Our Product Expert, A Question!
*Required Fields
+
Thank You For Submitting Your Question
Your submission has been sent successfully. Please give our experts up to two business days to respond.
Media Gallery
General Pump Garden Hose Quick-Connect Kit