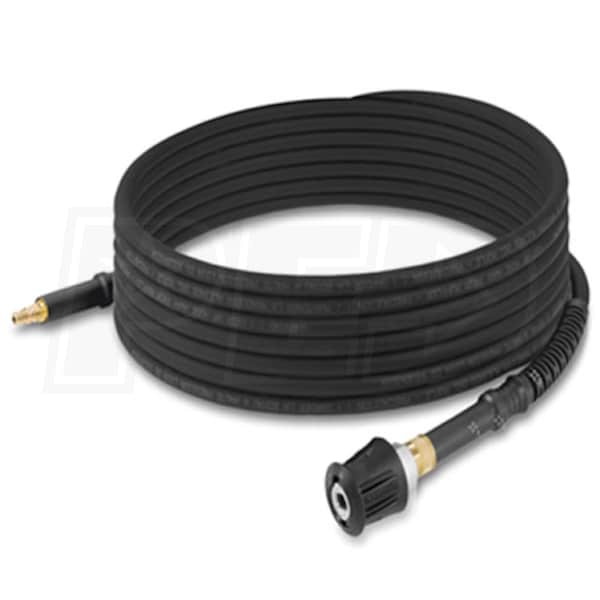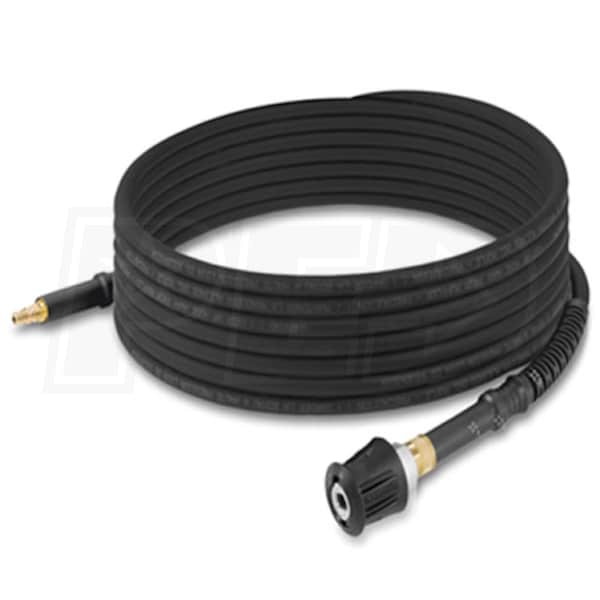 Hover to zoom
1 Of 5
Karcher X-Series 25-Foot (1/4") Extension High Pressure Hose
Product Description

Specs

5

Reviews

5

Product Q&A

Recommended Accessories

How-To Articles
Grade

Style

Features
Features
Genuine Karcher Extension Hose For X-Series Pressure Washers

Also fits other Karcher quick connect hoses

25 Foot High Pressure Hose With Karcher Quick Connects

Will NOT work as a replacement hose

Male Karcher quick connector at one end

Female Karcher quick connector coupler at the other end

Fits These Karcher Models:

K2.150, K2.20M, K2.26M, K2.27CCK, K2.29, K2.350, K2.360CCK,

K2.425, K3.00, K3.350, K3.450, K3.48M, K3.49M, K3.540, K3.690,

K3.740, K5.690, K5.740

Donít see your model number here?

Call Karcher at 800-537-4129
Specifications
Hose
Accessories
Accessory Style
Karcher Electric
Overview
Consumer Warranty
90 Days
Grade

Style

Features
Features
Genuine Karcher Extension Hose For X-Series Pressure Washers

Also fits other Karcher quick connect hoses

25 Foot High Pressure Hose With Karcher Quick Connects

Will NOT work as a replacement hose

Male Karcher quick connector at one end

Female Karcher quick connector coupler at the other end

Fits These Karcher Models:

K2.150, K2.20M, K2.26M, K2.27CCK, K2.29, K2.350, K2.360CCK,

K2.425, K3.00, K3.350, K3.450, K3.48M, K3.49M, K3.540, K3.690,

K3.740, K5.690, K5.740

Donít see your model number here?

Call Karcher at 800-537-4129
Specifications
Hose
Accessories
Accessory Style
Karcher Electric
Overview
Consumer Warranty
90 Days
Specifications
Hose
Accessories
Accessory Style
Karcher Electric
Overview
Consumer Warranty
90 Days
Search Product Q&A's
Answered by Jim. the Pressure Washer Expert
I have a K360M 1600psi pressure cleaner. Will this hose work?
Preston Driscoll
from North Carolina
July 15, 2016
Answer
Karcher told us this hose fits K2.150, K2.20M, K2.26M, K2.27CCK, K2.29, K2.350, K2.360CCK, K2.425, K3.00, K3.350, K3.450, K3.48M, K3.49M, K3.540, K3.690, K3.740, K5.690, and K5.740.

Since your K360M isn't on that list, you'll need to give the folks at Karcher a call at (800) 537-4129 to find out which hose will fit your machine.
Was this answer helpful?
Yes
0
No
0
If I buy the Karcher X Series 1800 psi pressure washer, must I buy this extension hose (2.642-588.0) or can I use the Karcher PN 9.162-306.0 which I bought for my Karcher K2.900. My 2.900 is kaput.
Richard
from
February 26, 2012
Answer
If you are looking to use an extension hose with the Karcher X series machines, you will have to buy this specific extension hose. The Karcher X series units do not have the same hose connections as previous Karcher models.
Was this answer helpful?
Yes
0
No
0
I have Karcher Model K5.68 power washer and I need a Extension Hose to make it longer.
James Pierce
from Virginia
June 04, 2011
Answer
This hose will not work, you would need to use the 2.640-850.

Thanks,

Pressure Washers Direct
Was this answer helpful?
Yes
0
No
0
I have a Karcher K5.740 The garden hose connector cracked and I cannot find the rreplacement piece Its actually the water inlet with connector that needs replaced Where can I find this part?
Steven Drexler
from Pennsylvania
April 30, 2011
Answer
If you are referring to the quick connect adapter that comes with this unit, you can always purchase a metal garden hose quick connect kit that would be more durable. Unfortunately we do not carry the exact replacement adapter from Karcher.
If you are referring to the actual threaded water inlet that is attached to the machine, unfortunately we do not carry that type of part for this model pressure washer. If that is the part you are referring to, please visit www.pressureparts.com . They will more than likely have what you are looking for but there is a chance that part cannot be replaced.
If the garden hose quick connect adapter is what needs to be replaced, I am posting a link below to a product that would be compatible.
PowerWasher Garden Hose Quick Connect Kit
Was this answer helpful?
Yes
0
No
0
Just bought the Karcher 3.74 from you guys. What is the "Pump Guard" which is recommended for storing and protecting the pump? And how do I use such?
Preben Jensen
from California
March 24, 2011
Answer
The Karcher pump guard is a chemical that is designed to extend the life of the pump and the seals within. Pump guard or pump saver as it is also called, will lubricate the seals in the pump and also prevent any water that is left inside the pump from freezing during the colder months.

To use this product, you simply attach it to your garden hose water inlet fitting and turn the machine on for a few seconds. Once the chemical exits the outlet high pressure fitting, the pump is protected.

You should defintely run this chemical through the pump every time you are going to store your pressure washer away for extended periods of time such as over 30 days. You should also run this chemical through the pump periodically throughout the year to keep the seals moist.
Was this answer helpful?
Yes
0
No
1
Expert Recommended Accessories
Hand Picked By Our Expert Jim
Required Accessories
Add All Required
+
Ask Jim, Our Product Expert, A Question!
*Required Fields
+
Thank You For Submitting Your Question
Your submission has been sent successfully. Please give our experts up to two business days to respond.
Media Gallery
Karcher X-Series 25-Foot (1/4") Extension High Pressure Hose