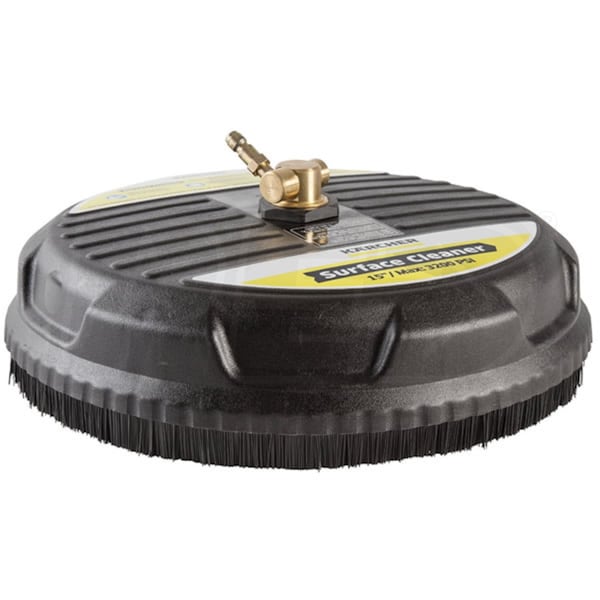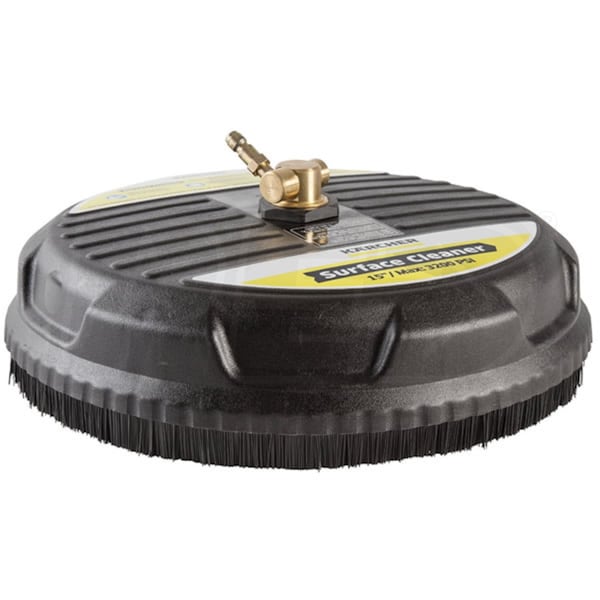 Hover to zoom
1 Of 5
Karcher 15" Surface Cleaner For Gas Pressure Washers (up to 3200 PSI Cold Water)
Product Description

Specs

32

Reviews

3

Product Q&A

Recommended Accessories

How-To Articles
Grade

Style

Inflow
1/4" Snap Coupler (Male)
Outflow
Surface Cleaner
Inflow
1/4" Snap Coupler (Male)
Features
Features
Designed for Gas Pressure Washers

Fits Karcher gas pressure washers rated up to 3200 PSI & 2.7 GPM

Fits most other gasoline pressure washers up to 3200 PSI & 2.7 GPM

Intended for consumer use only

Revolutionary Hovering Cleaner

Cleans a 15-inch swath without touching the surface

Uses two spinning nozzles

Eliminates streaky, uneven cleaning & reduces cleaning time

Splashless Cleaning

Protective splash guard keeps you dry while you clean

Use With Your 1/4" Quick Connect Spray Wand

1/4" male quick connect snaps in place just like a spray nozzle

A longer wand may reduce bending over (sold separately)
Specifications
Accessories
Inflow
1/4" Snap Coupler (Male)
Minimum GPM
Gallon per Minute
2
Maximum GPM
Gallon per Minute
2.7
Overview
Consumer Warranty
90 Days
Product Height
5.5 Inches
Grade

Style

Inflow
1/4" Snap Coupler (Male)
Outflow
Surface Cleaner
Inflow
1/4" Snap Coupler (Male)
Features
Features
Designed for Gas Pressure Washers

Fits Karcher gas pressure washers rated up to 3200 PSI & 2.7 GPM

Fits most other gasoline pressure washers up to 3200 PSI & 2.7 GPM

Intended for consumer use only

Revolutionary Hovering Cleaner

Cleans a 15-inch swath without touching the surface

Uses two spinning nozzles

Eliminates streaky, uneven cleaning & reduces cleaning time

Splashless Cleaning

Protective splash guard keeps you dry while you clean

Use With Your 1/4" Quick Connect Spray Wand

1/4" male quick connect snaps in place just like a spray nozzle

A longer wand may reduce bending over (sold separately)
Specifications
Accessories
Inflow
1/4" Snap Coupler (Male)
Minimum GPM
Gallon per Minute
2
Maximum GPM
Gallon per Minute
2.7
Overview
Consumer Warranty
90 Days
Product Height
5.5 Inches
Specifications
Accessories
Inflow
1/4" Snap Coupler (Male)
Minimum GPM
Gallon per Minute
2
Maximum GPM
Gallon per Minute
2.7
Overview
Consumer Warranty
90 Days
Product Height
5.5 Inches
Search Product Q&A's
Answered by Jim. the Pressure Washer Expert
Does the circular bottom brush easily pop out for cleanup? Or is it permanently affixed. Will it fit a generac sprayer
Larry
from Louisiana
July 17, 2016
Answer
This comes with a male quick connector, and it fits most other gasoline pressure washers up to 3200 PSI & 2.7 GPM.

That would include your Generac unit as long as it's 3200 PSI or less.

The circular brush at the bottom keeps the spray from splattering. It doesn't pop out, and it shouldn't get that dirty since the surface cleaner hovers above the surface.

For best results, spray deep dirt off the surface first, then use your surface cleaner. That will give you smooth, even results and help keep the spray jets from clogging.
Was this answer helpful?
Yes
0
No
0
Where do I begin? Where is this unit made? What does the spray arm pivot on?....bearings, fiber bushing, metal bushing, etc? Are replacement parts readily available?
Trevor E.
from Florida
June 29, 2016
Answer
Thank you for your inquiry. Unfortunately, Karcher does not publish this information for us. I suggest giving their technical support phone number a call at (800) 537-4129.
Was this answer helpful?
Yes
0
No
0
Can This model (Karcher T400) fit with MSH3125-S?
TonyYu
from California
June 03, 2016
Answer
Tony,

Yes, this will attach to the end of the spray wand where the colored spray tips attach. This is one of the best consumer grade surface cleaners in the industry and I would not hesitate to recommend it.
Was this answer helpful?
Yes
0
No
0
Expert Recommended Accessories
Hand Picked By Our Expert Jim
Required Accessories
Add All Required
+
Ask Jim, Our Product Expert, A Question!
*Required Fields
+
Thank You For Submitting Your Question
Your submission has been sent successfully. Please give our experts up to two business days to respond.
Media Gallery
Karcher 15" Surface Cleaner For Gas Pressure Washers (up to 3200 PSI Cold Water)