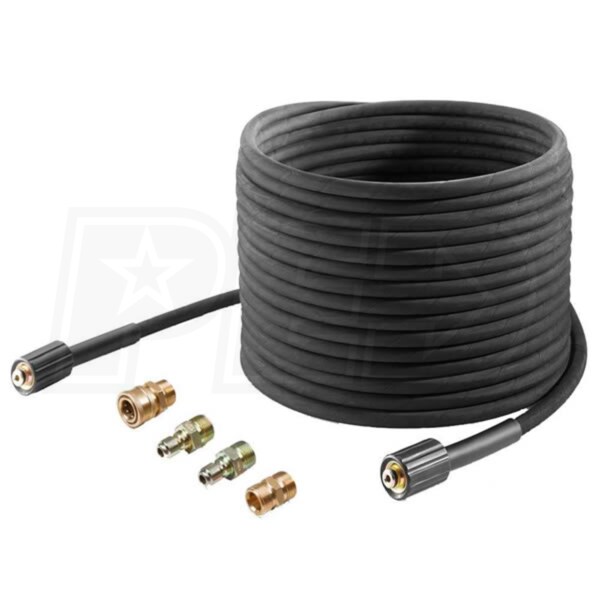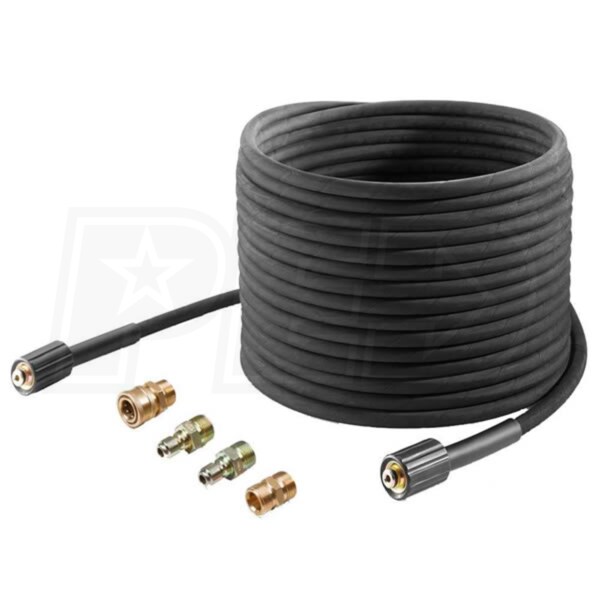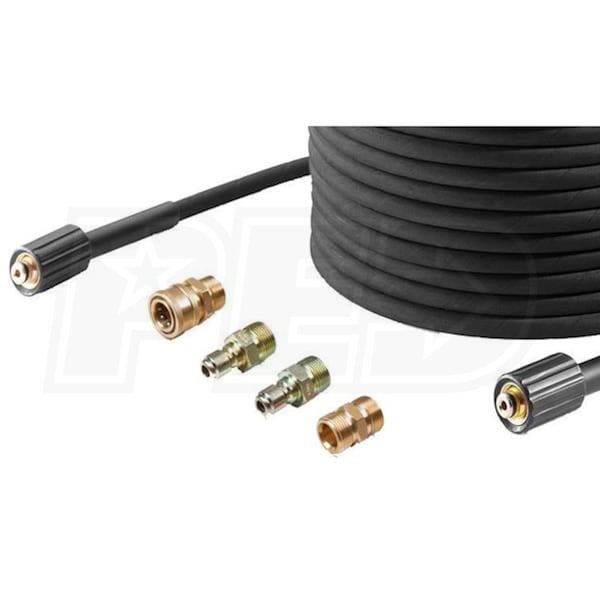 Hover to zoom
1 Of 5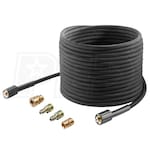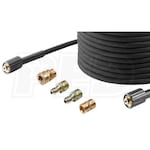 Karcher 50-Foot (5/16") 4000 PSI QC & M22 Extension/Replacement High Pressure Hose
Product Description

Specs

4

Reviews

2

Product Q&A

Recommended Accessories

How-To Articles
Grade
Style

Inflow
22m Threaded (Female)
Outflow
22m Threaded (Female)
Inflow
22m Threaded (Female)
Outflow
22m Threaded (Female)
Features
Features
Karcher Compatible

Works with Karcher G-, K- and HD- series M-22 pressure washers

Includes Quick Connect Adaptors

Fits all M22 screw-on gun connections from 2,400-4,000 PSI

Not compatible with Karcher electric pressure washers

Also works with quick connect pressure washers up to 4,000 PSI

Extension And Replacement Hose

Includes male/male adapter to connect two M22 hoses together

Maximum Pressure

Prosumer-grade rubber hose rated up to 4,000 PSI

Hose is 5/16" in diameter
Specifications
Hose
Accessories
Inflow
22m Threaded (Female)
Outflow
22m Threaded (Female)
Overview
Consumer Warranty
90 Days
Product Height
3/8 Inches
Grade
Style

Inflow
22m Threaded (Female)
Outflow
22m Threaded (Female)
Inflow
22m Threaded (Female)
Outflow
22m Threaded (Female)
Features
Features
Karcher Compatible

Works with Karcher G-, K- and HD- series M-22 pressure washers

Includes Quick Connect Adaptors

Fits all M22 screw-on gun connections from 2,400-4,000 PSI

Not compatible with Karcher electric pressure washers

Also works with quick connect pressure washers up to 4,000 PSI

Extension And Replacement Hose

Includes male/male adapter to connect two M22 hoses together

Maximum Pressure

Prosumer-grade rubber hose rated up to 4,000 PSI

Hose is 5/16" in diameter
Specifications
Hose
Accessories
Inflow
22m Threaded (Female)
Outflow
22m Threaded (Female)
Overview
Consumer Warranty
90 Days
Product Height
3/8 Inches
Specifications
Hose
Accessories
Inflow
22m Threaded (Female)
Outflow
22m Threaded (Female)
Overview
Consumer Warranty
90 Days
Product Height
3/8 Inches
Search Product Q&A's
Answered by Jim. the Pressure Washer Expert
HI Mike, We have a Excell 2600 PSI Max-XR2625 powered by Honda. It is a quick connect 5/16 in hose. We are looking to get a longer hose than the 25ft one we have. Will the Karcher 50ft QC and M22 work with our pressure washer?
Lisa
from Oregon
August 18, 2014
Answer
Yes, this is a rubber hose and one of the best hoses available that is 5/16" in diameter. It comes with all the necessary adapters to connect it to your unit. I would not hesitate to recommend this item.
Was this answer helpful?
Yes
0
No
0
Hi Mike, I have a Generac 3100 psi pressure washer and am looking for a longer hose. Will th Karcher 50 ft Model 9.558-124.0 work okay with my unit and will I notice much drop in pressure going from a 1/4 to 5/16 hose? Thanks
Jim Muirhead
from Washington
June 05, 2014
Answer
Generac uses M22 connectors, so this hose should be fine for you. With a 3100 PSI unit the pressure drop from going to a slightly large hose won't be noticeable, especially if you're going to use the 50 foot instead of the 25 or 30 foot hose that came with your pressure washer.

If you're going to use the 50 foot AND the 25 foot hose together, you may see a slight difference, but it shouldn't affect your pressure washer's performance much. The rule of thumb is that you can double the length of your original hose without a decrease in performance, but if you go past that you will start seeing a drop in pressure.

Was this answer helpful?
Yes
0
No
0
Expert Recommended Accessories
Hand Picked By Our Expert Jim
Required Accessories
Add All Required
+
Ask Jim, Our Product Expert, A Question!
*Required Fields
+
Thank You For Submitting Your Question
Your submission has been sent successfully. Please give our experts up to two business days to respond.
Media Gallery
Karcher 50-Foot (5/16") 4000 PSI QC & M22 Extension/Replacement High Pressure Hose