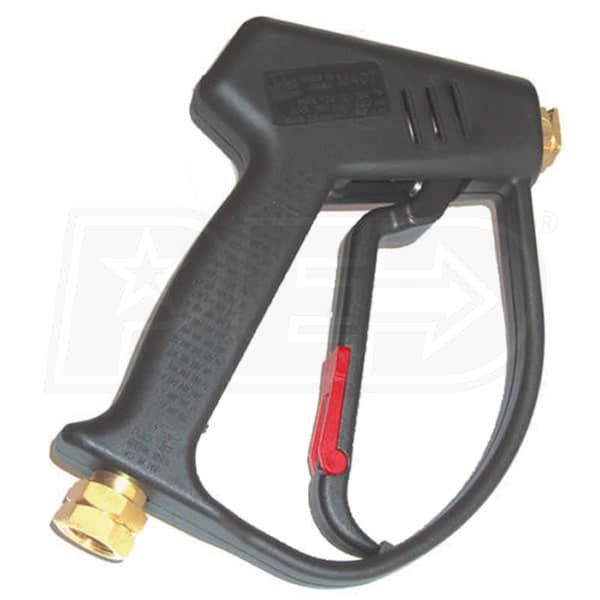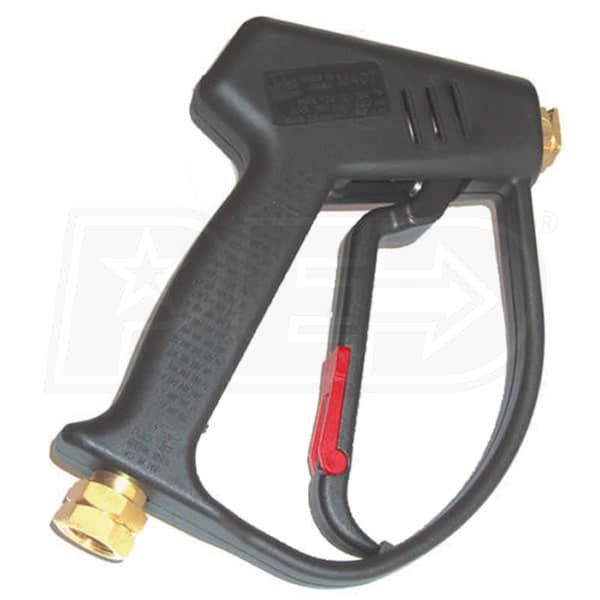 Hover to zoom
1 Of 5
MTM Hydro M407 4000 PSI 7 GPM Spray Gun
Product Description

Specs

6

Reviews

1

Product Q&A

Recommended Accessories

How-To Articles
Grade
Style

Inflow
3/8" Threaded (Female)
Outflow
1/4" Threaded (Female)
Inflow
3/8" Threaded (Female)
Outflow
1/4" Threaded (Female)
Features
Features
Replacement Spray Gun

Fits many brands of pressure washer

Rated up to 4000 PSI, 7 GPM, & 250°F max water temperature

Steel & Brass Body

High tolerance steel body, brass internals last a long time

Plastic body sculpted for comfort

Safety Trigger Lock

Flips down to prevent accidental discharge

Versatile Fittings

Hose end is 3/8" female threads

Wand end is 1/4" female threads
Specifications
Spray Gun
Spray Gun Connection
Threaded
Spray Gun Grade
Professional
Accessories
Inflow
3/8" Threaded (Female)
Outflow
1/4" Threaded (Female)
Overview
Consumer Warranty
90 Days
Grade
Style

Inflow
3/8" Threaded (Female)
Outflow
1/4" Threaded (Female)
Inflow
3/8" Threaded (Female)
Outflow
1/4" Threaded (Female)
Features
Features
Replacement Spray Gun

Fits many brands of pressure washer

Rated up to 4000 PSI, 7 GPM, & 250°F max water temperature

Steel & Brass Body

High tolerance steel body, brass internals last a long time

Plastic body sculpted for comfort

Safety Trigger Lock

Flips down to prevent accidental discharge

Versatile Fittings

Hose end is 3/8" female threads

Wand end is 1/4" female threads
Specifications
Spray Gun
Spray Gun Connection
Threaded
Spray Gun Grade
Professional
Accessories
Inflow
3/8" Threaded (Female)
Outflow
1/4" Threaded (Female)
Overview
Consumer Warranty
90 Days
Specifications
Spray Gun
Spray Gun Connection
Threaded
Spray Gun Grade
Professional
Accessories
Inflow
3/8" Threaded (Female)
Outflow
1/4" Threaded (Female)
Overview
Consumer Warranty
90 Days
Search Product Q&A's
Answered by Jim. the Pressure Washer Expert
Will the MTM Hydro m470 spray gun work with my powerflow and Technology pressure washer, 3000 psi 5 gallons per minute
Missy Schubele
from Florida
October 11, 2016
Answer
I'm sorry, I'm not familiar with the brand you mention. If your unit has a 1/4" NPT male threaded wand and uses 3/8" NPT male threaded high pressure hose then it will work.

If you look at the Features for each spray gun you'll see pictures of the connectors- that will make finding a match easier.
Was this answer helpful?
Yes
0
No
0
Expert Recommended Accessories
Hand Picked By Our Expert Jim
Required Accessories
Add All Required
+
Ask Jim, Our Product Expert, A Question!
*Required Fields
+
Thank You For Submitting Your Question
Your submission has been sent successfully. Please give our experts up to two business days to respond.
Media Gallery
MTM Hydro M407 4000 PSI 7 GPM Spray Gun