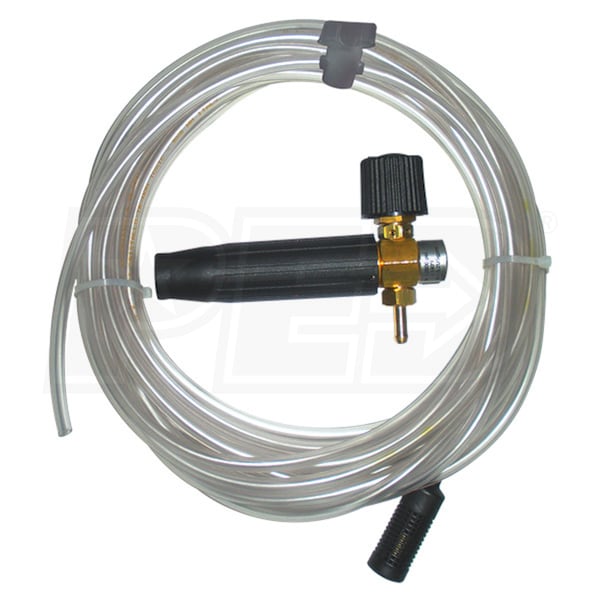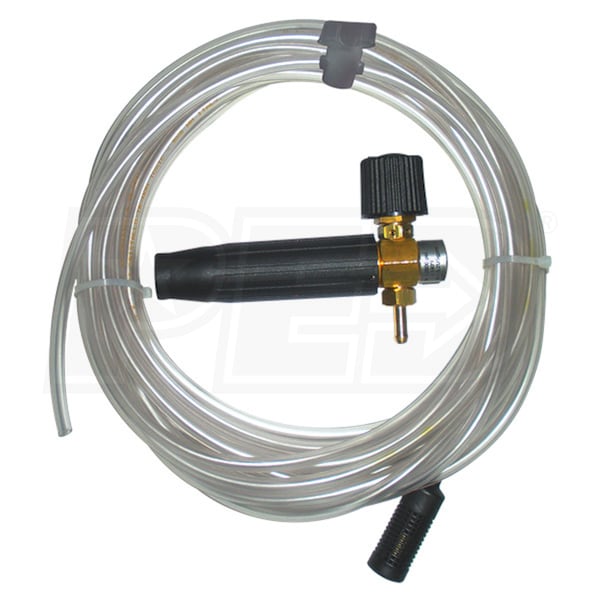 Hover to zoom
1 Of 5
MTM Hydro Professional Long-Range Jet Foamer Kit
Product Description

Specs

16

Reviews

3

Product Q&A

Recommended Accessories

How-To Articles

Manuals
Grade
Style

Inflow
1/4" Threaded (Female)
Outflow
Fan Spray
Inflow
1/4" Threaded (Female)
Features
Features
Disperses Thick Foam

Applies detergent over 20 feet away & 30 foot cleaning radius

Quality Construction

Constructed from brass & high grade stainless steel

1/4" female NPT threaded fitting

Adjustable Spray Pattern

Perfect for driveways, roofs, siding, even your car

33 Foot Long Chemical Hose

Over 33 feet of suction power; lets you work in a wide area

3 Stainless Steel Spray Heads Included

Yellow 3.5 orifice for 2.5 to 3.0 GPM 3000 PSI pressure washers

Red 5.0 orifice for 3.5 to 4 GPM 4000 PSI pressure washers

Black 6.5 orifice for 5.0 to 5.6 GPM 5000 PSI pressure washers

Factory Warranty

90 days on materials & workmanship

2000 PSI Minimum Pressure; 5000 PSI Maximum Pressure

2.5 GPM Minimum; 5.6 GPM Maximum

Maximum water temperature of 140° F

Fixed 80 / 20 dilution ratio

1/4" Quick Connect Plug (1/4" Male End) Needed To Connect To Quick Connect Wands

1/4" Quick Connect Plug (1/4" Male End) Needed To Connect To Quick Connect Wands
Specifications
Accessories
Accessory Grade
Professional
Inflow
1/4" Threaded (Female)
Overview
Consumer Warranty
90 Days
Grade
Style

Inflow
1/4" Threaded (Female)
Outflow
Fan Spray
Inflow
1/4" Threaded (Female)
Features
Features
Disperses Thick Foam

Applies detergent over 20 feet away & 30 foot cleaning radius

Quality Construction

Constructed from brass & high grade stainless steel

1/4" female NPT threaded fitting

Adjustable Spray Pattern

Perfect for driveways, roofs, siding, even your car

33 Foot Long Chemical Hose

Over 33 feet of suction power; lets you work in a wide area

3 Stainless Steel Spray Heads Included

Yellow 3.5 orifice for 2.5 to 3.0 GPM 3000 PSI pressure washers

Red 5.0 orifice for 3.5 to 4 GPM 4000 PSI pressure washers

Black 6.5 orifice for 5.0 to 5.6 GPM 5000 PSI pressure washers

Factory Warranty

90 days on materials & workmanship

2000 PSI Minimum Pressure; 5000 PSI Maximum Pressure

2.5 GPM Minimum; 5.6 GPM Maximum

Maximum water temperature of 140° F

Fixed 80 / 20 dilution ratio

1/4" Quick Connect Plug (1/4" Male End) Needed To Connect To Quick Connect Wands

1/4" Quick Connect Plug (1/4" Male End) Needed To Connect To Quick Connect Wands
Specifications
Accessories
Accessory Grade
Professional
Inflow
1/4" Threaded (Female)
Overview
Consumer Warranty
90 Days
Specifications
Accessories
Accessory Grade
Professional
Inflow
1/4" Threaded (Female)
Overview
Consumer Warranty
90 Days
Search Product Q&A's
Answered by Jim. the Pressure Washer Expert
MTM Hydro Professional Long-Range Jet Foamer Kit model 14.0289 . Will this work with a 2600psi 2.3 gpm washer? Is the nozzle adjustable for a fan like spray low, then switch more to a stream for higher application? What adapter(s) would I need to connect to my wand and would I need a two story nozzle too?
Joe Owens
from Virginia
July 10, 2016
Answer
The spray adjusts from wide to narrow; the narrow spray will travel farther than the wide one will.
I'm sorry, but the minimums for 14.0289 foamer are 3000 PSI and 2.5 GPM; I don't believe you'd get the performance you're looking for with the unit you mention. However, the
MTM Hydro Long Range Foamer
should work just fine, as will the
BE Long Range Foamer
.
If your pressure washer has a female quick connector on the end of the wand you wouldn't need an adapter for either foamer.
If you don't need a thick layer of foam, you may want to consider a
2nd Story Nozzle Kit
to spray and rinse soap up to about 20 feet.
Was this answer helpful?
Yes
0
No
0
What is the mix ratio chemical - water for this foamer? Is the ratio adjustable?
Danny Price
from Tennessee
June 10, 2015
Answer
It all depends on the detergent. There is no set ratio or a way to reduce the ratio. The pressure washer will dilute the solution by 10-20%. If you would like to have a more watered down solution add water to the chemical in the bucket you will be siphoning from.
Was this answer helpful?
Yes
0
No
0
Does this shoot foam very well? I have not tried shooting foam before, and wonder if foaming the soap works better at removing dirt/mold than regular spraying? Any advice is appreciated.
from Florida
February 27, 2012
Answer
Yes, this kit performs very good. The foaming action definitely helps in removing the dirt due to the fact that the foam causes the detergent to stick to the surface versus running off of the surface.
Was this answer helpful?
Yes
0
No
0
Expert Recommended Accessories
Hand Picked By Our Expert Jim
Required Accessories
Add All Required
+
Ask Jim, Our Product Expert, A Question!
*Required Fields
+
Thank You For Submitting Your Question
Your submission has been sent successfully. Please give our experts up to two business days to respond.
Media Gallery
MTM Hydro Professional Long-Range Jet Foamer Kit