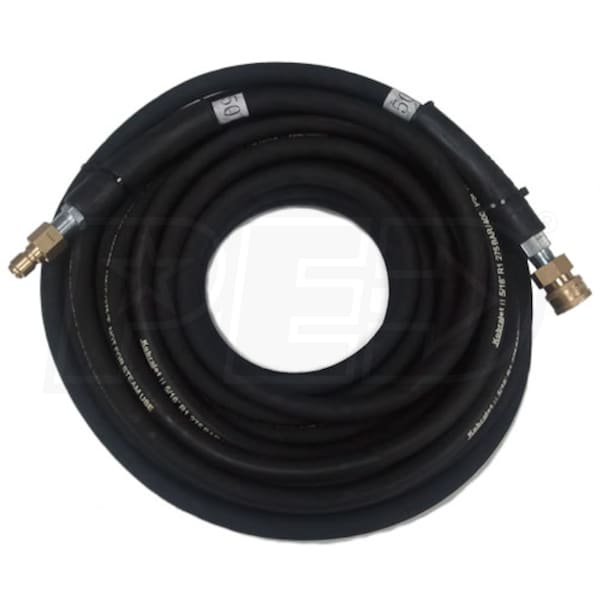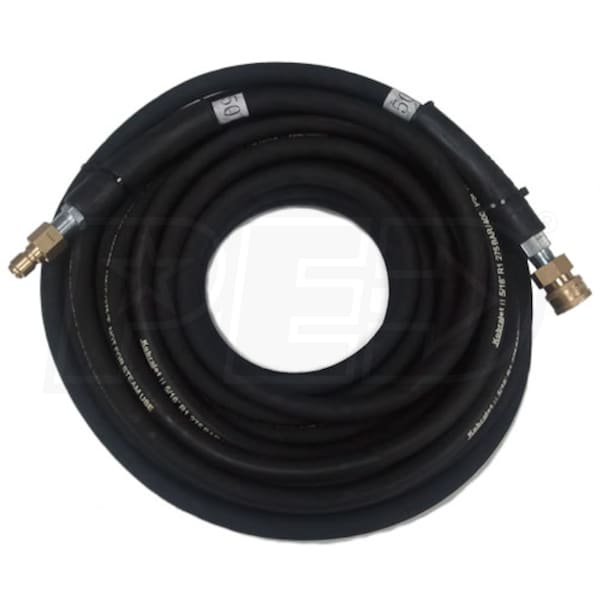 Hover to zoom
1 Of 5
MTM Hydro Kobrajet II 50' (5/16") Pressure Washer Hose
Product Description

Specs

1

Reviews

2

Product Q&A

Recommended Accessories

How-To Articles
Grade
Style

Inflow
3/8" Snap Coupler (Male)
Outflow
3/8" Snap Coupler (Female)
Inflow
3/8" Snap Coupler (Male)
Outflow
3/8" Snap Coupler (Female)
Features
Features
High Quality 5/16" Hose

Upgraded with quick connects for easy hookup

Braided, Interlocking Single Steel Wire Wrapped Inner Layer

Increases durability & abrasion resistance

Flexible Rubber Wrapped Outer Layer

Resists kinking & twisting

Bend Restrictors On Both Ends

Reduces wear & tear on the hose at the connector

3/8" swivel fitting on spray gun end reduces kinking

3/8" rigid fitting on washer end is easier to attach

High Visibility Detailing

Hose is less likely to be tripped over or damaged

Maxumum 4000 PSI and 275° F
Specifications
Accessories
Inflow
3/8" Snap Coupler (Male)
Outflow
3/8" Snap Coupler (Female)
Overview
Consumer Warranty
90 Days
Product Length
50' Inches
Product Width
5/16 Inches
Grade
Style

Inflow
3/8" Snap Coupler (Male)
Outflow
3/8" Snap Coupler (Female)
Inflow
3/8" Snap Coupler (Male)
Outflow
3/8" Snap Coupler (Female)
Features
Features
High Quality 5/16" Hose

Upgraded with quick connects for easy hookup

Braided, Interlocking Single Steel Wire Wrapped Inner Layer

Increases durability & abrasion resistance

Flexible Rubber Wrapped Outer Layer

Resists kinking & twisting

Bend Restrictors On Both Ends

Reduces wear & tear on the hose at the connector

3/8" swivel fitting on spray gun end reduces kinking

3/8" rigid fitting on washer end is easier to attach

High Visibility Detailing

Hose is less likely to be tripped over or damaged

Maxumum 4000 PSI and 275° F
Specifications
Accessories
Inflow
3/8" Snap Coupler (Male)
Outflow
3/8" Snap Coupler (Female)
Overview
Consumer Warranty
90 Days
Product Length
50' Inches
Product Width
5/16 Inches
Specifications
Accessories
Inflow
3/8" Snap Coupler (Male)
Outflow
3/8" Snap Coupler (Female)
Overview
Consumer Warranty
90 Days
Product Length
50' Inches
Product Width
5/16 Inches
Search Product Q&A's
Answered by Jim. the Pressure Washer Expert
Is this hose compatible with 20274-BONUS?
Lito Jugalbot
from Florida
June 03, 2011
Answer
Yes, you can use this hose with the 20274. You would have to add some adapters, which we could help you with, but it will still work.

Thanks,

Pressure Washers Direct
Was this answer helpful?
Yes
0
No
0
Need Extension Hose for a Model K3 68M Karcher Power Washer. What do I buy?
Harley Hall
from New York
April 01, 2011
Answer
This MTM hose is not compatible with Karcher electric pressure washers. You would need to buy Karcher's 1/4" hose model 2.640-850.
I posted a link below to the item I am referring to:
Karcher 1/4" Extension Hose
Was this answer helpful?
Yes
0
No
0
Expert Recommended Accessories
Hand Picked By Our Expert Jim
Required Accessories
Add All Required
+
Ask Jim, Our Product Expert, A Question!
*Required Fields
+
Thank You For Submitting Your Question
Your submission has been sent successfully. Please give our experts up to two business days to respond.
Media Gallery
MTM Hydro Kobrajet II 50' (5/16") Pressure Washer Hose