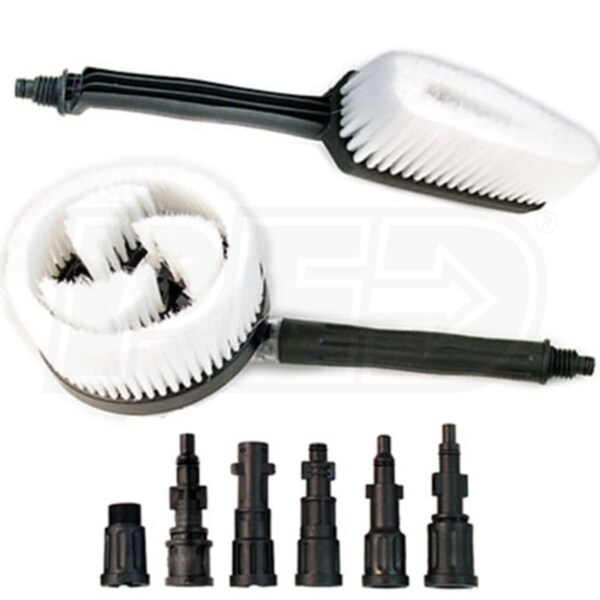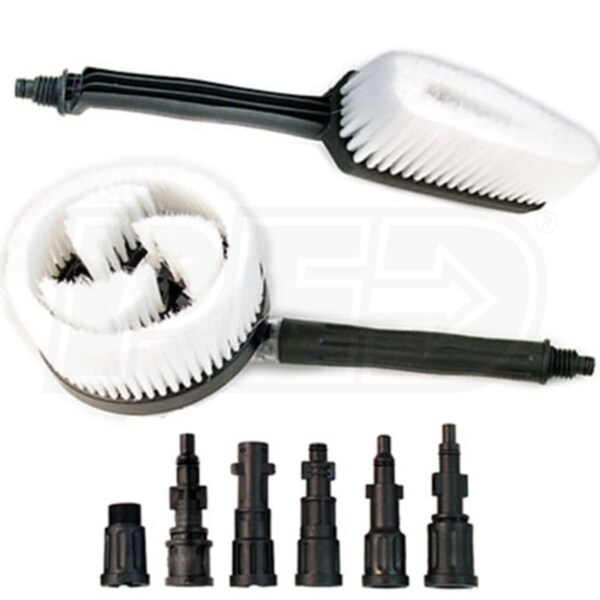 Hover to zoom
1 Of 5
Powerwasher Universal Brush Kit (Electric & Consumer Gas 3000 PSI)
Product Description

Specs

5

Reviews

2

Product Q&A

Recommended Accessories

How-To Articles
Features
Features
Universal Pressure Washer Dual Brush Kit

Designed for electric or gasoline pressure washers

Rotating Brush

Soft inner bristles spin, propelled by water pressure

Great for cleaning cars, boat, windows and painted surfaces

Multi-Purpose Brush

Brush design is ideal for hard-to-reach areas

Feathered bristles for gentle scrubbing action

Great for cleaning wheels, BBQ grills and patio furniture

6 Universal Adapters

Consumer Gas pressure washers with M22 threaded connectors

Powerwasher electric power washers

Karcher electric power washers

Some other electric pressure washers

Will NOT work with Campbell Hausfeld or AR units
Specifications
Accessories
Overview
Consumer Warranty
90 Days
Features
Features
Universal Pressure Washer Dual Brush Kit

Designed for electric or gasoline pressure washers

Rotating Brush

Soft inner bristles spin, propelled by water pressure

Great for cleaning cars, boat, windows and painted surfaces

Multi-Purpose Brush

Brush design is ideal for hard-to-reach areas

Feathered bristles for gentle scrubbing action

Great for cleaning wheels, BBQ grills and patio furniture

6 Universal Adapters

Consumer Gas pressure washers with M22 threaded connectors

Powerwasher electric power washers

Karcher electric power washers

Some other electric pressure washers

Will NOT work with Campbell Hausfeld or AR units
Specifications
Accessories
Overview
Consumer Warranty
90 Days
Specifications
Accessories
Overview
Consumer Warranty
90 Days
Search Product Q&A's
Answered by Jim. the Pressure Washer Expert
Will the brush kit fit on my PowerStroke 2600 PSI • 25-ft. 1/4 in. Non-Marring High Pressure Hose • 2600 PSI Rated Max. Pressure • 2.3 GPM Rated Max. Flow • GCV160 Honda 161cc Engine • 4 Quick-Connect Nozzles (0°, 25°, 40°, Soap) • 12-in. x 2-in. Never Flat Treadcap Tires • 1 Gallon Detergent Tank • 3-Piston Direct Drive Pump (* Rating according to PWMA 101) "
Sonny
from California
October 03, 2011
Answer
Yes this brush kit will definitely work with your pressure washer. It will also include the appropriate adapter to make it compatible with your existing trigger gun.
Was this answer helpful?
Yes
0
No
0
is the power washer universal brush kit compatible with the AR Blue Clean 1500 psi handheld power washer?
Scott
from Pennsylvania
September 20, 2011
Answer
No, this universal brush kit is not compatible with AR pressure washers. AR uses a very unique connection and only AR products are compatible with AR pressure washers.
I am posting a link below to all of the AR brushes we carry:
AR Brushes
Was this answer helpful?
Yes
0
No
0
Expert Recommended Accessories
Hand Picked By Our Expert Jim
Required Accessories
Add All Required
+
Ask Jim, Our Product Expert, A Question!
*Required Fields
+
Thank You For Submitting Your Question
Your submission has been sent successfully. Please give our experts up to two business days to respond.
Media Gallery
Powerwasher Universal Brush Kit (Electric & Consumer Gas 3000 PSI)