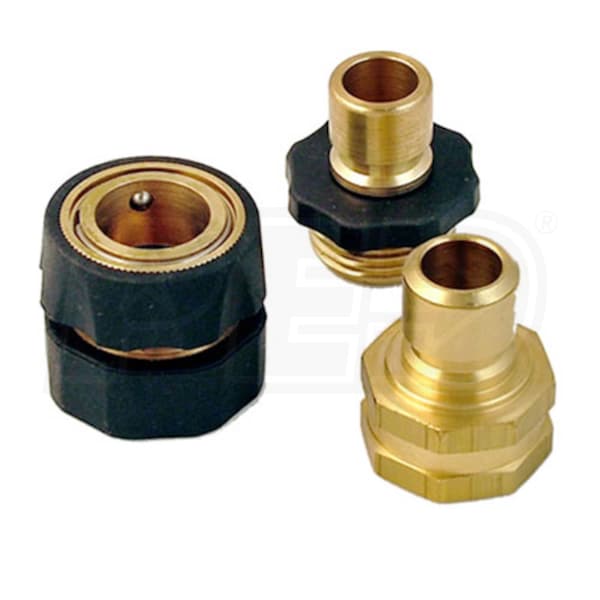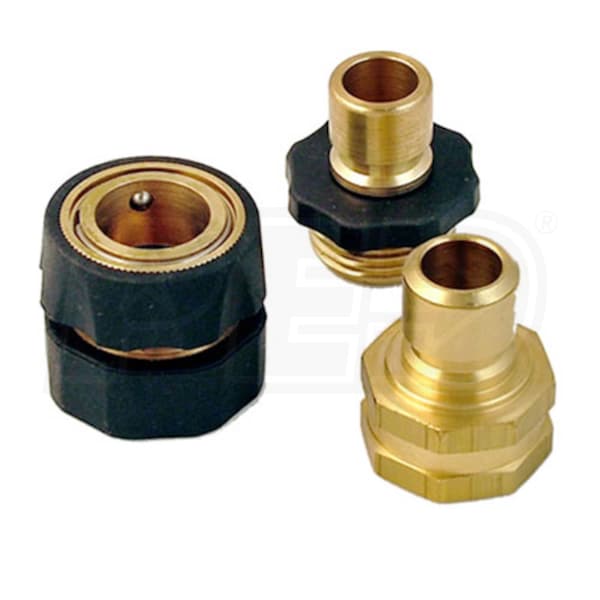 Hover to zoom
1 Of 5
Powerwasher Universal Garden Hose Quick-Connect Kit
Product Description

Specs

19

Reviews

3

Product Q&A

Recommended Accessories

How-To Articles
Grade
Inflow
Garden Hose Quick Connect (Female)
Outflow

Garden Hose Quick Connect (Male)
Inflow
Garden Hose Quick Connect (Female)
Outflow
Garden Hose Quick Connect (Male)
Features
Features
Quick Connection

Snap hoses together instead of twisting and twisting

Install by simply twisting hoses together one last time

No more bruised knuckles or dripping faucets

Connects One End

Connects spigot/hose OR hose/pressure washer (not both)

Order two sets to connect both ends of garden hose

2 Plug Adapters

Male version quick connects to power washers w/ female inlet

Female version quick connects to power washers w/ male inlet

Check Valve

Prevents water running when hose is unhooked
Specifications
Accessories
Inflow
Garden Hose Quick Connect (Female)
Outflow
Garden Hose Quick Connect (Male)
Overview
Consumer Warranty
90 Days
Grade
Inflow
Garden Hose Quick Connect (Female)
Outflow

Garden Hose Quick Connect (Male)
Inflow
Garden Hose Quick Connect (Female)
Outflow
Garden Hose Quick Connect (Male)
Features
Features
Quick Connection

Snap hoses together instead of twisting and twisting

Install by simply twisting hoses together one last time

No more bruised knuckles or dripping faucets

Connects One End

Connects spigot/hose OR hose/pressure washer (not both)

Order two sets to connect both ends of garden hose

2 Plug Adapters

Male version quick connects to power washers w/ female inlet

Female version quick connects to power washers w/ male inlet

Check Valve

Prevents water running when hose is unhooked
Specifications
Accessories
Inflow
Garden Hose Quick Connect (Female)
Outflow
Garden Hose Quick Connect (Male)
Overview
Consumer Warranty
90 Days
Specifications
Accessories
Inflow
Garden Hose Quick Connect (Female)
Outflow
Garden Hose Quick Connect (Male)
Overview
Consumer Warranty
90 Days
Search Product Q&A's
Answered by Jim. the Pressure Washer Expert
Which Honda pressure washers will these work with? The hose to washer connect has a fine thread.
Jennifer Jones
from Washington
July 14, 2016
Answer
These connectors are threaded for garden hoses- so they will work with any brand of pressure washer's water supply inlet.

They should fit 99% of the garden hoses on the market. Having the quick connects on your garden hose and pressure washer will save wear and tear on the pressure washer connection and your knuckles.

Was this answer helpful?
Yes
0
No
0
Does this work with an AR Blue 383? Powerwasher Universal Garden Hose Quick-Connect Kit Model: 81K030SH
Wayne Caswell
from California
June 25, 2016
Answer
Yes, this is the correct part number for the AR383. You will use two of the three pieces that come in this kit. The piece on the bottom right will be for the pressure washer. The piece on the bottom left of the picture will go on to your garden hose.
Was this answer helpful?
Yes
0
No
0
hi bill for the Powerwasher Universal Garden Hose Quick-Connect Kit is that the real picture for the product cause one of the reviews says that its the wrong picture. also is this a good product to have cause also in the reviews they said it was a cheap peice of metal
Answer
Our rep at Powerwasher went back into their warehouse, pulled the part off the shelf, and checked- the Quick Connect kit is still exactly as shown in the picture.

They are precision cast and well made. Since they are for garden hoses, they don't have to handle a lot of pressure- the typical spigot puts out 10-30 PSI.

The kit is shipped with the pieces screwed together so they don't rattle around, but all the pieces look just like the picture once you separate them.


Was this answer helpful?
Yes
0
No
0
Expert Recommended Accessories
Hand Picked By Our Expert Jim
Required Accessories
Add All Required
+
Ask Jim, Our Product Expert, A Question!
*Required Fields
+
Thank You For Submitting Your Question
Your submission has been sent successfully. Please give our experts up to two business days to respond.
Media Gallery
Powerwasher Universal Garden Hose Quick-Connect Kit