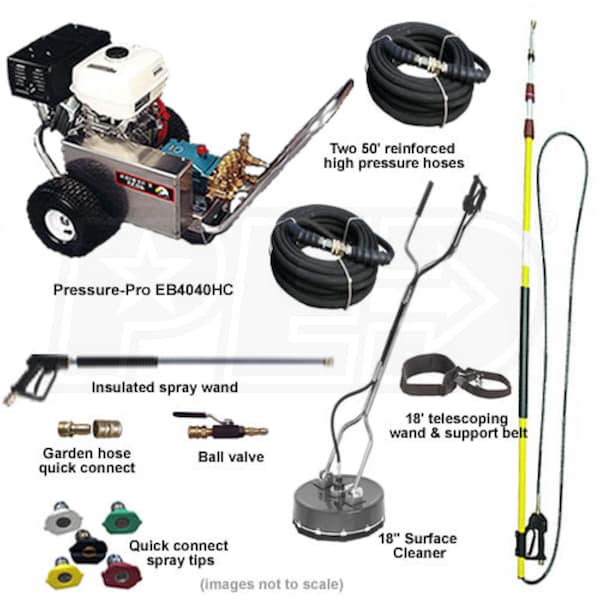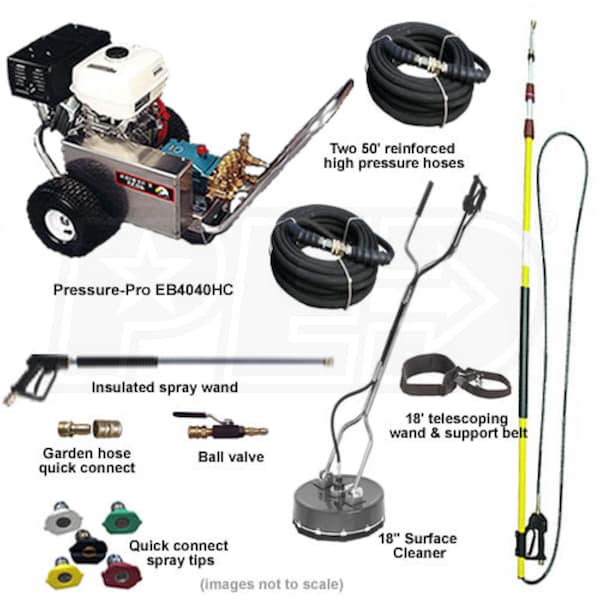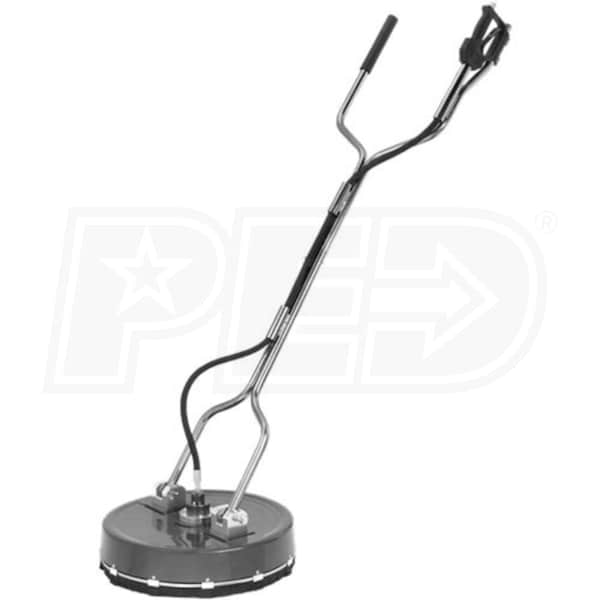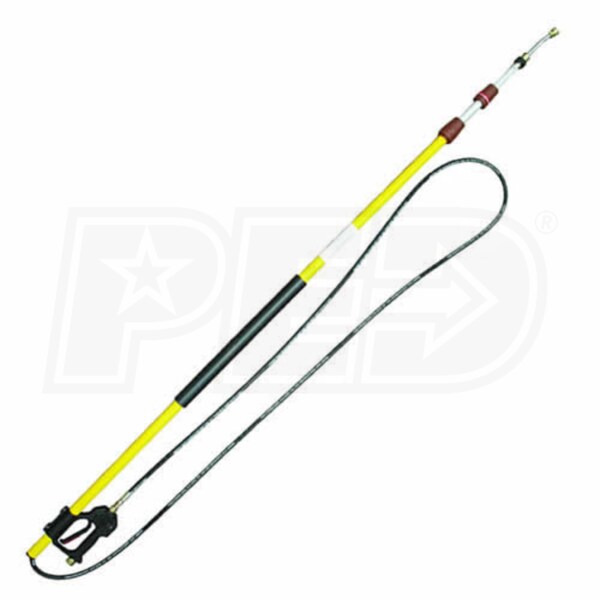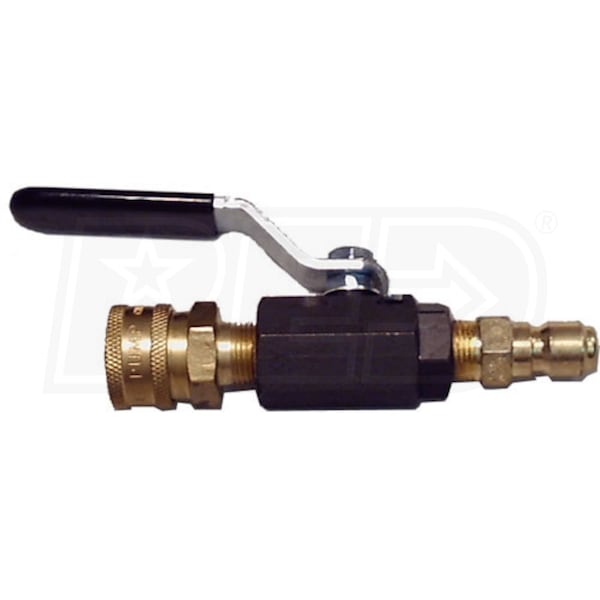 Hover to zoom
1 Of 5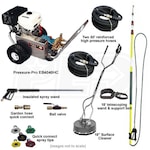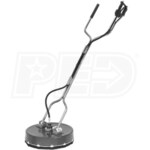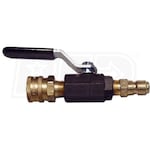 Pressure-Pro 4000PSI Deluxe Start Your Own Pressure Washing Business Kit w/ Aluminum Frame, CAT Pump & Belt-Drive Honda GX 390 Engine
Product Description

Specs

51

Reviews

4

Product Q&A

Recommended Accessories

How-To Articles

Manuals
Features
Features
Start Your Own Business With Quality Equipment

One easy order starts you working right away

Pressure Pro EB4040HC Eagle Belt Drive Unit With CAT Pump

Aircraft aluminum cart is rust-free with a lifetime warranty

Rugged belt drive runs cooler for use at 40+ hours per week

Extra-strong, cold rolled hardened axle will not break due to incidental dropping while loading and unloading

Powerful 13-HP Honda GX390 Commercial Grade

Easy to start; quiet and reliable

Smooth running, dependable power with low-oil alert

CAT Brand Belt Drive Triplex Plunger Pump

Updated inlet/outlet access for simple hookup

Ceramic components & belt drive run cooler, last longer

Adjustable pressure & thermal relief valve for all kinds of jobs

36" Insulated Pro Lance With Molded Grips

Work longer with less fatigue; 5 nozzles: 0º, 15º, 25º, 40º, soap

Ball valve lets you swap nozzles or hoses while unit is running

Two 50 Foot Steel Braid Hoses With Quick Connects

Abrasion resistant and flexible for easy handling

Join the hoses for 100 feet of cleaning area

18' Telescoping Fiberglass Extension Wand With Belt

Clean heights safely and efficiently

Easily reach soffits, fascia, siding & gutters from the ground

Hammerhead 18" Surface Cleaner w/ ABS Cover

Quickly clean smooth surfaces- sidewalks, floors, docks, etc.

Doesn't leave zebra-striping the way a wand will

Large Pneumatic Tires

Easily handles rough terrain; reduce noise & vibration

Dual padded shock absorbing feet so the machine does not walk

Manufacturer Limited Warranty

90-day accessories warranty

5-yr CAT pump & 3-yr Honda consumer and commercial warranty
Specifications
Engine
Fuel Tank Size
1.6 Gallons
Consumer Engine Warranty
3 Years
Commercial Engine Warranty
3 Years
Pump
Pump Type
Triplex Plunger
Chemical Injection
Down-Stream
Consumer Pump Warranty
5 Years
Commercial Pump Warranty
5 Years
Housing
Hose
Hose Material
Wire Reinforced
Hose Connections
Quick-Connect
Spray Gun
Spray Gun Connection
Quick-Connect
Spray Gun Grade
Professional
Spray Gun Wand
Single Wand
Spray Tips
Quick Connect Tips (5)
Turbo Nozzle
Sold Separately
Overview
Consumer Warranty
90 Days
Commercial Warranty
90 Days
Features
Features
Start Your Own Business With Quality Equipment

One easy order starts you working right away

Pressure Pro EB4040HC Eagle Belt Drive Unit With CAT Pump

Aircraft aluminum cart is rust-free with a lifetime warranty

Rugged belt drive runs cooler for use at 40+ hours per week

Extra-strong, cold rolled hardened axle will not break due to incidental dropping while loading and unloading

Powerful 13-HP Honda GX390 Commercial Grade

Easy to start; quiet and reliable

Smooth running, dependable power with low-oil alert

CAT Brand Belt Drive Triplex Plunger Pump

Updated inlet/outlet access for simple hookup

Ceramic components & belt drive run cooler, last longer

Adjustable pressure & thermal relief valve for all kinds of jobs

36" Insulated Pro Lance With Molded Grips

Work longer with less fatigue; 5 nozzles: 0º, 15º, 25º, 40º, soap

Ball valve lets you swap nozzles or hoses while unit is running

Two 50 Foot Steel Braid Hoses With Quick Connects

Abrasion resistant and flexible for easy handling

Join the hoses for 100 feet of cleaning area

18' Telescoping Fiberglass Extension Wand With Belt

Clean heights safely and efficiently

Easily reach soffits, fascia, siding & gutters from the ground

Hammerhead 18" Surface Cleaner w/ ABS Cover

Quickly clean smooth surfaces- sidewalks, floors, docks, etc.

Doesn't leave zebra-striping the way a wand will

Large Pneumatic Tires

Easily handles rough terrain; reduce noise & vibration

Dual padded shock absorbing feet so the machine does not walk

Manufacturer Limited Warranty

90-day accessories warranty

5-yr CAT pump & 3-yr Honda consumer and commercial warranty
Specifications
Engine
Fuel Tank Size
1.6 Gallons
Consumer Engine Warranty
3 Years
Commercial Engine Warranty
3 Years
Pump
Pump Type
Triplex Plunger
Chemical Injection
Down-Stream
Consumer Pump Warranty
5 Years
Commercial Pump Warranty
5 Years
Housing
Hose
Hose Material
Wire Reinforced
Hose Connections
Quick-Connect
Spray Gun
Spray Gun Connection
Quick-Connect
Spray Gun Grade
Professional
Spray Gun Wand
Single Wand
Spray Tips
Quick Connect Tips (5)
Turbo Nozzle
Sold Separately
Overview
Consumer Warranty
90 Days
Commercial Warranty
90 Days
Specifications
Engine
Fuel Tank Size
1.6 Gallons
Consumer Engine Warranty
3 Years
Commercial Engine Warranty
3 Years
Pump
Pump Type
Triplex Plunger
Chemical Injection
Down-Stream
Consumer Pump Warranty
5 Years
Commercial Pump Warranty
5 Years
Housing
Hose
Hose Material
Wire Reinforced
Hose Connections
Quick-Connect
Spray Gun
Spray Gun Connection
Quick-Connect
Spray Gun Grade
Professional
Spray Gun Wand
Single Wand
Spray Tips
Quick Connect Tips (5)
Turbo Nozzle
Sold Separately
Overview
Consumer Warranty
90 Days
Commercial Warranty
90 Days
Search Product Q&A's
Answered by Jim. the Pressure Washer Expert
Can I use eb4040hc with a water tanker
Adam
from Oregon
July 05, 2016
Answer
Yes, as long as the second letter of the model number is 'B', that stands for belt driven.

This pressure washer does somewhat require being gravity feed. You can pull water from a height that is either equal or higher than the pump's inlet. However, you cannot pull water from below the pump's inlet with this pressure washer.
Was this answer helpful?
Yes
0
No
0
I noticed that if you look up this matching by model number (without kit) the machine that comes up is not belt driven. Is the machine offered with belt drive but without all of the other accessories?
John
from Florida
September 25, 2015
Answer
Yes that is actually the model EB4040HC. I have included a link for you to view it. The unit still will come with 50 feet of hose, gun/lance, and colored spray tips.
EB4040HC
Was this answer helpful?
Yes
0
No
0
Why do all the kits have 18" Surface Cleaners and the Best Selling One is the 20"?
Brad
from Texas
May 08, 2012
Answer
That is just what is included in the business kits from Pressure Pro. Although we do sell more of the 20" surface cleaners, Pressure Pro puts these kits together for us.
Was this answer helpful?
Yes
0
No
0
I don't see info for 18" Surface Cleaner except the picture. I would like to see better pictures of it, particularly how does it work, what pressure it needs, what kind of surfaces (smooth -roof surfaces or rough concrete surfaces like walkways or silicon coated roofs etc.)
Answer
This surface cleaner can be used on rough or smooth concrete surfaces as well as any roofing surfaces. Basically, this surface cleaner can be used on any flat surface.
I am posting a link below to this product on our site:
18" GP Surface Cleaner
If you click on the specs tab for this product, you will see the owner's manual link to the right. If you open that up, you will be able to see some details about this product.
Was this answer helpful?
Yes
0
No
0
Expert Recommended Accessories
Hand Picked By Our Expert Jim
Required Accessories
Add All Required
+
Ask Jim, Our Product Expert, A Question!
*Required Fields
+
Thank You For Submitting Your Question
Your submission has been sent successfully. Please give our experts up to two business days to respond.
Media Gallery
Pressure-Pro 4000PSI Deluxe Start Your Own Pressure Washing Business Kit w/ Aluminum Frame, CAT Pump & Belt-Drive Honda GX 390 Engine