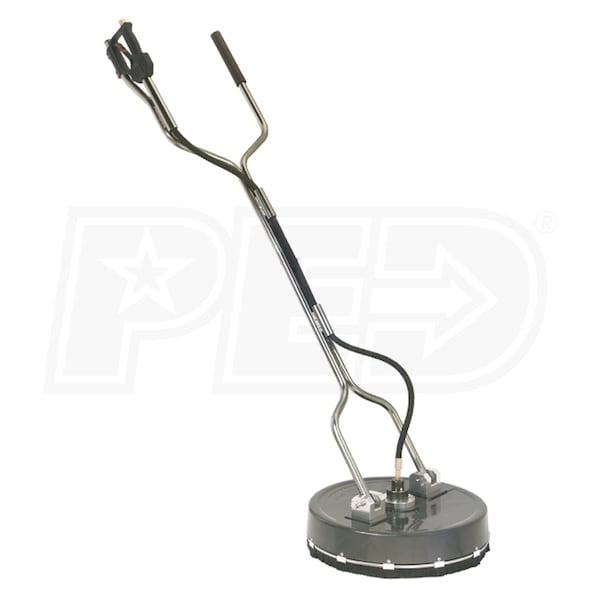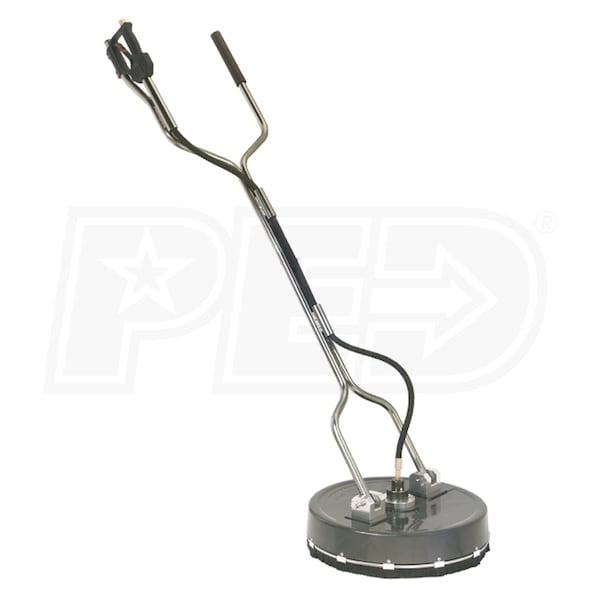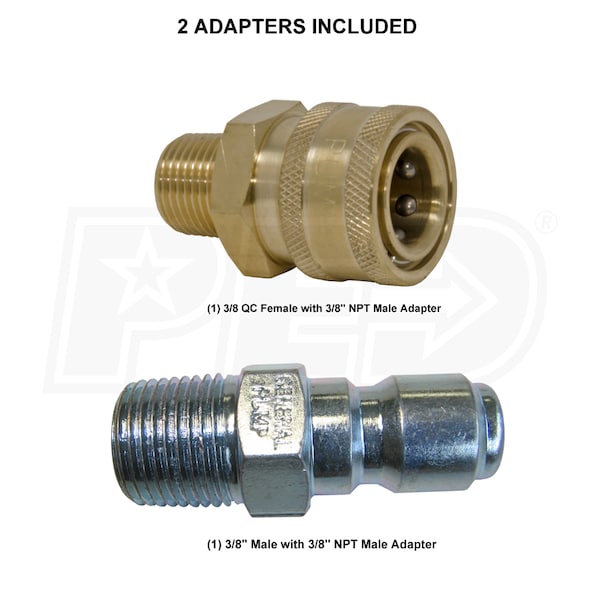 Hover to zoom
1 Of 5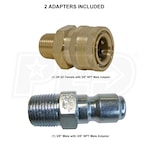 General Pump Hammerhead Semi-Pro 18" Surface Cleaner w/ ABS Housing (4000 PSI 180°F)
Product Description

Specs

25

Reviews

4

Product Q&A

Recommended Accessories

How-To Articles

Manuals
Grade
Style

Inflow
3/8" Threaded (Female)
Outflow
Surface Cleaner
Inflow
3/8" Threaded (Female)
Features
Features
Hammerhead Flat Surface Cleaner

Cleans flat surfaces in a fraction of the time a hose would take

Uniformly cleans pool decks, sidewalks, garage floors, etc.

Heavy Duty Construction, Light Weight

Rugged 18" ABS cover with anodized components

One piece balanced spray bar & portable breakaway handle

Height adjustable swivel assembly; weighs only 17 pounds

Fits Most Gas Powered Pressure Washers

Operates from 2000psi to 4000psi

Handles up to 8 gallons per minute

Maximum water temperature 180 degrees F

Adapters Included:

(1) 3/8" QC Female with 3/8" NPT Male Adapter

(1) 3/8" QC Male with 3/8" NPT Male Adapter

Replacement Parts Sold Separately:

Rotary Arm Assembly Part Number 2530052
Specifications
Accessories
Inflow
3/8" Threaded (Female)
Minimum GPM
Gallon per Minute
3
Maximum GPM
Gallon per Minute
8
Overview
Consumer Warranty
90 Days
Product Width
18.3 Inches
Product Height
18.3 Inches
Grade
Style

Inflow
3/8" Threaded (Female)
Outflow
Surface Cleaner
Inflow
3/8" Threaded (Female)
Features
Features
Hammerhead Flat Surface Cleaner

Cleans flat surfaces in a fraction of the time a hose would take

Uniformly cleans pool decks, sidewalks, garage floors, etc.

Heavy Duty Construction, Light Weight

Rugged 18" ABS cover with anodized components

One piece balanced spray bar & portable breakaway handle

Height adjustable swivel assembly; weighs only 17 pounds

Fits Most Gas Powered Pressure Washers

Operates from 2000psi to 4000psi

Handles up to 8 gallons per minute

Maximum water temperature 180 degrees F

Adapters Included:

(1) 3/8" QC Female with 3/8" NPT Male Adapter

(1) 3/8" QC Male with 3/8" NPT Male Adapter

Replacement Parts Sold Separately:

Rotary Arm Assembly Part Number 2530052
Specifications
Accessories
Inflow
3/8" Threaded (Female)
Minimum GPM
Gallon per Minute
3
Maximum GPM
Gallon per Minute
8
Overview
Consumer Warranty
90 Days
Product Width
18.3 Inches
Product Height
18.3 Inches
Specifications
Accessories
Inflow
3/8" Threaded (Female)
Minimum GPM
Gallon per Minute
3
Maximum GPM
Gallon per Minute
8
Overview
Consumer Warranty
90 Days
Product Width
18.3 Inches
Product Height
18.3 Inches
Search Product Q&A's
Answered by Jim. the Pressure Washer Expert
I have a small space I am trying to fit this under. What is the minimum clearance height I can use this with to get under and in my tight space?
Margaret Mulberry
from Illinois
September 16, 2015
Answer
You are able to get this in a space as low as 18" off the ground.
Was this answer helpful?
Yes
0
No
0
Hello Mike... what is the minimum PSI that pressure washer must have to effectively operate this surface cleaner?
Will
from Florida
November 18, 2014
Answer
The PSI is not as important as the GPM (Gallons Per Minute) rating of the pressure washer. These require a minimum of 3.0 GPM in order to operate effectively and not cause streaking.
Was this answer helpful?
Yes
0
No
0
The instructions donít cover what do with this check valve. Should this be installed to the trigger assembly with the female coupler?
Margaret Mulberry
from Illinois
October 23, 2014
Answer
It is actually a filter that goes on the trigger assembly. It is a solid brass fitting with a flow arrow on it that looks like a check valve. Inside about 2 inches down there is a snap ring that holds in a 100 mesh screen.
Was this answer helpful?
Yes
0
No
0
I don't see info for 18" Surface Cleaner except the picture. I would like to see better pictures of it, particularly how does it work, what pressure it needs, what kind of surfaces (smooth -roof surfaces or rough concrete surfaces like walkways or silicon coated roofs etc.)
Answer
This surface cleaner can be used on rough or smooth concrete surfaces as well as any roofing surfaces. Basically, this surface cleaner can be used on any flat surface.
I am posting a link below to this product on our site:
18" GP Surface Cleaner
If you click on the specs tab for this product, you will see the owner's manual link to the right. If you open that up, you will be able to see some details about this product.
Was this answer helpful?
Yes
0
No
0
Expert Recommended Accessories
Hand Picked By Our Expert Jim
Required Accessories
Add All Required
+
Ask Jim, Our Product Expert, A Question!
*Required Fields
+
Thank You For Submitting Your Question
Your submission has been sent successfully. Please give our experts up to two business days to respond.
Media Gallery
General Pump Hammerhead Semi-Pro 18" Surface Cleaner w/ ABS Housing (4000 PSI 180°F)