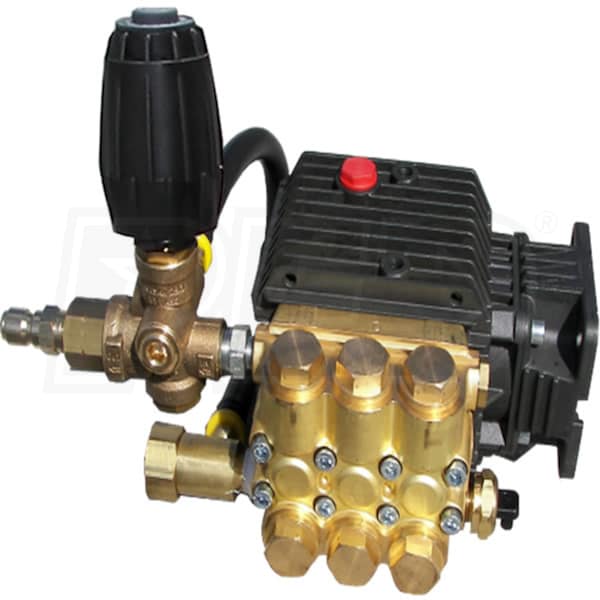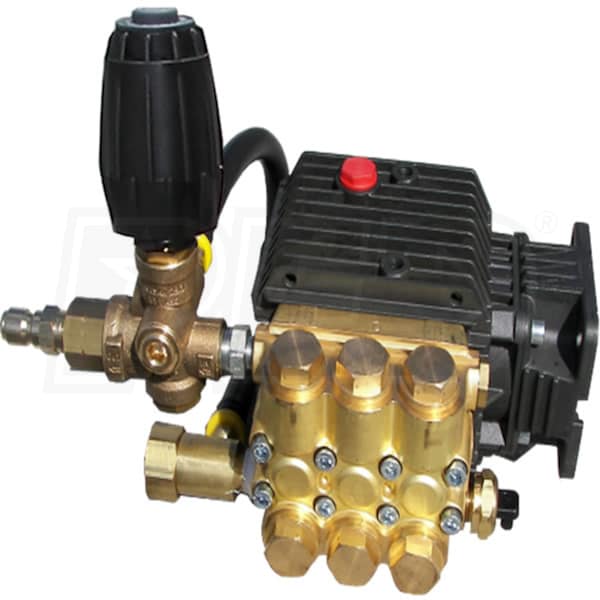 Hover to zoom
1 Of 5
Pressure-Pro Fully Plumbed General TP2530J34 2500 PSI 3.0 GPM Triplex Pressure Washer Pump w/ Plumbing Kit
Product Description

Specs

1

Reviews

1

Product Q&A

Recommended Accessories

How-To Articles

Manuals
Grade
Style

Inflow
Garden Hose (Female)
Outflow
3/8" Snap Coupler (Male)
Inflow
Garden Hose (Female)
Outflow
3/8" Snap Coupler (Male)
Features
Features
High Quality Replacement For Worn Out Pumps

Consumer grade is ideal for all general cleaning applications

Triplex Plunger Pump With Ceramic Plungers

Runs cooler and lasts longer than axial pumps

Continuously lubricated packings extend time between rebuilds

Easily Connects To Many Gas Pressure Washers

3/4" shaft fits many brands of engine

Oversized connecting rods increase performance

VRT-310EZ Unloader

Lets you adjust the pressure to suit the task

Fully Plumbed TP2530J34 Pump

Includes 3/8" male quick connector output

Factory Warranty

Pressure-Pro warrants the entire setup for 90 days

General Pump warrants just the pump for 5 years

Be Sure To Measure Shaft And Flange Bolt Holes Accurately!

There is a 25% restock fee on returned pumps

Please Call Us For Sizing Assistance w/ Information Below:

1. Age of Pump and Model # (must be no more than 15-yrs old)

2. Is the pump Vertical or Horizontal

3. Shaft Size - 3/4", 7/8" (vertical ONLY), 1", or Belt Drive XXmm

4. Engine Brand and HP (model # if available would be helpful)

***Shaft Size Measurements Must Be Precise***
Specifications
Accessories
Pump Type
Triplex Plunger
Inflow
Garden Hose (Female)
Outflow
3/8" Snap Coupler (Male)
Maximum GPM
Gallon per Minute
3
Chemical Injections
Sold Separately
Overview
Consumer Warranty
90 Days
Commercial Warranty
90 Days
Product Height
5.5 Inches
Grade
Style

Inflow
Garden Hose (Female)
Outflow
3/8" Snap Coupler (Male)
Inflow
Garden Hose (Female)
Outflow
3/8" Snap Coupler (Male)
Features
Features
High Quality Replacement For Worn Out Pumps

Consumer grade is ideal for all general cleaning applications

Triplex Plunger Pump With Ceramic Plungers

Runs cooler and lasts longer than axial pumps

Continuously lubricated packings extend time between rebuilds

Easily Connects To Many Gas Pressure Washers

3/4" shaft fits many brands of engine

Oversized connecting rods increase performance

VRT-310EZ Unloader

Lets you adjust the pressure to suit the task

Fully Plumbed TP2530J34 Pump

Includes 3/8" male quick connector output

Factory Warranty

Pressure-Pro warrants the entire setup for 90 days

General Pump warrants just the pump for 5 years

Be Sure To Measure Shaft And Flange Bolt Holes Accurately!

There is a 25% restock fee on returned pumps

Please Call Us For Sizing Assistance w/ Information Below:

1. Age of Pump and Model # (must be no more than 15-yrs old)

2. Is the pump Vertical or Horizontal

3. Shaft Size - 3/4", 7/8" (vertical ONLY), 1", or Belt Drive XXmm

4. Engine Brand and HP (model # if available would be helpful)

***Shaft Size Measurements Must Be Precise***
Specifications
Accessories
Pump Type
Triplex Plunger
Inflow
Garden Hose (Female)
Outflow
3/8" Snap Coupler (Male)
Maximum GPM
Gallon per Minute
3
Chemical Injections
Sold Separately
Overview
Consumer Warranty
90 Days
Commercial Warranty
90 Days
Product Height
5.5 Inches
Specifications
Accessories
Pump Type
Triplex Plunger
Inflow
Garden Hose (Female)
Outflow
3/8" Snap Coupler (Male)
Maximum GPM
Gallon per Minute
3
Chemical Injections
Sold Separately
Overview
Consumer Warranty
90 Days
Commercial Warranty
90 Days
Product Height
5.5 Inches
Search Product Q&A's
Answered by Jim. the Pressure Washer Expert
I installed this pressure washer pump, where is the soap injector located or does it even have one, or is that something extra to buy. Thanks for a reply.
John Healy
from Minnesota
August 01, 2016
Answer
The chemical injector is sold separately under
MODEL: ACI005
. This will attach to the high pressure hose side of the pump, before your high pressure hose.
Was this answer helpful?
Yes
0
No
0
Expert Recommended Accessories
Hand Picked By Our Expert Jim
Required Accessories
Add All Required
+
Ask Jim, Our Product Expert, A Question!
*Required Fields
+
Thank You For Submitting Your Question
Your submission has been sent successfully. Please give our experts up to two business days to respond.
Media Gallery
Pressure-Pro Fully Plumbed General TP2530J34 2500 PSI 3.0 GPM Triplex Pressure Washer Pump w/ Plumbing Kit