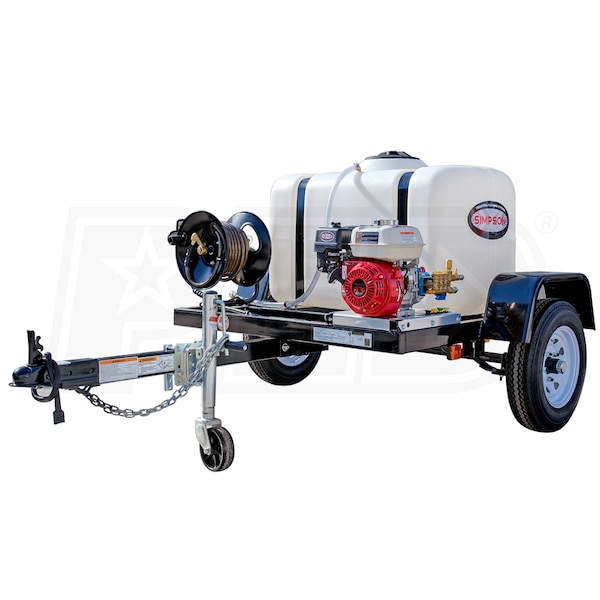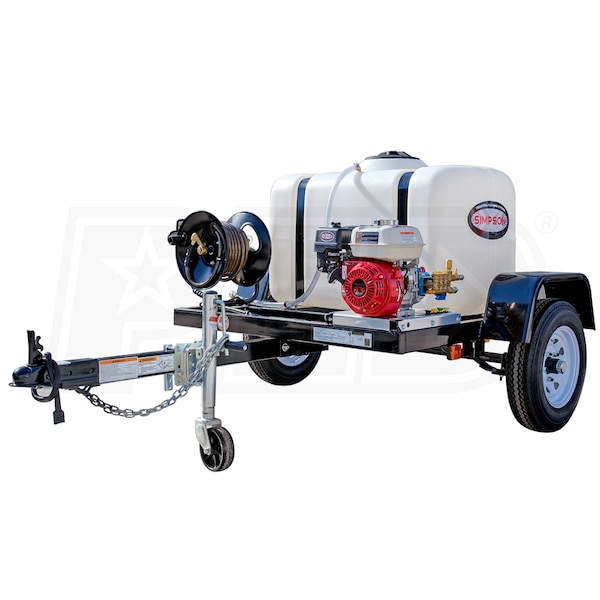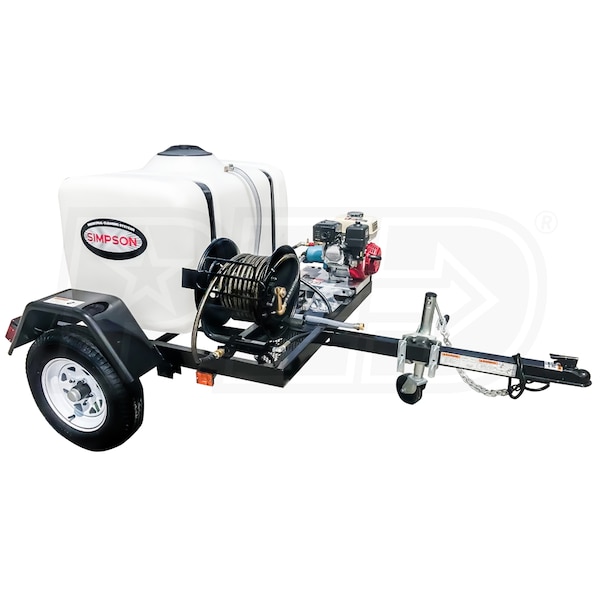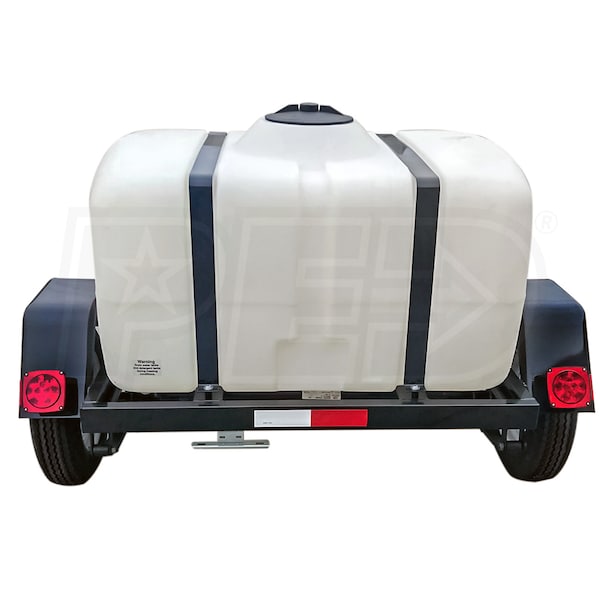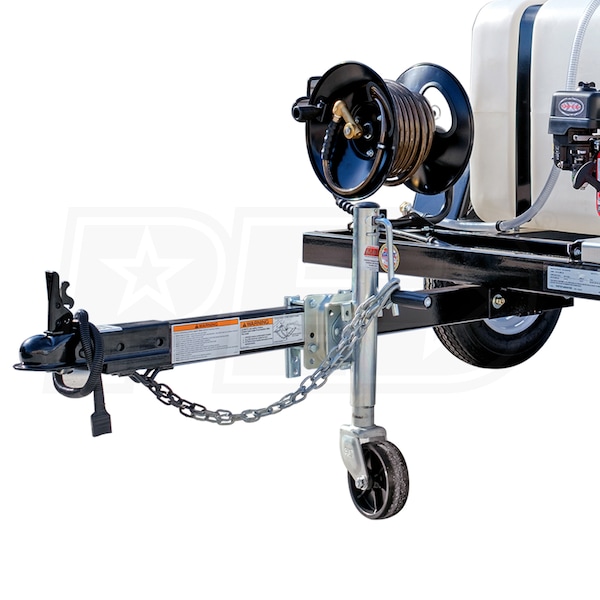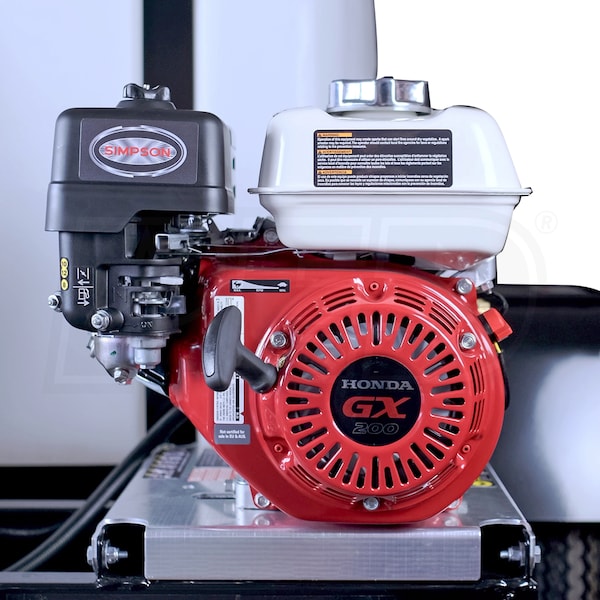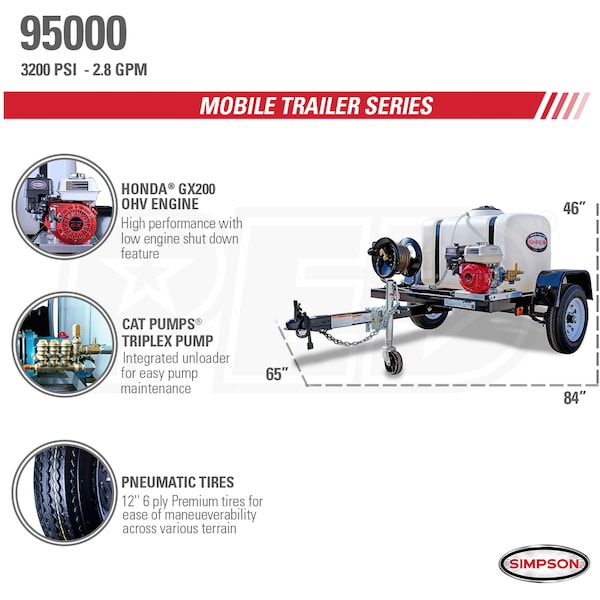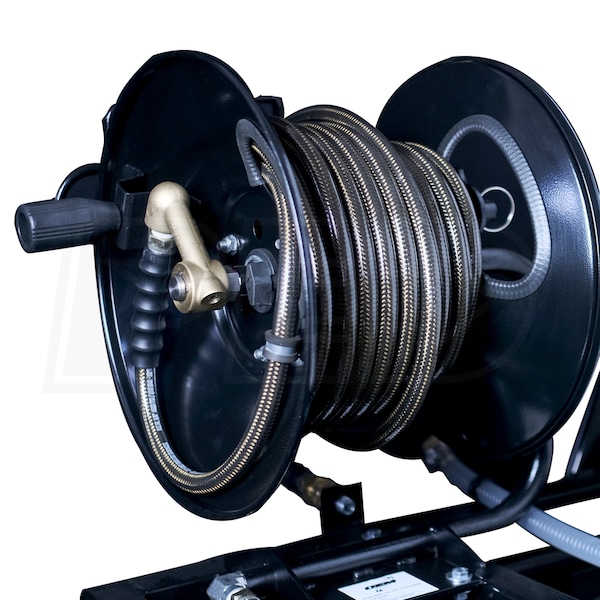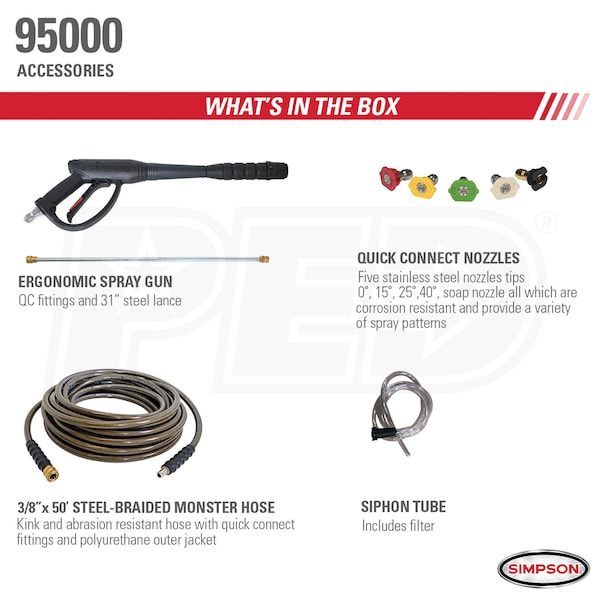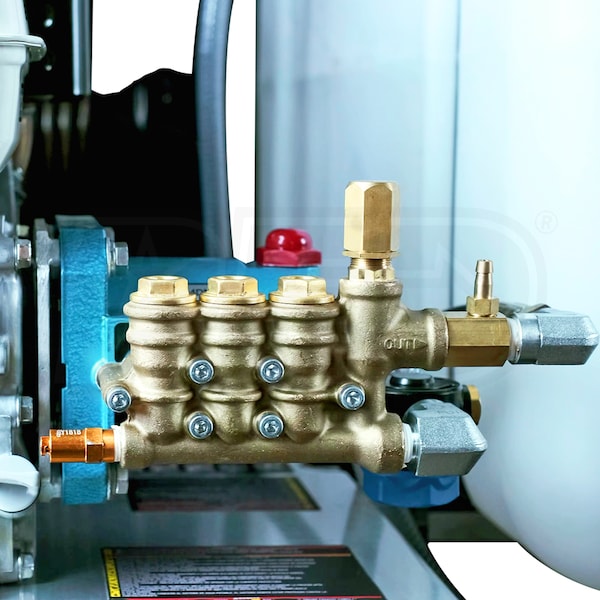 Hover to zoom
1 Of 5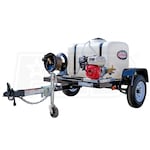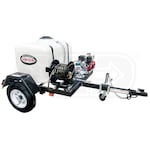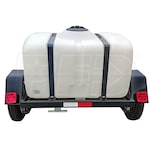 Simpson Professional 3200 PSI (Gas - Cold Water) Pressure Washer Trailer w/ Honda GX 200 Engine
Product Description

Specs

3

Reviews

1

Product Q&A

Recommended Accessories

How-To Articles

Manuals
Features
Features
***Forklift Is Required For Residential Delivery or Freight Terminal Pickup Is Required***
Simpson Self-Contained Pressure Washer System

Perfectly suited for contractors, municipalities, resorts, etc.

Reliable Honda GX200 Commercial Engine

Exceptionally quiet & easy to start; 3 year Factory Warranty

Oil Alert signals low levels; shuts down engine if needed

CAT 4DNX Triplex Plunger Pump

Direct drive for smooth power transmission from engine to pump

Ceramic pistons run cooler & last longer; can be rebuilt

Thermal relief valve protects the pump

100 Gallon Water Tank

Makes job-site setup a snap; no need to hunt for water hookup

Tank adds 834 pounds to trailer when full of water

Welded Box Steel DOT Contruction

2000-lb axle with leaf spring construction for efficient towing

LED lighting package with metal license plate holder

Durable 6-ply tires on 12" spoke rims run smooth, look great

High Capacity Pressurized Hose Reel

Keeps 50 feet of 3/8" steel-braided hose kink-free

Professional Spray Gun With 5 Quick-Connect Tips

0°, 15°, 25°, 40° & 65° soap applicator take on a variety of jobs
Specifications
Engine
Fuel Tank Size
0.825 Gallons
Consumer Engine Warranty
3 Years
Commercial Engine Warranty
3 Years
Pump
Pump Type
Triplex Plunger
Chemical Injection
Siphon Tube
Consumer Pump Warranty
5 Years
Commercial Pump Warranty
5 Years
Housing
Hose
Hose Material
Wire Reinforced
Hose Connections
Quick-Connect
Inlet Hose Reel
Not Included
Spray Gun
Spray Gun Connection
Quick-Connect
Spray Gun Grade
Professional
Spray Gun Wand
Single Wand
Spray Tips
Quick Connect Tips (5)
Turbo Nozzle
Sold Separately
Overview
Consumer Warranty
90 Days
Commercial Warranty
90 Days
Features
Features
***Forklift Is Required For Residential Delivery or Freight Terminal Pickup Is Required***
Simpson Self-Contained Pressure Washer System

Perfectly suited for contractors, municipalities, resorts, etc.

Reliable Honda GX200 Commercial Engine

Exceptionally quiet & easy to start; 3 year Factory Warranty

Oil Alert signals low levels; shuts down engine if needed

CAT 4DNX Triplex Plunger Pump

Direct drive for smooth power transmission from engine to pump

Ceramic pistons run cooler & last longer; can be rebuilt

Thermal relief valve protects the pump

100 Gallon Water Tank

Makes job-site setup a snap; no need to hunt for water hookup

Tank adds 834 pounds to trailer when full of water

Welded Box Steel DOT Contruction

2000-lb axle with leaf spring construction for efficient towing

LED lighting package with metal license plate holder

Durable 6-ply tires on 12" spoke rims run smooth, look great

High Capacity Pressurized Hose Reel

Keeps 50 feet of 3/8" steel-braided hose kink-free

Professional Spray Gun With 5 Quick-Connect Tips

0°, 15°, 25°, 40° & 65° soap applicator take on a variety of jobs
Specifications
Engine
Fuel Tank Size
0.825 Gallons
Consumer Engine Warranty
3 Years
Commercial Engine Warranty
3 Years
Pump
Pump Type
Triplex Plunger
Chemical Injection
Siphon Tube
Consumer Pump Warranty
5 Years
Commercial Pump Warranty
5 Years
Housing
Hose
Hose Material
Wire Reinforced
Hose Connections
Quick-Connect
Inlet Hose Reel
Not Included
Spray Gun
Spray Gun Connection
Quick-Connect
Spray Gun Grade
Professional
Spray Gun Wand
Single Wand
Spray Tips
Quick Connect Tips (5)
Turbo Nozzle
Sold Separately
Overview
Consumer Warranty
90 Days
Commercial Warranty
90 Days
Specifications
Engine
Fuel Tank Size
0.825 Gallons
Consumer Engine Warranty
3 Years
Commercial Engine Warranty
3 Years
Pump
Pump Type
Triplex Plunger
Chemical Injection
Siphon Tube
Consumer Pump Warranty
5 Years
Commercial Pump Warranty
5 Years
Housing
Hose
Hose Material
Wire Reinforced
Hose Connections
Quick-Connect
Inlet Hose Reel
Not Included
Spray Gun
Spray Gun Connection
Quick-Connect
Spray Gun Grade
Professional
Spray Gun Wand
Single Wand
Spray Tips
Quick Connect Tips (5)
Turbo Nozzle
Sold Separately
Overview
Consumer Warranty
90 Days
Commercial Warranty
90 Days
Search Product Q&A's
Answered by Jim. the Pressure Washer Expert
Mike, if water is available onsite, can you bypass the water tank and hook water directly to pump?
DaviD WeatherbY
from California
July 12, 2016
Answer
If you click on the product picture on the main page you'll see a large version of the main picture and an Image Gallery below it. If you put your mouse on the third image there's a good closeup of the pump- you can see where the tank feed enters.

That's where your onsite water would need to connect. You'd need to do a little plumbing to secure the tank feed & keep it clean when it's not in use, but it should certainly be possible.
Was this answer helpful?
Yes
0
No
0
Expert Recommended Accessories
Hand Picked By Our Expert Jim
Required Accessories
Add All Required
+
Ask Jim, Our Product Expert, A Question!
*Required Fields
+
Thank You For Submitting Your Question
Your submission has been sent successfully. Please give our experts up to two business days to respond.
Media Gallery
Simpson Professional 3200 PSI (Gas - Cold Water) Pressure Washer Trailer w/ Honda GX 200 Engine