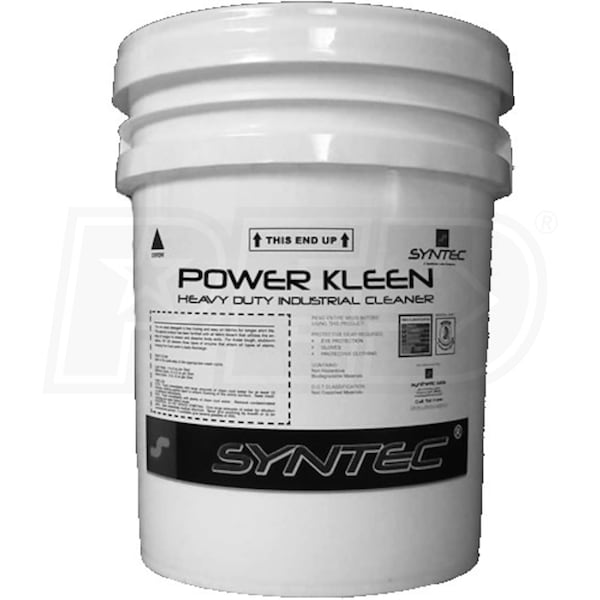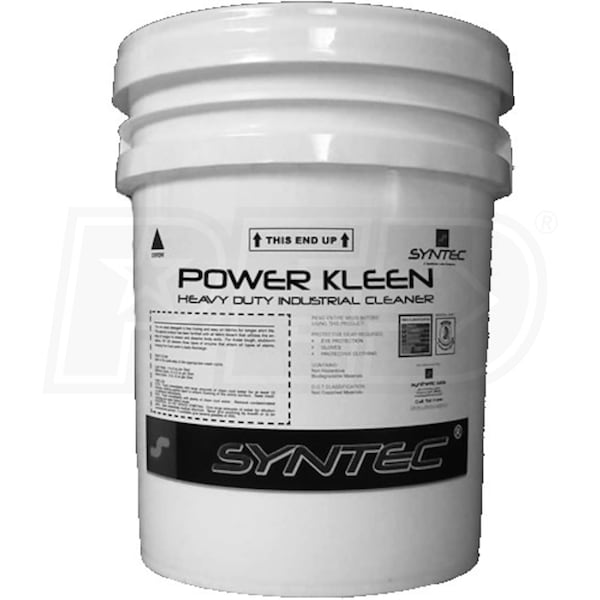 Hover to zoom
1 Of 5
Syntec Pro Power Kleen Vinyl & Aluminum Siding Cleaner (40lb Container)
Product Description

Specs

4

Reviews

2

Product Q&A

Recommended Accessories

How-To Articles

Manuals
Grade
Features
Features
Quality Products And Dependable Service By Syntec Pro

Syntec Pro is a leader in professional household detergents

Providing cleaning solutions to professionals for over 45 years

A Powdered Heavy Duty Vinyl & Aluminum Detergent

Easily carries dirt and debris from the surface being cleaned

Safe, Biodegradable, Non-Corrosive Concentrate

Will not etch glass nor harm grass or plants

Pressure Washer Safe

Will not damage pressure washer seals or pumps

Can also be used as a manual wash cleaner

Product Comes In A 40lb Box Of Concentrated Cleaner

Must be diluted with water before application

Non-Toxic And Biodegradable

Wet any landscaping before use to avoid leaf spotting/bleaching

Mix 10 oz. of powder to 1 gallon of water for pressure washers

Pressure washer will further dilute to the proper concentration

Can Also Be Used In Tank Sprayers

Mix 2 oz. of powder to 1 gallon of water for proper concentration
Specifications
Accessories
Accessory Grade
Professional
Overview
Grade
Features
Features
Quality Products And Dependable Service By Syntec Pro

Syntec Pro is a leader in professional household detergents

Providing cleaning solutions to professionals for over 45 years

A Powdered Heavy Duty Vinyl & Aluminum Detergent

Easily carries dirt and debris from the surface being cleaned

Safe, Biodegradable, Non-Corrosive Concentrate

Will not etch glass nor harm grass or plants

Pressure Washer Safe

Will not damage pressure washer seals or pumps

Can also be used as a manual wash cleaner

Product Comes In A 40lb Box Of Concentrated Cleaner

Must be diluted with water before application

Non-Toxic And Biodegradable

Wet any landscaping before use to avoid leaf spotting/bleaching

Mix 10 oz. of powder to 1 gallon of water for pressure washers

Pressure washer will further dilute to the proper concentration

Can Also Be Used In Tank Sprayers

Mix 2 oz. of powder to 1 gallon of water for proper concentration
Specifications
Accessories
Accessory Grade
Professional
Overview
Specifications
Accessories
Accessory Grade
Professional
Overview
Search Product Q&A's
Answered by Jim. the Pressure Washer Expert
whta's the best way to avoid streakes on windows, is there a better cleaner just for windows or just rinsingi very good. Thx
Clint
from Georgia
March 09, 2013
Answer
Unfortunately we do not carry a specific streak free window cleaner. The best way is to rinse really well but even then, it all really depends on how hard/soft the water is that you are providing to the machine. Your best option, besides a specific window cleaning detergent, is to purchase a line conditioner and attach it to the water inlet of your pressure washer.
Was this answer helpful?
Yes
0
No
0
does your power kleen for vinyl siding come in a smaller size so I can try it before ordering 50 lbs of it ? I have a John Deere 3300 pressure washer. Will this product work well on mold and mildew in this area?
Mike Laverne
from South Carolina
March 27, 2011
Answer
This product along with all of Syntec Pro's detergents only comes in 50lb and 400lb containers. This product is designed for just general cleaning of vinyl and aluminum siding. Syntec Pro actually makes a detergent that is specifically designed for mold and mildew removal. The detergent that I am referring to is model 2668-50. I posted a link below:
Syntec Pro House Mold & Mildew Remover
Was this answer helpful?
Yes
0
No
0
Expert Recommended Accessories
Hand Picked By Our Expert Jim
Required Accessories
Add All Required
+
Ask Jim, Our Product Expert, A Question!
*Required Fields
+
Thank You For Submitting Your Question
Your submission has been sent successfully. Please give our experts up to two business days to respond.
Media Gallery
Syntec Pro Power Kleen Vinyl & Aluminum Siding Cleaner (40lb Container)