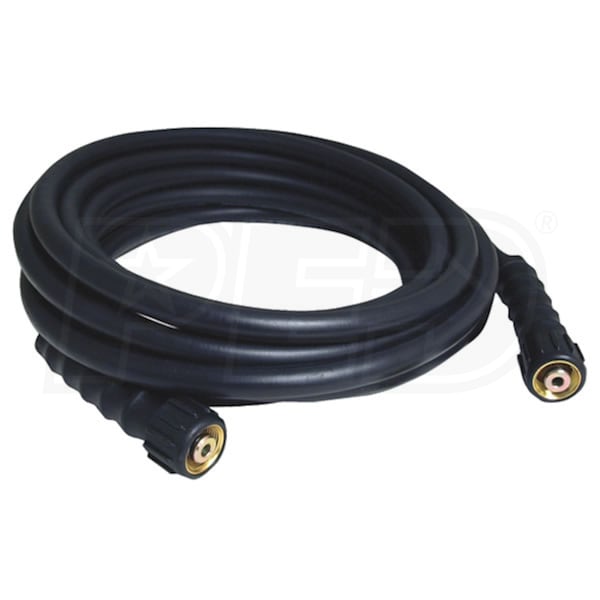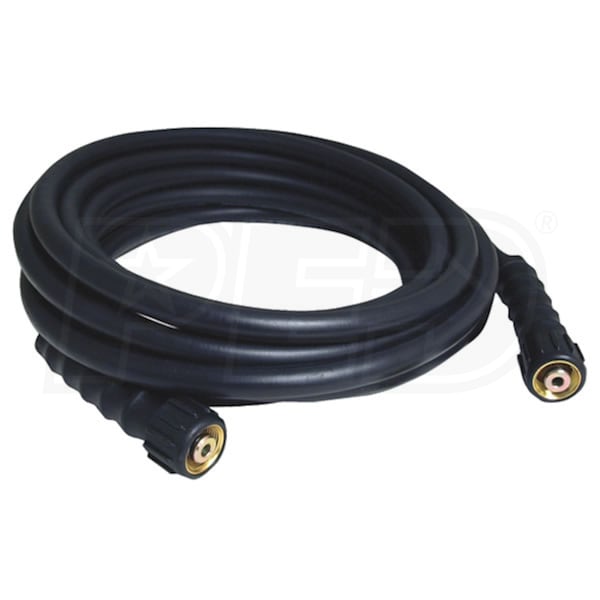 Hover to zoom
1 Of 5
Apache 25-Foot (5/16") 3700 PSI M22 Replacement / Extension High Pressure Hose
Product Description

Specs

2

Reviews

1

Product Q&A

Recommended Accessories

How-To Articles
Grade

Style

Inflow
22m Threaded (Female)
Outflow
22m Threaded (Female)
Inflow
22m Threaded (Female)
Outflow
22m Threaded (Female)
Features
Features
5/16 Inch Female To Female Metric Extension / Replacement Hose

Fits gas or electric pressure washers with M22 thread connectors

Male to male M22 adaptor included to connect hoses

Fabric Reinforced Hose

For cold water (-4°F to 140°F) applications only

Rated for pressure washers up to 3700 PSI

Scuff & Mark Resistant Thermoplastic

60% lighter than rubber with superior strength & flexibility

Bend Restrictors At Each End

Prevent wear & tear, prolongs the life of the hose

1 Year Factory Warranty

Covers materials and workmanship; not wear & tear or abuse

Hose Is 14MM & NOT Compatible With 15MM M22 Electric Pressure Washers
Specifications
Hose
Accessories
Inflow
22m Threaded (Female)
Outflow
22m Threaded (Female)
Overview
Product Width
5/16 Inches
Product Height
5/16 Inches
Grade

Style

Inflow
22m Threaded (Female)
Outflow
22m Threaded (Female)
Inflow
22m Threaded (Female)
Outflow
22m Threaded (Female)
Features
Features
5/16 Inch Female To Female Metric Extension / Replacement Hose

Fits gas or electric pressure washers with M22 thread connectors

Male to male M22 adaptor included to connect hoses

Fabric Reinforced Hose

For cold water (-4°F to 140°F) applications only

Rated for pressure washers up to 3700 PSI

Scuff & Mark Resistant Thermoplastic

60% lighter than rubber with superior strength & flexibility

Bend Restrictors At Each End

Prevent wear & tear, prolongs the life of the hose

1 Year Factory Warranty

Covers materials and workmanship; not wear & tear or abuse

Hose Is 14MM & NOT Compatible With 15MM M22 Electric Pressure Washers
Specifications
Hose
Accessories
Inflow
22m Threaded (Female)
Outflow
22m Threaded (Female)
Overview
Product Width
5/16 Inches
Product Height
5/16 Inches
Specifications
Hose
Accessories
Inflow
22m Threaded (Female)
Outflow
22m Threaded (Female)
Overview
Product Width
5/16 Inches
Product Height
5/16 Inches
Search Product Q&A's
Answered by Jim. the Pressure Washer Expert
I have a pacific hydrostar pressure washer, I'd like a 25 ft hose , it looks like it has a 22mm threaded female on one end and 1/4 NPT female connector to hook to the wand ? do you carry this or an adaptor for the wand end ? Wand has a male thread on it. Thank you
Rick Langkamp
from New York
June 22, 2014
Answer
Unfortunately we do not carry a hose for your unit. Your unit uses a manufacture specific connection and we do not carry any replacement items for that unit. I would recommend reaching out to the folks who built that unit.
Was this answer helpful?
Yes
0
No
0
Expert Recommended Accessories
Hand Picked By Our Expert Jim
Required Accessories
Add All Required
+
Ask Jim, Our Product Expert, A Question!
*Required Fields
+
Thank You For Submitting Your Question
Your submission has been sent successfully. Please give our experts up to two business days to respond.
Media Gallery
Apache 25-Foot (5/16") 3700 PSI M22 Replacement / Extension High Pressure Hose