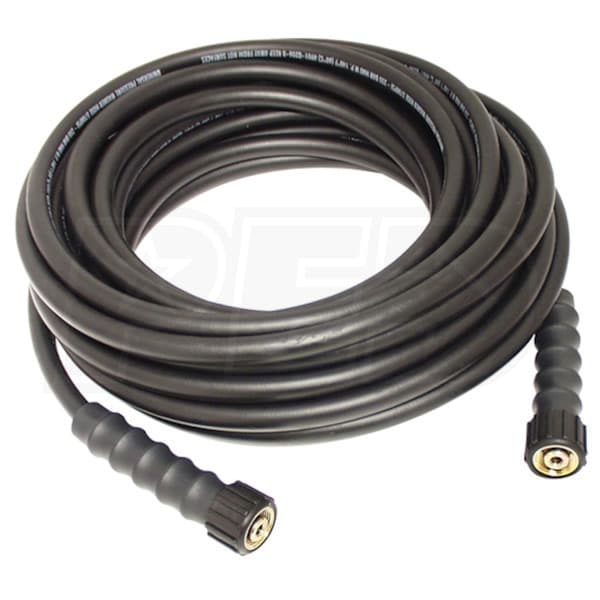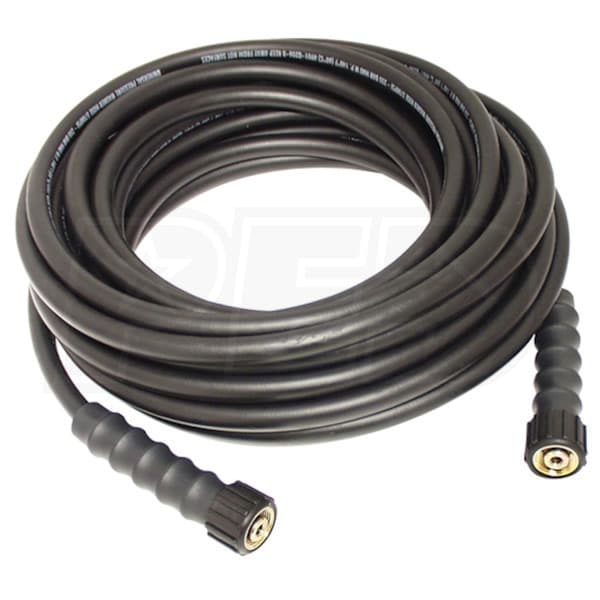 Hover to zoom
1 Of 5
Apache 50-Foot (5/16") 3700 PSI M22 Replacement / Extension High Pressure Hose
Product Description

Specs

27

Reviews

2

Product Q&A

Recommended Accessories

How-To Articles
Grade

Style

Inflow
22m Threaded (Female)
Outflow
22m Threaded (Female)
Inflow
22m Threaded (Female)
Outflow
22m Threaded (Female)
Features
Features
5/16 Inch Female To Female Metric M22 Replacement Hose

Fits gas or electric pressure washers with M22 thread connectors

Fabric Reinforced Hose

For cold water (-4°F to 140°F) applications only

Rated for pressure washers up to 3700 PSI

Scuff & Mark Resistant Thermoplastic

60% lighter than rubber with superior strength & flexibility

Bend Restrictors At Each End

Prevent wear, prolongs the life of the hose

1 Year Factory Warranty

Covers materials and workmanship; not wear & tear or abuse

Hose Is 14MM & NOT Compatible With 15MM M22 Electric Pressure Washers
Specifications
Hose
Accessories
Inflow
22m Threaded (Female)
Outflow
22m Threaded (Female)
Overview
Product Width
5/16 Inches
Product Height
5/16 Inches
Grade

Style

Inflow
22m Threaded (Female)
Outflow
22m Threaded (Female)
Inflow
22m Threaded (Female)
Outflow
22m Threaded (Female)
Features
Features
5/16 Inch Female To Female Metric M22 Replacement Hose

Fits gas or electric pressure washers with M22 thread connectors

Fabric Reinforced Hose

For cold water (-4°F to 140°F) applications only

Rated for pressure washers up to 3700 PSI

Scuff & Mark Resistant Thermoplastic

60% lighter than rubber with superior strength & flexibility

Bend Restrictors At Each End

Prevent wear, prolongs the life of the hose

1 Year Factory Warranty

Covers materials and workmanship; not wear & tear or abuse

Hose Is 14MM & NOT Compatible With 15MM M22 Electric Pressure Washers
Specifications
Hose
Accessories
Inflow
22m Threaded (Female)
Outflow
22m Threaded (Female)
Overview
Product Width
5/16 Inches
Product Height
5/16 Inches
Specifications
Hose
Accessories
Inflow
22m Threaded (Female)
Outflow
22m Threaded (Female)
Overview
Product Width
5/16 Inches
Product Height
5/16 Inches
Search Product Q&A's
Answered by Jim. the Pressure Washer Expert
Brian, does this come w/ quick connect? replacing an old hose that has them.
Robert Warnock
from New Jersey
August 07, 2016
Answer
This hose has M22 metric connectors, not quick connects. All of the 5/16 hoses we carry are M22.
If you go to our
3/8" High Pressure Hoses
you will be able to use the Hose Connections filter to see only the ones with quick connects.
We also have
M22 Adapters
that will let you change the 5/16" M22 hose to quick connectors.
Was this answer helpful?
Yes
0
No
0
MIKE , I HAVE 3200PS1 PRESSURE WASHER WITH A 25 FT 1/4 INCH HOSE. CAN THE APACHE 50 FT 3700 PSI WORK ON MY MACHINE- IT HAS M22 CONNECTIONS.
PAUL SEVENING
from Alabama
June 24, 2015
Answer
Yes this will make a great replacement hose for your pressure washer. The 5/16" diameter hoses do not cause any loss of pressure but are more flexible and durable then the 1/4" hoses.
Was this answer helpful?
Yes
0
No
0
Expert Recommended Accessories
Hand Picked By Our Expert Jim
Required Accessories
Add All Required
+
Ask Jim, Our Product Expert, A Question!
*Required Fields
+
Thank You For Submitting Your Question
Your submission has been sent successfully. Please give our experts up to two business days to respond.
Media Gallery
Apache 50-Foot (5/16") 3700 PSI M22 Replacement / Extension High Pressure Hose