Hover to zoom
1 Of 5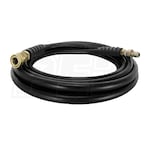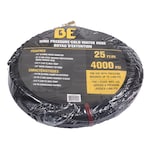 BE 25-Foot (1/4") 4000 PSI High Pressure Hose w/ Quick Connectors (Cold Water)
Product Description

Specs

2

Reviews

1

Product Q&A

Recommended Accessories

How-To Articles
Grade
Style

Inflow
3/8" Snap Coupler (Male)
Outflow
3/8" Snap Coupler (Female)
Inflow
3/8" Snap Coupler (Male)
Outflow
3/8" Snap Coupler (Female)
Features
Features
25-FT Heavy-Duty 1/4" Residential Replacement / Extension Hose

Designed for cold water applications

Fits many consumer & contractors pressure washers

Single Wire Steel Braid Construction

Withstands high tension and compression strength

Wire braid reinforcement keeps the hose sturdy & kink-resistant

Durable Black Rubber Wrapped Outer Cover

Light weight and easy to handle

Perfect for smaller jobs & tight spaces

Rubber Bend Restrictors On Both Ends

Helps reduce wear & tear on the connectors

Long-lasting durability w/ high-performance capabilities

Universal 3/8" Quick Connectors

Swivel on one end helps keep hose from kinking

Female brass coupler; other end is male plated steel plug

Fits Many Brands Of Pressure Washer

Rated to 4000 PSI and 212°F maximums

Easily replace a worn hose or extend your existing hose
Specifications
Hose
Hose Material
Wire Reinforced
Hose Connections
Quick-Connect
Accessories
Inflow
3/8" Snap Coupler (Male)
Outflow
3/8" Snap Coupler (Female)
Overview
Consumer Warranty
90 Days
Commercial Warranty
90 Days
Grade
Style

Inflow
3/8" Snap Coupler (Male)
Outflow
3/8" Snap Coupler (Female)
Inflow
3/8" Snap Coupler (Male)
Outflow
3/8" Snap Coupler (Female)
Features
Features
25-FT Heavy-Duty 1/4" Residential Replacement / Extension Hose

Designed for cold water applications

Fits many consumer & contractors pressure washers

Single Wire Steel Braid Construction

Withstands high tension and compression strength

Wire braid reinforcement keeps the hose sturdy & kink-resistant

Durable Black Rubber Wrapped Outer Cover

Light weight and easy to handle

Perfect for smaller jobs & tight spaces

Rubber Bend Restrictors On Both Ends

Helps reduce wear & tear on the connectors

Long-lasting durability w/ high-performance capabilities

Universal 3/8" Quick Connectors

Swivel on one end helps keep hose from kinking

Female brass coupler; other end is male plated steel plug

Fits Many Brands Of Pressure Washer

Rated to 4000 PSI and 212°F maximums

Easily replace a worn hose or extend your existing hose
Specifications
Hose
Hose Material
Wire Reinforced
Hose Connections
Quick-Connect
Accessories
Inflow
3/8" Snap Coupler (Male)
Outflow
3/8" Snap Coupler (Female)
Overview
Consumer Warranty
90 Days
Commercial Warranty
90 Days
Specifications
Hose
Hose Material
Wire Reinforced
Hose Connections
Quick-Connect
Accessories
Inflow
3/8" Snap Coupler (Male)
Outflow
3/8" Snap Coupler (Female)
Overview
Consumer Warranty
90 Days
Commercial Warranty
90 Days
Search Product Q&A's
Answered by Jim. the Pressure Washer Expert
Do you have this hose in longer lengths (e.g. 50')? Do you ship to Canada?
George
from Montana
April 26, 2015
Answer
At this time, we do not ship outside the U.S
Was this answer helpful?
Yes
0
No
0
Expert Recommended Accessories
Hand Picked By Our Expert Jim
Required Accessories
Add All Required
+
Ask Jim, Our Product Expert, A Question!
*Required Fields
+
Thank You For Submitting Your Question
Your submission has been sent successfully. Please give our experts up to two business days to respond.
Media Gallery
BE 25-Foot (1/4") 4000 PSI High Pressure Hose w/ Quick Connectors (Cold Water)