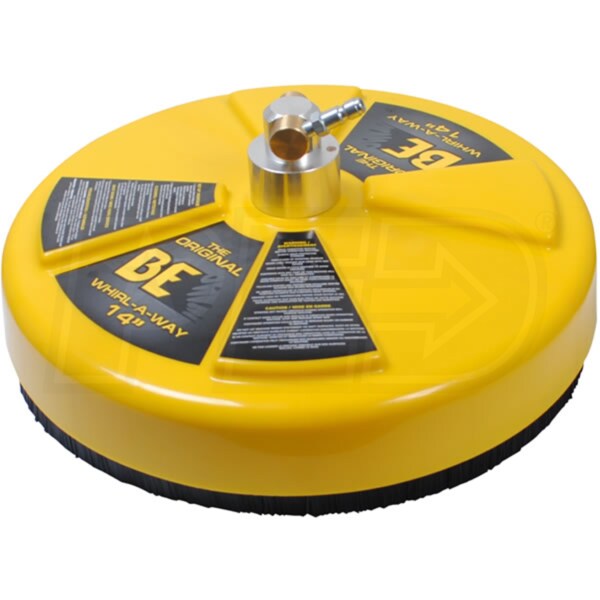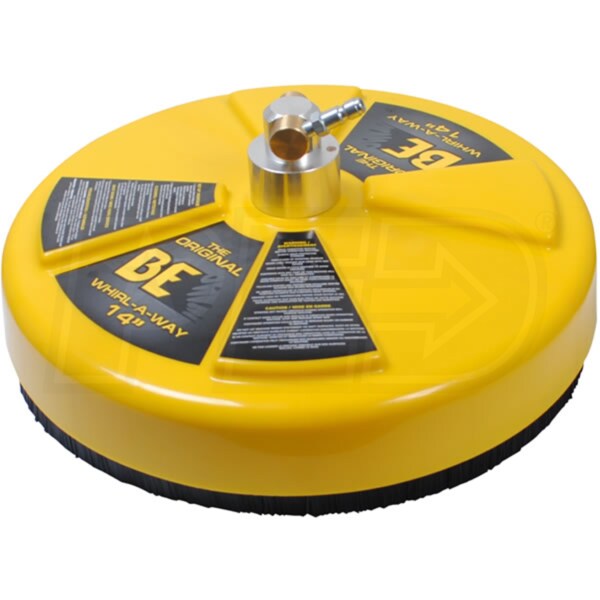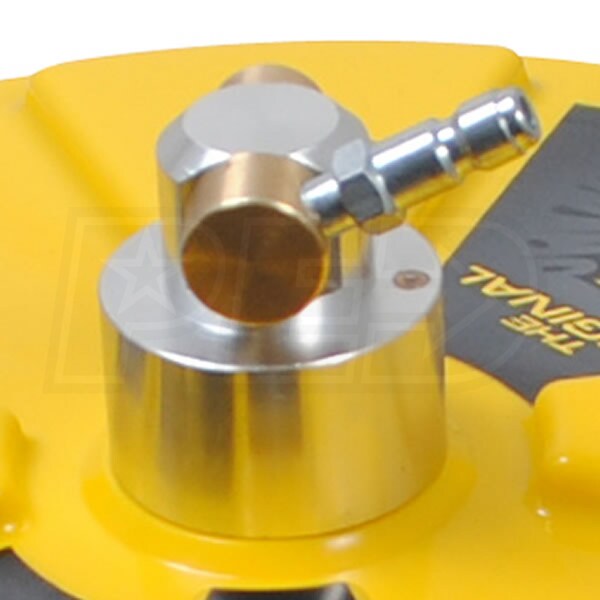 Hover to zoom
1 Of 5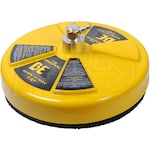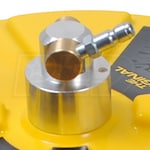 BE Whirl-A-Way 14" Surface Cleaner (4000 PSI)
Product Description

Specs

61

Reviews

2

Product Q&A

Recommended Accessories

How-To Articles

Manuals
Grade
Style

Inflow
1/4" Snap Coupler (Male)
Outflow
Surface Cleaner
Inflow
1/4" Snap Coupler (Male)
Features
Features
Fast, Even Cleaning For Large Flat Surfaces

Great for patios, fences, rooftops & walls

Prevents the zebra striping produced by regular sprayers

Increases Cleaning Efficiency

Reduces cleaning time by up to 60% over regular nozzles

Hover action won't mar aggregate, pavers, or stamped concrete

Keeps overspray to a minimum, even working close to walls

14" Heavy Duty Polypropylene Cover

High-tech polymer is light weight and durable

Channels water flow out the front, away from the user

Welded Steel Two Arm Rotary Spray Bar

Has 2 nozzles rated 4000 PSI; 180 degrees max

Needs a minimum of 2 GPM and 1500 PSI to work properly

Easy To Use Frame

Male quick connector attaches to your spray lance

(Spray lance not included)

Factory Warranty

6 months on the rotary head; 90 days on materials & workmanship

Consumer Use Warranty - No Commercial Warranty
Specifications
Accessories
Inflow
1/4" Snap Coupler (Male)
Minimum GPM
Gallon per Minute
2
Maximum GPM
Gallon per Minute
3.5
Overview
Consumer Warranty
90 Days
Grade
Style

Inflow
1/4" Snap Coupler (Male)
Outflow
Surface Cleaner
Inflow
1/4" Snap Coupler (Male)
Features
Features
Fast, Even Cleaning For Large Flat Surfaces

Great for patios, fences, rooftops & walls

Prevents the zebra striping produced by regular sprayers

Increases Cleaning Efficiency

Reduces cleaning time by up to 60% over regular nozzles

Hover action won't mar aggregate, pavers, or stamped concrete

Keeps overspray to a minimum, even working close to walls

14" Heavy Duty Polypropylene Cover

High-tech polymer is light weight and durable

Channels water flow out the front, away from the user

Welded Steel Two Arm Rotary Spray Bar

Has 2 nozzles rated 4000 PSI; 180 degrees max

Needs a minimum of 2 GPM and 1500 PSI to work properly

Easy To Use Frame

Male quick connector attaches to your spray lance

(Spray lance not included)

Factory Warranty

6 months on the rotary head; 90 days on materials & workmanship

Consumer Use Warranty - No Commercial Warranty
Specifications
Accessories
Inflow
1/4" Snap Coupler (Male)
Minimum GPM
Gallon per Minute
2
Maximum GPM
Gallon per Minute
3.5
Overview
Consumer Warranty
90 Days
Specifications
Accessories
Inflow
1/4" Snap Coupler (Male)
Minimum GPM
Gallon per Minute
2
Maximum GPM
Gallon per Minute
3.5
Overview
Consumer Warranty
90 Days
Search Product Q&A's
Answered by Jim. the Pressure Washer Expert
Hi Mike, I have a Troy-Bilt power washer with 2550 psi @ 2.3 gpm and would like to know which BE Surface Cleaner would be best for me? I would like to have a 14 to 20 incher if possible. Or should I just spring for a more powerful washer? Thanks for your help, Fred
FRED O'NEAL
from Michigan
June 25, 2016
Answer
When choosing a surface cleaner you need to match both the water pressure (PSI) and the water volume (GPM). The 14" BE unit needs at least 1500 PSI to work, so you are fine there, and at 2.3 GPM you just squeak past the minimum 2 GPM needed.
The other BE units need 3.5 GPM and up to function properly.
You may also want to check out the
Simpson 15", 3200 PSI Surface Cleaner
Was this answer helpful?
Yes
1
No
0
I have a fairly new cedar deck that I have cleaned with a brush about 3 times and then stained with Penofin stain. I have not used my 3000 psi power washer because the deckm guy said I would damage the wood. Can I use B Whirl away safely on my deck? Thanks, Mike
Mike Tobin
from Oregon
May 26, 2015
Answer
You will still have to be careful not to damage the deck. This unit is great for any flat surface application. Also, it is 2 nozzles compared too 1, so the PSI will drop slightly. It is still recommended to test a small area to check for damage before tackling the job.
Was this answer helpful?
Yes
1
No
0
Expert Recommended Accessories
Hand Picked By Our Expert Jim
Required Accessories
Add All Required
+
Ask Jim, Our Product Expert, A Question!
*Required Fields
+
Thank You For Submitting Your Question
Your submission has been sent successfully. Please give our experts up to two business days to respond.
Media Gallery
BE Whirl-A-Way 14" Surface Cleaner (4000 PSI)