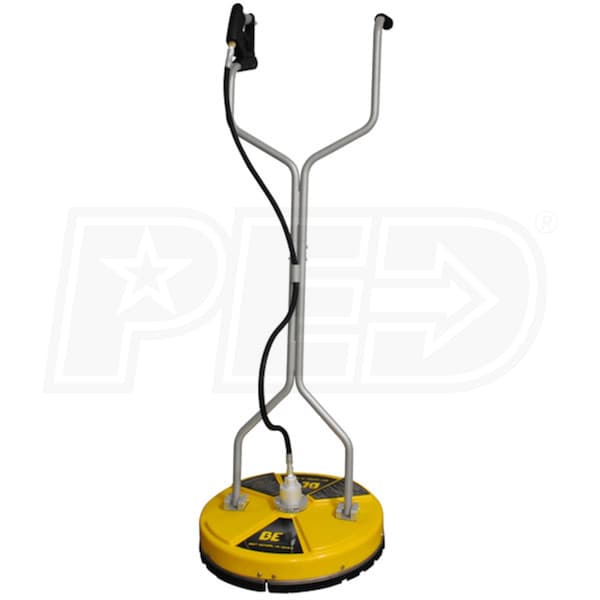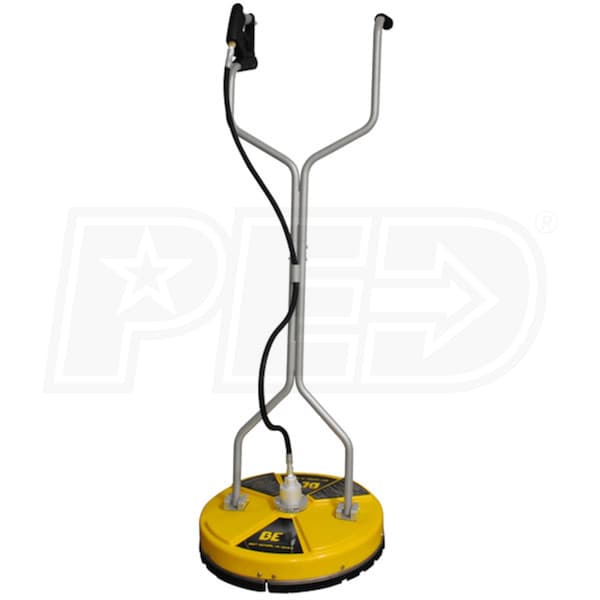 Hover to zoom
1 Of 5
BE 85.403.007 Whirl-A-Way Semi-Pro 20" Surface Cleaner w/ Greaseable Zerk (4000 PSI 185°F)
Product Description

Specs

66

Reviews

1

Product Q&A

Recommended Accessories

How-To Articles

Manuals
Grade
Style

Inflow
3/8" Snap Coupler (Male)
Outflow
Surface Cleaner
Inflow
3/8" Snap Coupler (Male)
Features
Features
Fast, Even Cleaning For Large Flat Surfaces

Great for driveways, parking lots, rooftops & pool decks

Prevents the zebra striping produced by regular sprayers

Increases Cleaning Efficiency

Reduces cleaning time by up to 60% over regular nozzles

Nylon Spray Skirt

Hover action won't mar aggregate, pavers, or stamped concrete

Keeps overspray to a minimum, even working close to walls

20" Heavy Duty Polypropylene Cover

High-tech polymer is light weight and durable

Channels water flow out the front, away from the user

Welded Steel Two Arm Rotary Spray Bar

Has two # 2.5 @ 25° meg nozzles; rated to 8 GPM & 4000 PSI

Accepts up to 185°F maximum water temperature

Easy To Use Frame

Handle trigger for comfort; work longer with less fatigue

Connects to pressure washer with male 3/8" quick connector

Rebuildable Swivel

Heavy duty contractor-grade swivel that can be rebuilt

Greaseable Zerk

Serviceable Swivel with much longer service life

Replacement Parts Sold Separately:

Optional Caster Wheel Kit Part Number 85.793.016

Rotary Arm Assembly Part Number 85.792.007

Spray Nozzle Part Number 85.225.025 (2 Required)
Specifications
Accessories
Accessory Grade
Professional
Inflow
3/8" Snap Coupler (Male)
Minimum GPM
Gallon per Minute
4
Maximum GPM
Gallon per Minute
8
Overview
Consumer Warranty
90 Days
Commercial Warranty
90 Days
Additional Model Numbers
WAW-20Y, 85.403.007
Grade
Style

Inflow
3/8" Snap Coupler (Male)
Outflow
Surface Cleaner
Inflow
3/8" Snap Coupler (Male)
Features
Features
Fast, Even Cleaning For Large Flat Surfaces

Great for driveways, parking lots, rooftops & pool decks

Prevents the zebra striping produced by regular sprayers

Increases Cleaning Efficiency

Reduces cleaning time by up to 60% over regular nozzles

Nylon Spray Skirt

Hover action won't mar aggregate, pavers, or stamped concrete

Keeps overspray to a minimum, even working close to walls

20" Heavy Duty Polypropylene Cover

High-tech polymer is light weight and durable

Channels water flow out the front, away from the user

Welded Steel Two Arm Rotary Spray Bar

Has two # 2.5 @ 25° meg nozzles; rated to 8 GPM & 4000 PSI

Accepts up to 185°F maximum water temperature

Easy To Use Frame

Handle trigger for comfort; work longer with less fatigue

Connects to pressure washer with male 3/8" quick connector

Rebuildable Swivel

Heavy duty contractor-grade swivel that can be rebuilt

Greaseable Zerk

Serviceable Swivel with much longer service life

Replacement Parts Sold Separately:

Optional Caster Wheel Kit Part Number 85.793.016

Rotary Arm Assembly Part Number 85.792.007

Spray Nozzle Part Number 85.225.025 (2 Required)
Specifications
Accessories
Accessory Grade
Professional
Inflow
3/8" Snap Coupler (Male)
Minimum GPM
Gallon per Minute
4
Maximum GPM
Gallon per Minute
8
Overview
Consumer Warranty
90 Days
Commercial Warranty
90 Days
Additional Model Numbers
WAW-20Y, 85.403.007
Specifications
Accessories
Accessory Grade
Professional
Inflow
3/8" Snap Coupler (Male)
Minimum GPM
Gallon per Minute
4
Maximum GPM
Gallon per Minute
8
Overview
Consumer Warranty
90 Days
Commercial Warranty
90 Days
Additional Model Numbers
WAW-20Y, 85.403.007
Search Product Q&A's
Answered by Jim. the Pressure Washer Expert
What will happen if I go above 4000 psi
Bo Westberry
from Georgia
October 27, 2014
Answer
The hose will burst and you will permanently damage the unit. This is rated for a MAX 4000 PSI, and you should not use it above that. If you need to use above 4000 PSI, you would need to buy a professional unit rated for that PSI.
Was this answer helpful?
Yes
2
No
0
Expert Recommended Accessories
Hand Picked By Our Expert Jim
Required Accessories
Add All Required
+
Ask Jim, Our Product Expert, A Question!
*Required Fields
+
Thank You For Submitting Your Question
Your submission has been sent successfully. Please give our experts up to two business days to respond.
Media Gallery
BE 85.403.007 Whirl-A-Way Semi-Pro 20" Surface Cleaner w/ Greaseable Zerk (4000 PSI 185°F)