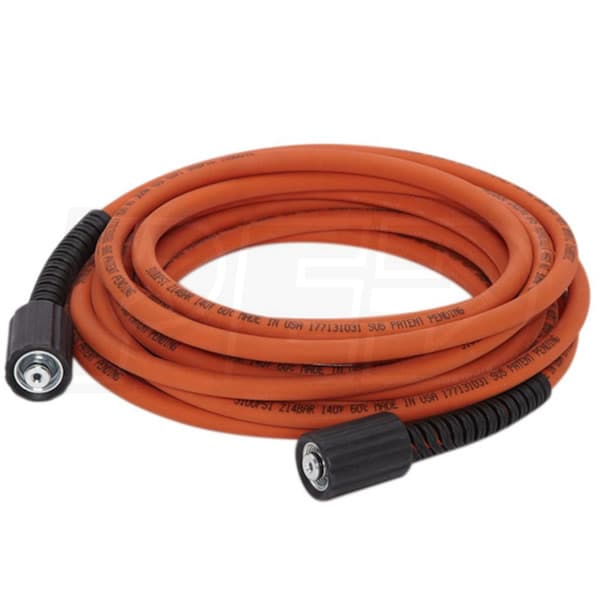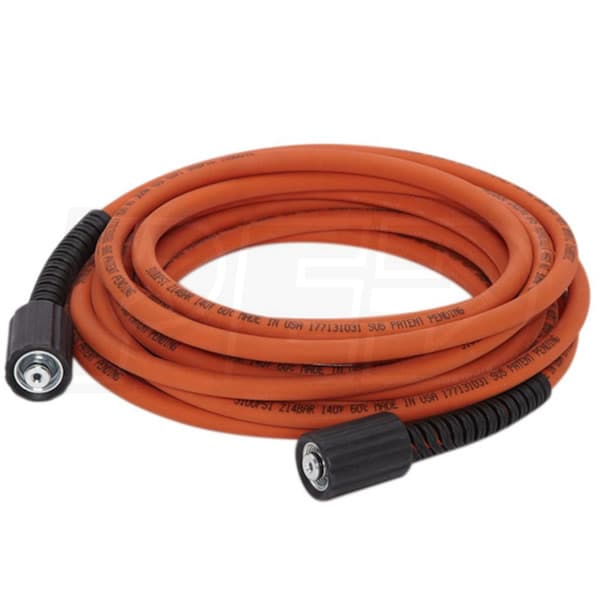 Hover to zoom
1 Of 5
Generac 50-Foot (5/16") 3100 PSI M22 High Pressure Hose
Product Description

Specs

9

Reviews

3

Product Q&A

Recommended Accessories

How-To Articles
Grade

Style

Inflow
22m Threaded (Female)
Outflow
22m Threaded (Female)
Inflow
22m Threaded (Female)
Outflow
22m Threaded (Female)
Features
Features
50 Foot, 3100 PSI Replacement Hose

Fits Generac models with male M22 connectors

Female M22 Connectors At Both Ends

May also fit other brands with male M22 connectors on gun & pump

5/16-Inch Diameter PVC Blend High Pressure Hose

Rated to a maximum of 3100 PSI

Light weight & flexible; high visibility orange

Nylon reinforced & non-marring

Bend Restrictors At Both Ends

Reduce wear & tear on connectors

Hose Is 14MM & NOT Compatible With 15MM M22 Electric Pressure Washers
Specifications
Hose
Hose Material
PVC/Plastic
Accessories
Inflow
22m Threaded (Female)
Outflow
22m Threaded (Female)
Overview
Consumer Warranty
90 Days
Product Width
5/16 Inches
Product Height
5/16 Inches
Grade

Style

Inflow
22m Threaded (Female)
Outflow
22m Threaded (Female)
Inflow
22m Threaded (Female)
Outflow
22m Threaded (Female)
Features
Features
50 Foot, 3100 PSI Replacement Hose

Fits Generac models with male M22 connectors

Female M22 Connectors At Both Ends

May also fit other brands with male M22 connectors on gun & pump

5/16-Inch Diameter PVC Blend High Pressure Hose

Rated to a maximum of 3100 PSI

Light weight & flexible; high visibility orange

Nylon reinforced & non-marring

Bend Restrictors At Both Ends

Reduce wear & tear on connectors

Hose Is 14MM & NOT Compatible With 15MM M22 Electric Pressure Washers
Specifications
Hose
Hose Material
PVC/Plastic
Accessories
Inflow
22m Threaded (Female)
Outflow
22m Threaded (Female)
Overview
Consumer Warranty
90 Days
Product Width
5/16 Inches
Product Height
5/16 Inches
Specifications
Hose
Hose Material
PVC/Plastic
Accessories
Inflow
22m Threaded (Female)
Outflow
22m Threaded (Female)
Overview
Consumer Warranty
90 Days
Product Width
5/16 Inches
Product Height
5/16 Inches
Search Product Q&A's
Answered by Jim. the Pressure Washer Expert
Mike, this 50' Generac 5/16" hose is a novel concept problem is that the 6602 has 1/4" factory installed hose. I've read another customer's question where you recommenced against connecting two different size hoses. With that all said, does this 50' hose extension come in a 1/4" size. 'Cause quite frankly it's pointless to buy the 6602 with a hose that will be rendered useless if I have to go with the overkill Simpson Monster Hose just to get the length I need.
Randy
from New York
July 10, 2016
Answer
The general rule is that you can double the OEM hose length without much falloff in pressure- so Generac makes a
30-foot, 1/4" Generac hose
that would do the trick.
Your unit would also support
3/8" hose
- you may want to consider upgrading and adding quick connect adapters for convenience in the long run.
Monster Hose is great for commercial applications where it will be used daily and dragged over rough surfaces like parking lots and sidewalks. It is overkill for most consumer applications.
Was this answer helpful?
Yes
0
No
0
Mike I have a DeVilbiss/Ex-Cell 2100 PSI 6HP Pressure Washer that came with a 25 ft. 1/4" hose. I inadvertently let the hose touch the hot engine and it burst. Can I use the GENERAC 50 FT. (5/16") 3100 PSI M22 Hose as a replacement ?
Michael
from Florida
July 04, 2016
Answer
Yes, just confirm your current high pressure hose has female threaded ends on both sides of this hose, as the fittings are in this Generac hose.
Was this answer helpful?
Yes
0
No
0
Hi Mike - I just asked the question about this 6620. I'm sorry, I should have specified that I want to use it as an extension to my existing 30' Generac 1/4" hose. I was considering the Simpson Monster 50' 3/8" hose as well because I think it's made of better material, it comes with quick connectors, and it's 3/8". Main question is, can I connect differing diameters of hoses? I greatly appreciate your expert advice!
Doug
from Maryland
December 15, 2015
Answer
Thanks for your inquiry. Normally we do not recommend attaching 2 different diameter hose together as an extension. Instead, I would recommend replacing the 1/4" hose that comes with the unit and replacing it with a 3/8" 100 FT hose for your needs. I would recommend the 100FT Simpson monster hose model MH10038QC. With that you would need 2 adapters to convert your unit to quick connect. You would need adapter model D10037 and D10088. I have attached links for you to view the items I am recommending.
Simpson Monster Hose
D10037 Adapter
D10088 Adapter
Was this answer helpful?
Yes
0
No
0
Expert Recommended Accessories
Hand Picked By Our Expert Jim
Required Accessories
Add All Required
+
Ask Jim, Our Product Expert, A Question!
*Required Fields
+
Thank You For Submitting Your Question
Your submission has been sent successfully. Please give our experts up to two business days to respond.
Media Gallery
Generac 50-Foot (5/16") 3100 PSI M22 High Pressure Hose