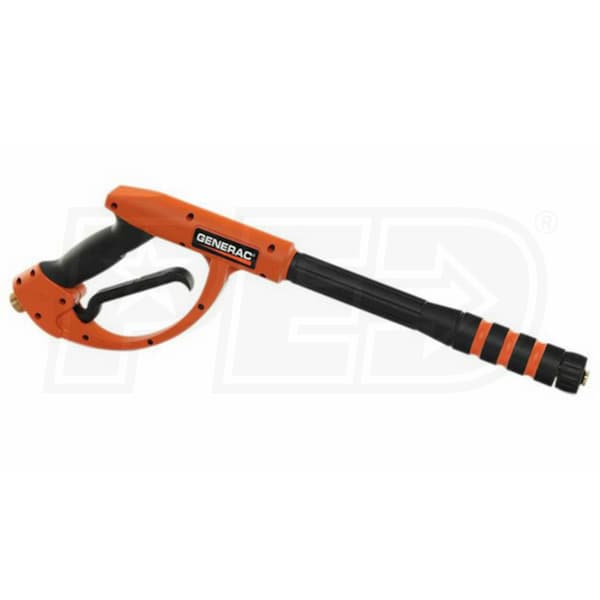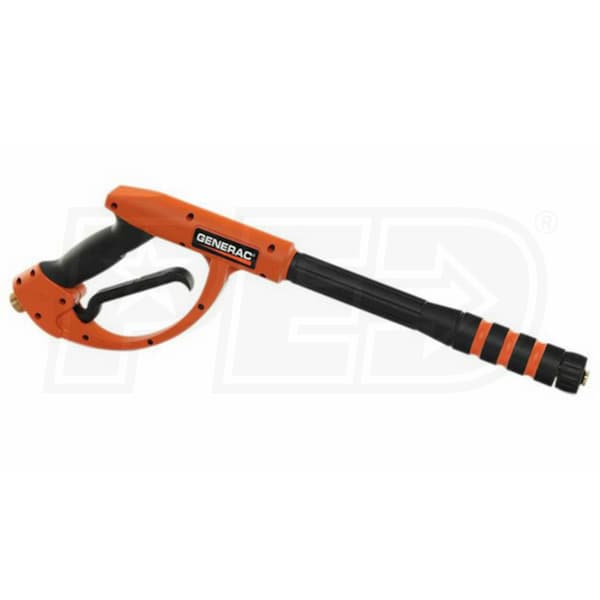 Hover to zoom
1 Of 5
Generac 3100 PSI M22 High Performance Pressure Washer Spray Gun
Product Description

Specs

7

Reviews

1

Product Q&A

Recommended Accessories

How-To Articles
Grade

Style

Inflow
22m Threaded (Male)
Outflow
22m Threaded (Female)
Inflow
22m Threaded (Male)
Outflow
22m Threaded (Female)
Features
Features
High Performance M22 Replacement Spray Gun

A step up from most consumer-grade pressure washer guns

Easy-Pull Trigger

Inverted trigger is easier to pull, reduces hand fatigue

Longer Barrel

Provides extra stability

Cushioned Grip

Thicker padding for extra comfort

Rear M22 Hose Connection

Male threaded connector fits many brands of pressure washer

M22 Female Thread On Wand End

Needs M22 male threaded lance (sold separately) to work properly
Specifications
Spray Gun
Accessories
Inflow
22m Threaded (Male)
Outflow
22m Threaded (Female)
Overview
Consumer Warranty
90 Days
Product Width
2.25 Inches
Product Height
23.5 Inches
Grade

Style

Inflow
22m Threaded (Male)
Outflow
22m Threaded (Female)
Inflow
22m Threaded (Male)
Outflow
22m Threaded (Female)
Features
Features
High Performance M22 Replacement Spray Gun

A step up from most consumer-grade pressure washer guns

Easy-Pull Trigger

Inverted trigger is easier to pull, reduces hand fatigue

Longer Barrel

Provides extra stability

Cushioned Grip

Thicker padding for extra comfort

Rear M22 Hose Connection

Male threaded connector fits many brands of pressure washer

M22 Female Thread On Wand End

Needs M22 male threaded lance (sold separately) to work properly
Specifications
Spray Gun
Accessories
Inflow
22m Threaded (Male)
Outflow
22m Threaded (Female)
Overview
Consumer Warranty
90 Days
Product Width
2.25 Inches
Product Height
23.5 Inches
Specifications
Spray Gun
Accessories
Inflow
22m Threaded (Male)
Outflow
22m Threaded (Female)
Overview
Consumer Warranty
90 Days
Product Width
2.25 Inches
Product Height
23.5 Inches
Search Product Q&A's
Answered by Jim. the Pressure Washer Expert
Hi Mike I have a generac 01456-0 power washer. I need a new spray for it. Part number in manual is B3263 is this a good number still? Will 6685 work as a replacement?
Jim Kuhn
from Ohio
August 06, 2015
Answer
Yes, this would work with your Generac unit with no additional adapters. This would be the best fit for your unit.
Was this answer helpful?
Yes
0
No
0
Expert Recommended Accessories
Hand Picked By Our Expert Jim
Required Accessories
Add All Required
+
Ask Jim, Our Product Expert, A Question!
*Required Fields
+
Thank You For Submitting Your Question
Your submission has been sent successfully. Please give our experts up to two business days to respond.
Media Gallery
Generac 3100 PSI M22 High Performance Pressure Washer Spray Gun