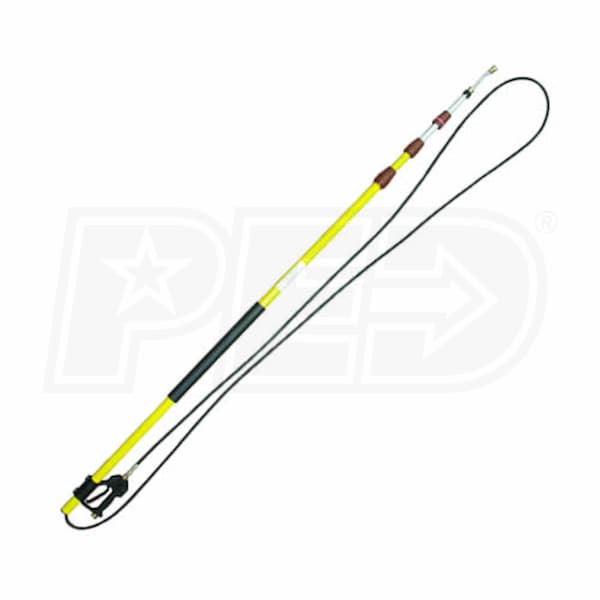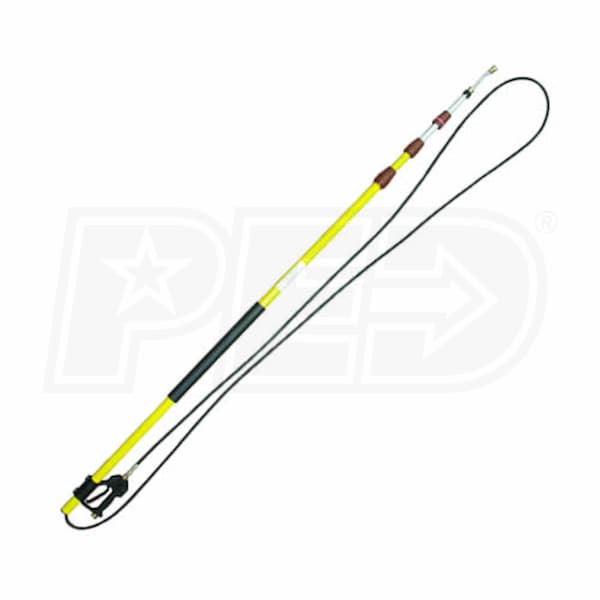 Hover to zoom
1 Of 5
General Pump Semi-Pro 24' Fiberglass Telescoping Wand (4000 PSI) w/ Compensating Spray Gun
Product Description

Specs

4

Reviews

1

Product Q&A

Recommended Accessories

How-To Articles

Manuals
Grade
Style

Inflow
3/8" Threaded (Female)
Outflow
1/4" Snap Coupler (Female)
Inflow
3/8" Threaded (Female)
Outflow
1/4" Snap Coupler (Female)
Features
Features
Keep Your Feet on the Ground

Less dangerous than ladders or scaffold; reaches up to 3 stories

Compensating Spray Gun w/ 2 Extra Adaptors

Compensates for changes in pressure to prevent hand fatigue

1 Adapter has 3/8" male threads and M22 threaded male end

1 Adapter has 3/8" male threads and 3/8" female quick connect

Easy to Connect To 3/8" Hoses

Screw your high pressure hose into included trigger gun

Snap your quick connect nozzles into the angled lance tip

The Giraffe Includes:

24-foot fiberglass telescoping wand with twistlocking grips

Spray gun (rated to 4000 PSI) with 3/8" threaded female inlet

7.5-inch angled lance tip accepts 1/4" quick connect nozzles

Accepts quick connector adapters; can't apply soap @ low pressure

Uses Hot or Cold Water and Stores Easily

Capable of withstanding temperatures up to 195 degrees F

Maximum flow of 10.5 gallons per minute

Retracted length: 7 feet, 8 inches

Not recommended for 1/4" hose (below 2500 PSI); at full extension this wand requires upper-body strength

Won't dispense soap; long range foamers sold separately
Specifications
Spray Gun
Spray Gun Connection
Threaded
Spray Gun Grade
Residential
Spray Gun Wand
Adjustable
Turbo Nozzle
Sold Separately
Hose
Hose Connections
Threaded
Accessories
Inflow
3/8" Threaded (Female)
Outflow
1/4" Snap Coupler (Female)
Overview
Consumer Warranty
90 Days
Product Length
282 Inches
Grade
Style

Inflow
3/8" Threaded (Female)
Outflow
1/4" Snap Coupler (Female)
Inflow
3/8" Threaded (Female)
Outflow
1/4" Snap Coupler (Female)
Features
Features
Keep Your Feet on the Ground

Less dangerous than ladders or scaffold; reaches up to 3 stories

Compensating Spray Gun w/ 2 Extra Adaptors

Compensates for changes in pressure to prevent hand fatigue

1 Adapter has 3/8" male threads and M22 threaded male end

1 Adapter has 3/8" male threads and 3/8" female quick connect

Easy to Connect To 3/8" Hoses

Screw your high pressure hose into included trigger gun

Snap your quick connect nozzles into the angled lance tip

The Giraffe Includes:

24-foot fiberglass telescoping wand with twistlocking grips

Spray gun (rated to 4000 PSI) with 3/8" threaded female inlet

7.5-inch angled lance tip accepts 1/4" quick connect nozzles

Accepts quick connector adapters; can't apply soap @ low pressure

Uses Hot or Cold Water and Stores Easily

Capable of withstanding temperatures up to 195 degrees F

Maximum flow of 10.5 gallons per minute

Retracted length: 7 feet, 8 inches

Not recommended for 1/4" hose (below 2500 PSI); at full extension this wand requires upper-body strength

Won't dispense soap; long range foamers sold separately
Specifications
Spray Gun
Spray Gun Connection
Threaded
Spray Gun Grade
Residential
Spray Gun Wand
Adjustable
Turbo Nozzle
Sold Separately
Hose
Hose Connections
Threaded
Accessories
Inflow
3/8" Threaded (Female)
Outflow
1/4" Snap Coupler (Female)
Overview
Consumer Warranty
90 Days
Product Length
282 Inches
Specifications
Spray Gun
Spray Gun Connection
Threaded
Spray Gun Grade
Residential
Spray Gun Wand
Adjustable
Turbo Nozzle
Sold Separately
Hose
Hose Connections
Threaded
Accessories
Inflow
3/8" Threaded (Female)
Outflow
1/4" Snap Coupler (Female)
Overview
Consumer Warranty
90 Days
Product Length
282 Inches
Search Product Q&A's
Answered by Jim. the Pressure Washer Expert
Mike, I have M22 hose connectors. What kit do you have to connect between the hose and the GP 24' telescoping wand?
Russ
from New Jersey
September 08, 2014
Answer
This will come with the needed adapter to allow you to attach you M22 hose to this telescoping wand. No additional adapters are needed.
Was this answer helpful?
Yes
0
No
0
Expert Recommended Accessories
Hand Picked By Our Expert Jim
Required Accessories
Add All Required
+
Ask Jim, Our Product Expert, A Question!
*Required Fields
+
Thank You For Submitting Your Question
Your submission has been sent successfully. Please give our experts up to two business days to respond.
Media Gallery
General Pump Semi-Pro 24' Fiberglass Telescoping Wand (4000 PSI) w/ Compensating Spray Gun