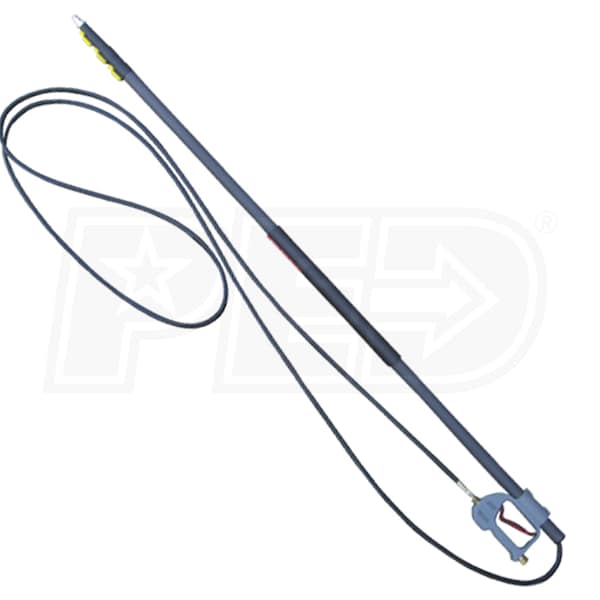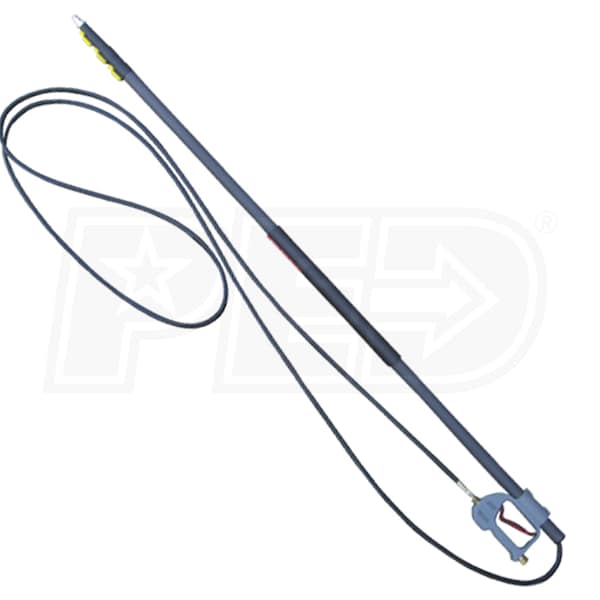 Hover to zoom
1 Of 5
General Pump Giraffe 24' Professional Heavy Duty Aluminum Telescoping Wand w/ Belt & Compensating Spray Gun
Product Description

Specs

37

Reviews

3

Product Q&A

Recommended Accessories

How-To Articles

Manuals
Grade
Style

Inflow
3/8" Threaded (Female)
Outflow
1/4" Snap Coupler (Female)
Inflow
3/8" Threaded (Female)
Outflow
1/4" Snap Coupler (Female)
Features
Features
Keep Your Feet on the Ground

Less dangerous than ladders or scaffold; reaches 3 stories high

4 Sections Of Heavy-Duty Aluminum

Heaviest duty aluminum telescoping wand on the market

Works at any detent between 6' 8" and 24'

Compensating Spray Gun

Compensates for pressure changes to prevent hand fatigue

Easy to Connect To 3/8" Hoses

Screw your high pressure hose into included trigger gun

Snap your quick connect tips into angled lance tip

Included Parts:

24-foot heavy-duty black aluminum wand with thumb locking plugs

Spray gun (rated at 4000 PSI) with 3/8" threaded female

Lance tip has 1/4-inch female quick-connect

Telescoping wand belt (D20015) for comfort & safety- a $30 value!

Can Use Hot Or Cold Water; Easy To Store

Maximum water temperature 195 degrees F

Maximum water pressure 4000 PSI at 10.5 gallons per minute

Only 6 feet, 8 inches long when fully retracted; but at full extension this wand requires upper-body strength

Not recommended for 1/4" hose (2500 psi and below)
Specifications
Accessories
Accessory Grade
Professional
Inflow
3/8" Threaded (Female)
Outflow
1/4" Snap Coupler (Female)
Maximum GPM
Gallon per Minute
10.5
Overview
Consumer Warranty
90 Days
Product Length
24' Inches
Product Height
6' 8 (retracted) Inches
Grade
Style

Inflow
3/8" Threaded (Female)
Outflow
1/4" Snap Coupler (Female)
Inflow
3/8" Threaded (Female)
Outflow
1/4" Snap Coupler (Female)
Features
Features
Keep Your Feet on the Ground

Less dangerous than ladders or scaffold; reaches 3 stories high

4 Sections Of Heavy-Duty Aluminum

Heaviest duty aluminum telescoping wand on the market

Works at any detent between 6' 8" and 24'

Compensating Spray Gun

Compensates for pressure changes to prevent hand fatigue

Easy to Connect To 3/8" Hoses

Screw your high pressure hose into included trigger gun

Snap your quick connect tips into angled lance tip

Included Parts:

24-foot heavy-duty black aluminum wand with thumb locking plugs

Spray gun (rated at 4000 PSI) with 3/8" threaded female

Lance tip has 1/4-inch female quick-connect

Telescoping wand belt (D20015) for comfort & safety- a $30 value!

Can Use Hot Or Cold Water; Easy To Store

Maximum water temperature 195 degrees F

Maximum water pressure 4000 PSI at 10.5 gallons per minute

Only 6 feet, 8 inches long when fully retracted; but at full extension this wand requires upper-body strength

Not recommended for 1/4" hose (2500 psi and below)
Specifications
Accessories
Accessory Grade
Professional
Inflow
3/8" Threaded (Female)
Outflow
1/4" Snap Coupler (Female)
Maximum GPM
Gallon per Minute
10.5
Overview
Consumer Warranty
90 Days
Product Length
24' Inches
Product Height
6' 8 (retracted) Inches
Specifications
Accessories
Accessory Grade
Professional
Inflow
3/8" Threaded (Female)
Outflow
1/4" Snap Coupler (Female)
Maximum GPM
Gallon per Minute
10.5
Overview
Consumer Warranty
90 Days
Product Length
24' Inches
Product Height
6' 8 (retracted) Inches
Search Product Q&A's
Answered by Jim. the Pressure Washer Expert
Looking for wand to clean our bi-level home siding, tallest wall 24 ft. My washer is a cheap Ram Power 208cc gas. It claims to have 2200 PSI with 2.5 gal/min. Any info would be helpful.
Randy Laper
from Wisconsin
July 01, 2016
Answer
These telescoping wands are very difficult to handle and I usually only recommend them to professionals. I usually instead suggest a extension lance. We do offer extension lances that come in 12-84 inches. They will quick connect where the colored spray tip goes now and you will put the colored spray tip on the other end of extension lance. I have included a link to the options for you. Let me know if you have any other questions on them.
Extension Lance
Was this answer helpful?
Yes
0
No
0
Mike, I'm having difficulty making a choice between the 24' MTM Hydro Professional and the General Purpose Giraffe Professional. Question: what are you getting for the extra $20 with the Giraffe, and, are their any design advantages that would suggest I go with the MTM Hydro?
Peter
from Virginia
May 14, 2015
Answer
The Giraffe will allow you to spray at different levels 6,12,18 or 24'. It's also heavier duty pole.
Was this answer helpful?
Yes
0
No
0
Can this telescoping wand be used with the Simpson Megashot 3100 PSI gas pressure washer?
Sharon
from New Jersey
June 06, 2014
Answer
The Simpson Megashot has M22 connectors, and the Giraffe has 3/8" threaded connectors so you would need an
Adaptor
to connect them- either to convert M22 to 3/8, or 3/8 to M22- or convert them both to quick connect.
If you're only going to use the 24' telescoping wand occasionally, the
Fiberglass Prosumer Telescoping Wand
comes with the adaptors.
Was this answer helpful?
Yes
0
No
0
Expert Recommended Accessories
Hand Picked By Our Expert Jim
Required Accessories
Add All Required
+
Ask Jim, Our Product Expert, A Question!
*Required Fields
+
Thank You For Submitting Your Question
Your submission has been sent successfully. Please give our experts up to two business days to respond.
Media Gallery
General Pump Giraffe 24' Professional Heavy Duty Aluminum Telescoping Wand w/ Belt & Compensating Spray Gun