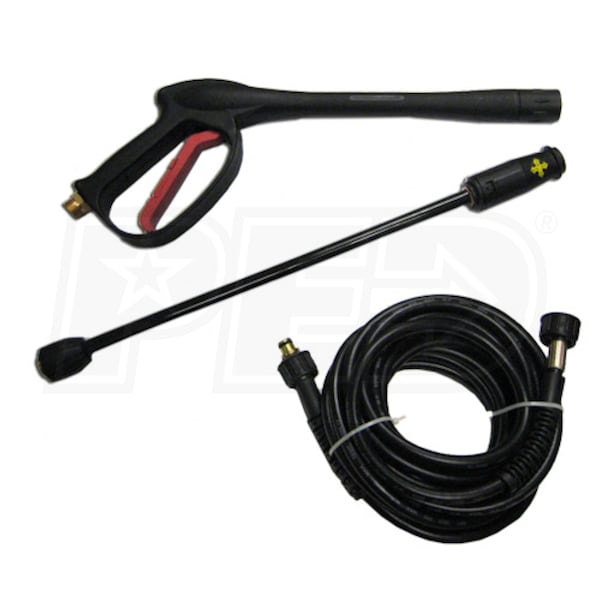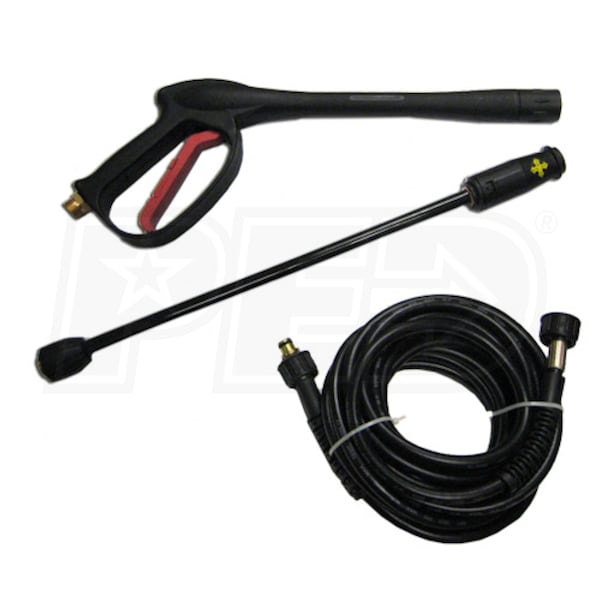 Hover to zoom
1 Of 5
General Pump Replacement High-Pressure Spray Kit
Product Description

Specs

8

Reviews

6

Product Q&A

Recommended Accessories

How-To Articles
Grade

Style

Inflow
22m Threaded (Female)
Outflow
Fan Spray
Inflow
22m Threaded (Female)
Features
Features
Guaranteed Compatible With M22 Connectors

Simply screw into any consumer-grade gas pressure washer

Will NOT work with electric or professional-grade pressure washer

Kit Includes:

1 x Consumer-grade gun rated up to 2700 PSI

1 x Consumer-grade (25' 1/4") hose rated up to 2700 PSI

1 x Consumer-grade adjustable spray wand

Bundle Your Savings

Save by buying entire kit instead of individual items
Specifications
Spray Gun
Spray Gun Connection
Threaded
Spray Gun Grade
Residential
Spray Gun Wand
Adjustable
Turbo Nozzle
Sold Separately
Hose
Hose Material
PVC/Plastic
Hose Connections
Threaded
Accessories
Inflow
22m Threaded (Female)
Overview
Consumer Warranty
90 Days
Grade

Style

Inflow
22m Threaded (Female)
Outflow
Fan Spray
Inflow
22m Threaded (Female)
Features
Features
Guaranteed Compatible With M22 Connectors

Simply screw into any consumer-grade gas pressure washer

Will NOT work with electric or professional-grade pressure washer

Kit Includes:

1 x Consumer-grade gun rated up to 2700 PSI

1 x Consumer-grade (25' 1/4") hose rated up to 2700 PSI

1 x Consumer-grade adjustable spray wand

Bundle Your Savings

Save by buying entire kit instead of individual items
Specifications
Spray Gun
Spray Gun Connection
Threaded
Spray Gun Grade
Residential
Spray Gun Wand
Adjustable
Turbo Nozzle
Sold Separately
Hose
Hose Material
PVC/Plastic
Hose Connections
Threaded
Accessories
Inflow
22m Threaded (Female)
Overview
Consumer Warranty
90 Days
Specifications
Spray Gun
Spray Gun Connection
Threaded
Spray Gun Grade
Residential
Spray Gun Wand
Adjustable
Turbo Nozzle
Sold Separately
Hose
Hose Material
PVC/Plastic
Hose Connections
Threaded
Accessories
Inflow
22m Threaded (Female)
Overview
Consumer Warranty
90 Days
Search Product Q&A's
Answered by Jim. the Pressure Washer Expert
Will this fit PW2200V1LE Campbell hausfeld.
Joe Licandro
from New Jersey
July 12, 2016
Answer
I had to look up the PW2200V1LE; the description says it comes with an M22 connector so it should fit.

There are a few pressure washers with M22 connectors that have a different diameter center, but it doesn't look like this pump is one of them since it's specified as a replacement for so many brands.

Was this answer helpful?
Yes
0
No
0
The kit is called adjustable - in what way is it adjustable? spray pattern? pressure? ???
Russ
from Washington
October 16, 2011
Answer
This kit comes with an adjutable spray wand, meaning you can rotate the nozzle and adjust the spray pattern from a zero degree spray pattern to a wide fan spray pattern. By doing this, you will slightly adjust the pressure also.
Was this answer helpful?
Yes
0
No
0
Will this spray kit fit a Campbell Hausfeld PW2200V1LE ? I've been looking for a replacement and the OEM seems to be discontinued. What is your return policy if it does not fit? Thanks
Greg
from Alabama
June 04, 2011
Answer
It should work if you have a gas unit. If you have M22 connections this would work. Now if your unit is an electric unit, then this may not work.

Thanks,

Pressure Washers Direct
Was this answer helpful?
Yes
0
No
0
I have a generac 2100psi model 1439-0 will this kit fit?
Al Feld
from Wisconsin
May 31, 2011
Answer
If this is a gas unit, it most likely would fit. This is meant for most gas models within a certain psi range.

Thanks,

Pressure Washers Direct
Was this answer helpful?
Yes
0
No
0
Can i use this kit on a 1750 psi gass karcher unit with only 2.2 GPM of flow? Will it develop full pressure with only 2.2 GPM?
Manny
from New York
April 20, 2011
Answer
Yes, you can definitely use this kit with your current set up. You will get full pressure with this kit, even at 2.2 gpm. This kit comes with a 1/4" hose, there is not a smaller hose size that is available to purchase.
Was this answer helpful?
Yes
0
No
0
Well this pressure gun kit fit to a pressure wave 2225CWH 2 wheel presssure washer 2200psi' Thank you
Jack L. Keys
from Alabama
March 28, 2011
Answer
Yes it will, as long as you have M22 threaded fittings on your pressure washer. If you have a threaded connection on your pump, more than likely it will be the M22 size which is typically standard on pressure washers. The hose that comes with this spray kit has female M22 threaded connections on each end.

This kit is rated for up to 2700 psi.
Was this answer helpful?
Yes
0
No
0
Expert Recommended Accessories
Hand Picked By Our Expert Jim
Required Accessories
Add All Required
+
Ask Jim, Our Product Expert, A Question!
*Required Fields
+
Thank You For Submitting Your Question
Your submission has been sent successfully. Please give our experts up to two business days to respond.
Media Gallery
General Pump Replacement High-Pressure Spray Kit