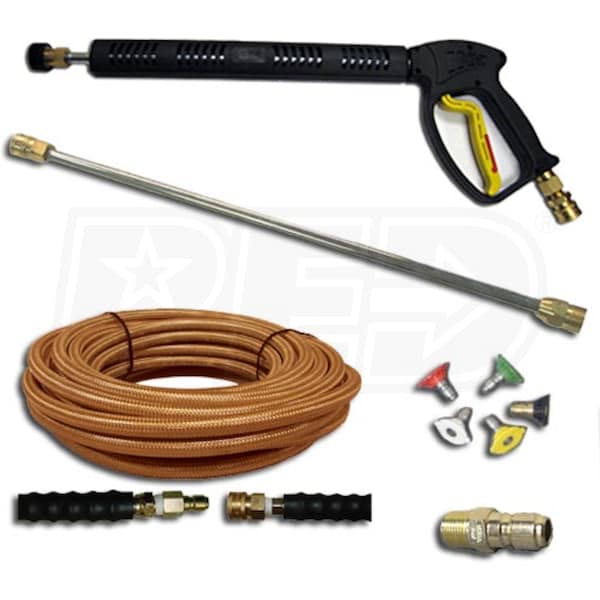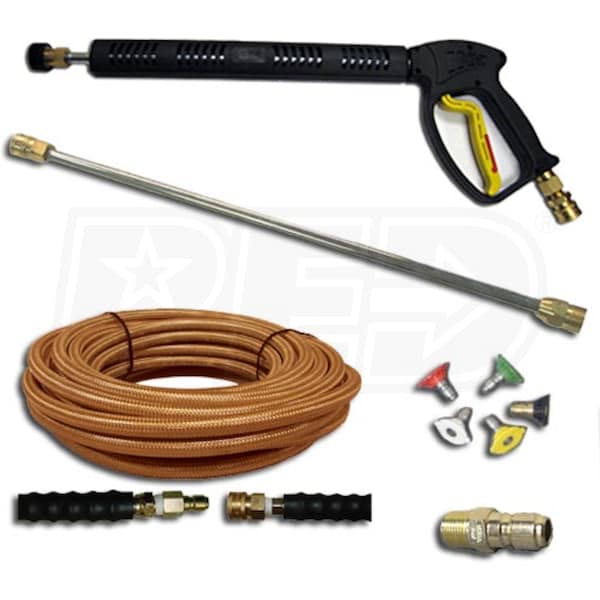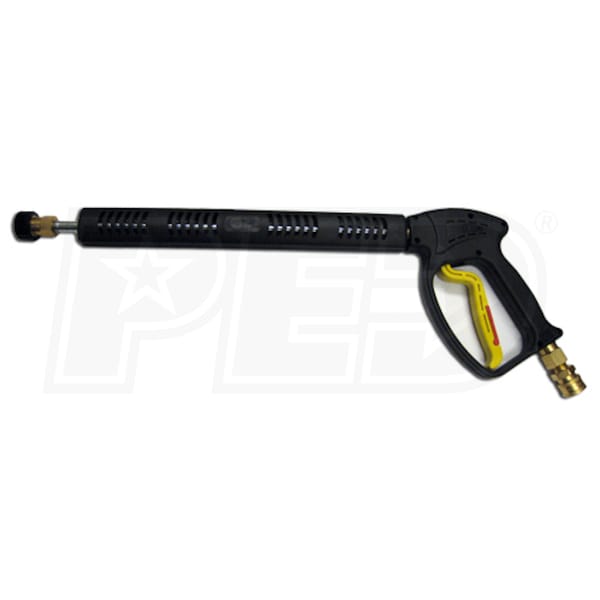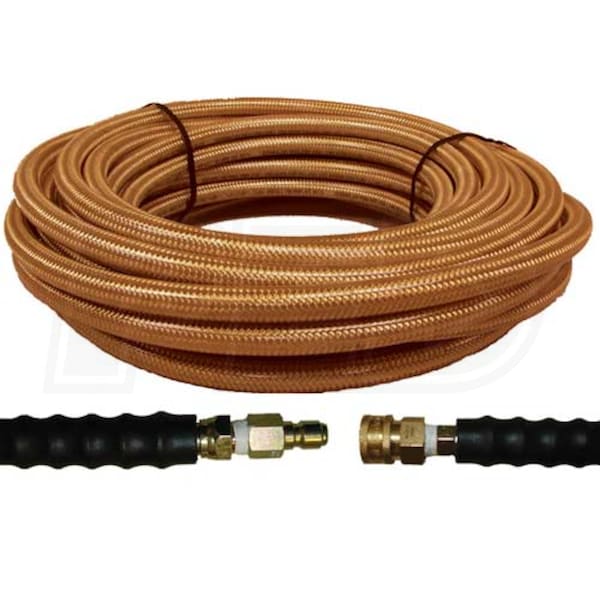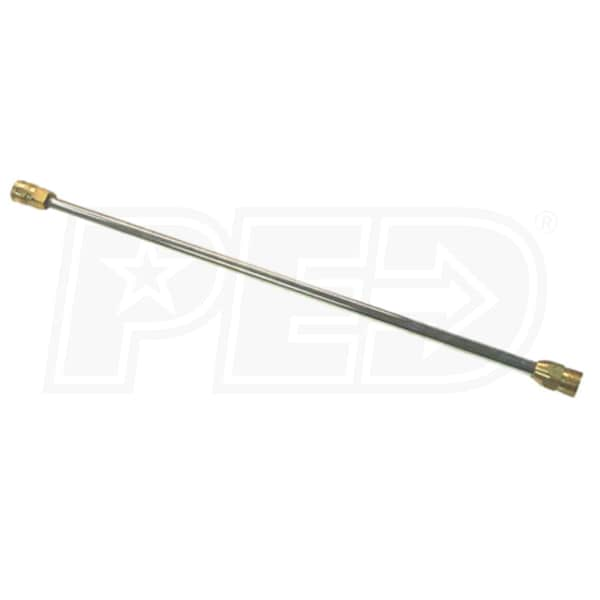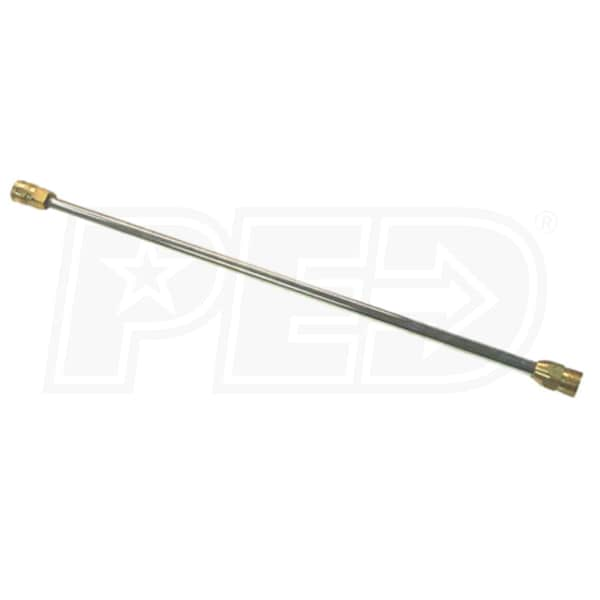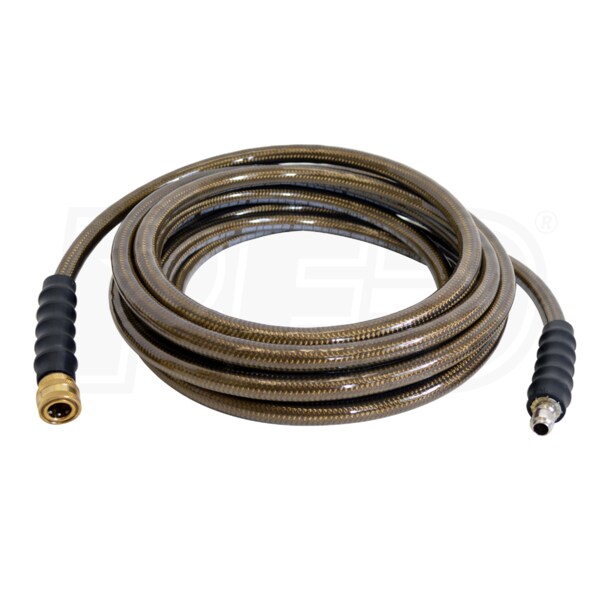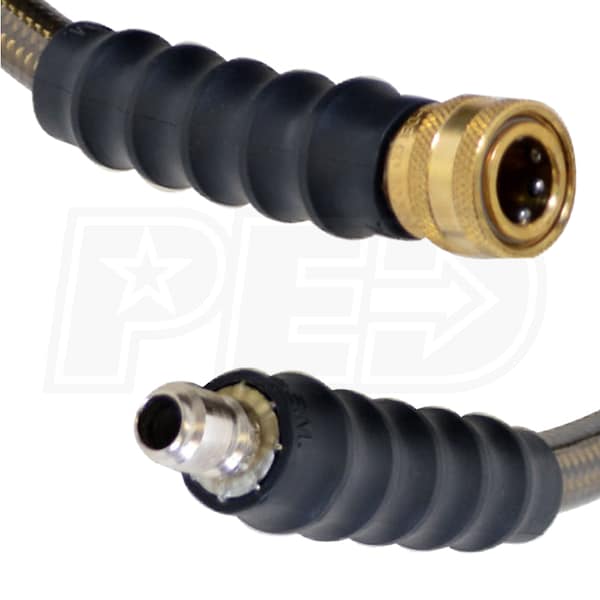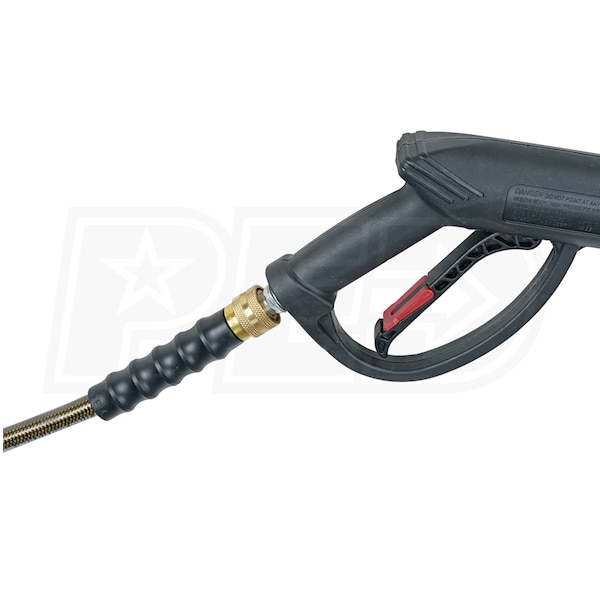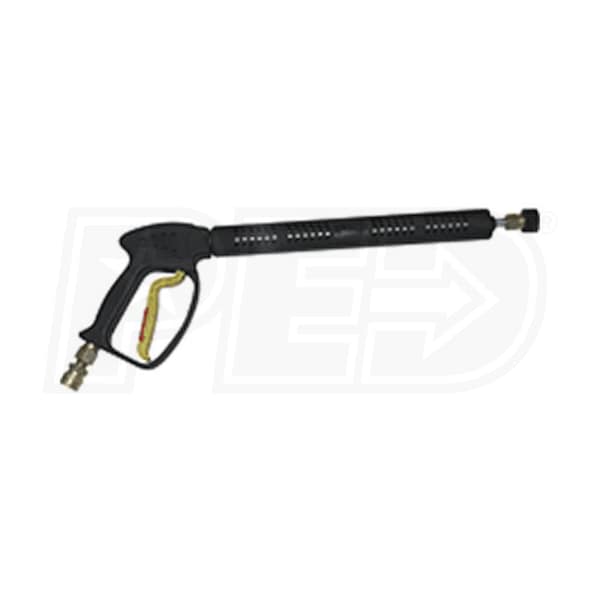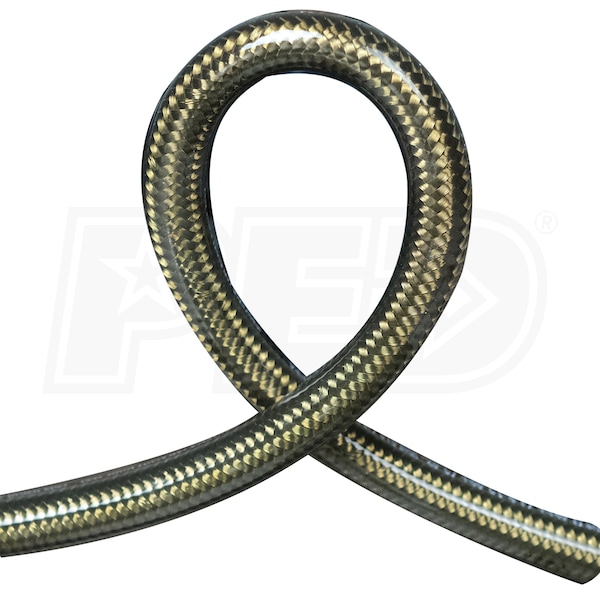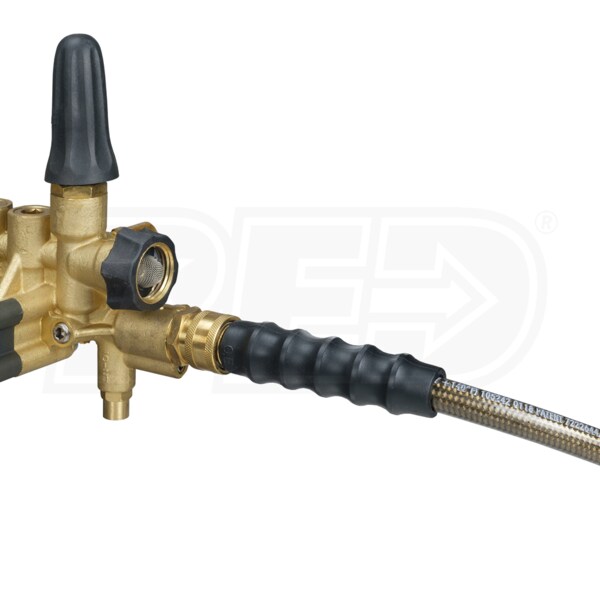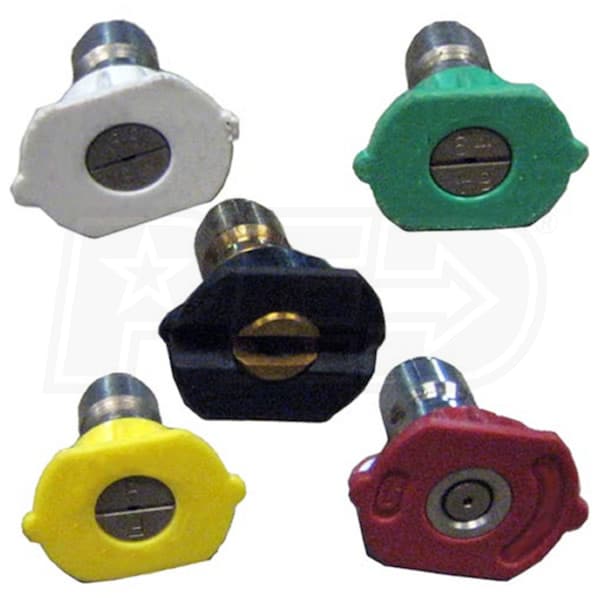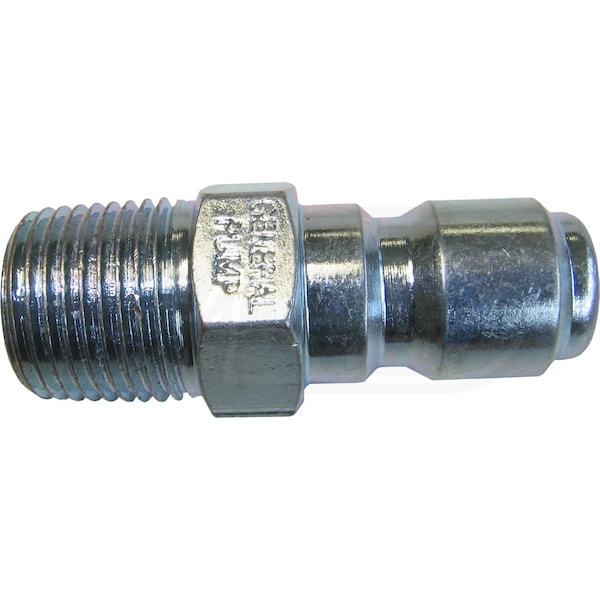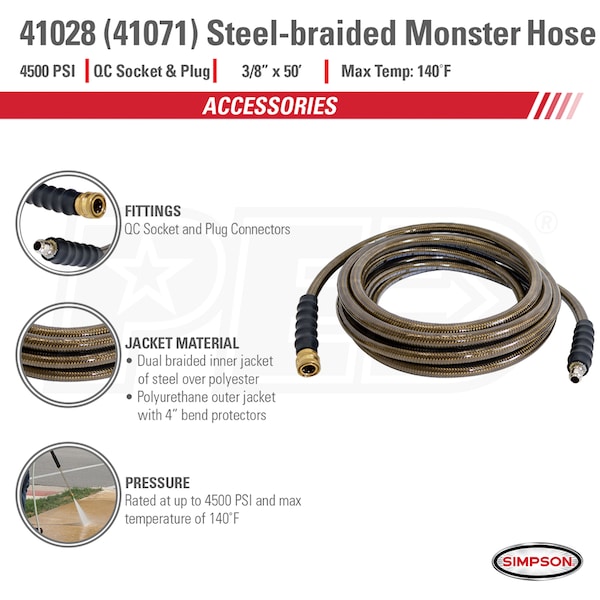 Hover to zoom
1 Of 5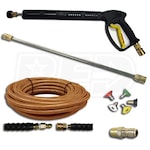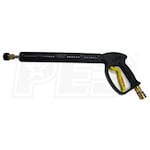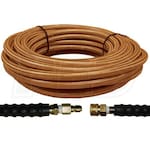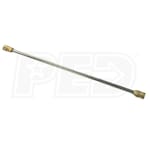 General Pump Professional Spray Kit w/ Quick-Connect Tips
Product Description

Specs

14

Reviews

2

Product Q&A

Recommended Accessories

How-To Articles

Manuals
Grade
Style

Inflow
3/8" Snap Coupler (Female)
Outflow
Fan Spray
Inflow
3/8" Snap Coupler (Female)
Features
Features
Guaranteed Compatible

Simply snap into any professional-grade gas pressure washer

NOT recommended for electric or consumer-grade pressure washers

Bundle Your Savings Over Buying Separate Pieces

Quick-connect spray gun and high pressure hose

Kit Includes

1 x Professional-grade gun rated up to 5000 PSI (10.5 GPM)

1 x Professional-grade (50' 3/8") hose rated up to 4500 PSI

1 x Professional-grade AR 24" Extension Lance w/ Quick Connect

5 x Professional-grade spray tips (4.5 orifice)

1 x Male 3/8" quick-connect plug adapter
Specifications
Spray Gun
Spray Gun Connection
Threaded
Spray Gun Grade
Professional
Spray Gun Wand
Single Wand
Spray Tips
Quick Connect Tips (5)
Turbo Nozzle
Sold Separately
Hose
Hose Material
Polyurethane
Hose Connections
Quick-Connect
Accessories
Accessory Grade
Professional
Inflow
3/8" Snap Coupler (Female)
Overview
Consumer Warranty
90 Days
Hose
Hose Material
Polyurethane
Hose Connections
Quick-Connect
Accessories
Accessory Grade
Professional
Inflow
3/8" Snap Coupler (Male)
Outflow
3/8" Snap Coupler (Female)
Overview
Consumer Warranty
90 Days
Product Height
3/8 Inches
Spray Gun
Spray Gun Connection
Quick-Connect
Spray Gun Grade
Professional
Spray Gun Wand
Single Wand
Turbo Nozzle
Sold Separately
Accessories
Accessory Grade
Professional
Inflow
3/8" Snap Coupler (Female)
Outflow
22m Threaded (Female)
Overview
Consumer Warranty
90 Days
Product Height
1.5 Inches
Spray Gun
Spray Gun Wand
Single Wand
Turbo Nozzle
Sold Separately
Accessories
Inflow
22m Threaded (Male)
Outflow
1/4" Snap Coupler (Female)
Extension Length
24 Inches
Overview
Accessories
Accessory Grade
Professional
Inflow
1/4" Snap Coupler (Male)
Overview
Consumer Warranty
90 Days
Accessories
Accessory Grade
Professional
Inflow
3/8" Threaded (Male)
Outflow
3/8" Snap Coupler (Male)
Overview
Consumer Warranty
90 Days
Product Length
1.8 Inches
Product Height
.71 Inches
Grade
Style

Inflow
3/8" Snap Coupler (Female)
Outflow
Fan Spray
Inflow
3/8" Snap Coupler (Female)
Features
Features
Guaranteed Compatible

Simply snap into any professional-grade gas pressure washer

NOT recommended for electric or consumer-grade pressure washers

Bundle Your Savings Over Buying Separate Pieces

Quick-connect spray gun and high pressure hose

Kit Includes

1 x Professional-grade gun rated up to 5000 PSI (10.5 GPM)

1 x Professional-grade (50' 3/8") hose rated up to 4500 PSI

1 x Professional-grade AR 24" Extension Lance w/ Quick Connect

5 x Professional-grade spray tips (4.5 orifice)

1 x Male 3/8" quick-connect plug adapter
Specifications
Spray Gun
Spray Gun Connection
Threaded
Spray Gun Grade
Professional
Spray Gun Wand
Single Wand
Spray Tips
Quick Connect Tips (5)
Turbo Nozzle
Sold Separately
Hose
Hose Material
Polyurethane
Hose Connections
Quick-Connect
Accessories
Accessory Grade
Professional
Inflow
3/8" Snap Coupler (Female)
Overview
Consumer Warranty
90 Days
Hose
Hose Material
Polyurethane
Hose Connections
Quick-Connect
Accessories
Accessory Grade
Professional
Inflow
3/8" Snap Coupler (Male)
Outflow
3/8" Snap Coupler (Female)
Overview
Consumer Warranty
90 Days
Product Height
3/8 Inches
Spray Gun
Spray Gun Connection
Quick-Connect
Spray Gun Grade
Professional
Spray Gun Wand
Single Wand
Turbo Nozzle
Sold Separately
Accessories
Accessory Grade
Professional
Inflow
3/8" Snap Coupler (Female)
Outflow
22m Threaded (Female)
Overview
Consumer Warranty
90 Days
Product Height
1.5 Inches
Spray Gun
Spray Gun Wand
Single Wand
Turbo Nozzle
Sold Separately
Accessories
Inflow
22m Threaded (Male)
Outflow
1/4" Snap Coupler (Female)
Extension Length
24 Inches
Overview
Accessories
Accessory Grade
Professional
Inflow
1/4" Snap Coupler (Male)
Overview
Consumer Warranty
90 Days
Accessories
Accessory Grade
Professional
Inflow
3/8" Threaded (Male)
Outflow
3/8" Snap Coupler (Male)
Overview
Consumer Warranty
90 Days
Product Length
1.8 Inches
Product Height
.71 Inches
Specifications
Spray Gun
Spray Gun Connection
Threaded
Spray Gun Grade
Professional
Spray Gun Wand
Single Wand
Spray Tips
Quick Connect Tips (5)
Turbo Nozzle
Sold Separately
Hose
Hose Material
Polyurethane
Hose Connections
Quick-Connect
Accessories
Accessory Grade
Professional
Inflow
3/8" Snap Coupler (Female)
Overview
Consumer Warranty
90 Days
Hose
Hose Material
Polyurethane
Hose Connections
Quick-Connect
Accessories
Accessory Grade
Professional
Inflow
3/8" Snap Coupler (Male)
Outflow
3/8" Snap Coupler (Female)
Overview
Consumer Warranty
90 Days
Product Height
3/8 Inches
Spray Gun
Spray Gun Connection
Quick-Connect
Spray Gun Grade
Professional
Spray Gun Wand
Single Wand
Turbo Nozzle
Sold Separately
Accessories
Accessory Grade
Professional
Inflow
3/8" Snap Coupler (Female)
Outflow
22m Threaded (Female)
Overview
Consumer Warranty
90 Days
Product Height
1.5 Inches
Spray Gun
Spray Gun Wand
Single Wand
Turbo Nozzle
Sold Separately
Accessories
Inflow
22m Threaded (Male)
Outflow
1/4" Snap Coupler (Female)
Extension Length
24 Inches
Overview
Accessories
Accessory Grade
Professional
Inflow
1/4" Snap Coupler (Male)
Overview
Consumer Warranty
90 Days
Accessories
Accessory Grade
Professional
Inflow
3/8" Threaded (Male)
Outflow
3/8" Snap Coupler (Male)
Overview
Consumer Warranty
90 Days
Product Length
1.8 Inches
Product Height
.71 Inches
Search Product Q&A's
Answered by Jim. the Pressure Washer Expert
What fitting does the pump need- male or female?
Trevor Green
from California
March 31, 2015
Answer
It can have either as we include the adapter to change the fitting on the gun if needed.
Was this answer helpful?
Yes
0
No
0
Where can I buy just this spray gun?
Christopher
from California
January 12, 2012
Answer
We do sell just this spray gun seperately from the kit. I am posting a link below to this item on our website:
General Pump Spray Gun
Was this answer helpful?
Yes
0
No
0
Expert Recommended Accessories
Hand Picked By Our Expert Jim
Required Accessories
Add All Required
+
Ask Jim, Our Product Expert, A Question!
*Required Fields
+
Thank You For Submitting Your Question
Your submission has been sent successfully. Please give our experts up to two business days to respond.
Media Gallery
General Pump Professional Spray Kit w/ Quick-Connect Tips