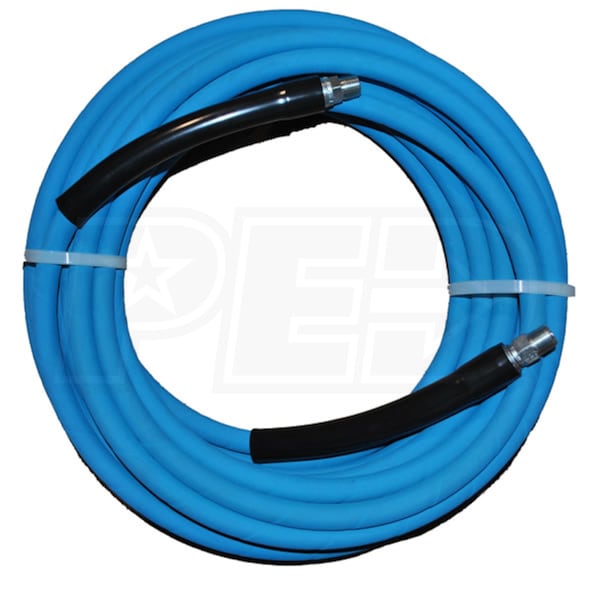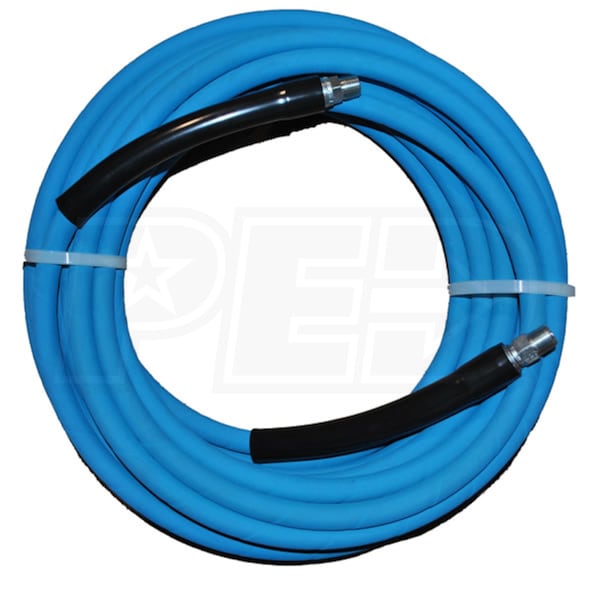 Hover to zoom
1 Of 5
JGB Blue Eaglewash 50-Foot (1/4") 3000 PSI High Pressure Hose
Product Description

Specs

7

Reviews

1

Product Q&A

Recommended Accessories

How-To Articles
Grade
Style

Inflow
1/4" Threaded (Male)
Outflow
1/4" Threaded (Male)
Inflow
1/4" Threaded (Male)
Outflow
1/4" Threaded (Male)
Features
Features
Prosumer Grade High Pressure Hose

Sturdy hose made with quality components

Rated for use with machines producing up to 3000 PSI

Modified Neoprene & Synthetic Rubber Reinforced Cover

Flexible & oil resistant

1 wire braid reinforced & modified nitrile liner for durability

Use With Hot Or Cold Water Pressure Washers

Rated for water temperatures up to 250°F

1/4" Male NPT Threaded Connectors

Fits many brands of pressure washers

Bend Restrictors On Each End

Prevents excessive wear on connectors

Adapter D10027 Needed To Convert Fittings To Female M22 Threads
Specifications
Hose
Hose Material
Wire Reinforced
Hose Connections
Threaded
Accessories
Inflow
1/4" Threaded (Male)
Outflow
1/4" Threaded (Male)
Overview
Consumer Warranty
90 Days
Grade
Style

Inflow
1/4" Threaded (Male)
Outflow
1/4" Threaded (Male)
Inflow
1/4" Threaded (Male)
Outflow
1/4" Threaded (Male)
Features
Features
Prosumer Grade High Pressure Hose

Sturdy hose made with quality components

Rated for use with machines producing up to 3000 PSI

Modified Neoprene & Synthetic Rubber Reinforced Cover

Flexible & oil resistant

1 wire braid reinforced & modified nitrile liner for durability

Use With Hot Or Cold Water Pressure Washers

Rated for water temperatures up to 250°F

1/4" Male NPT Threaded Connectors

Fits many brands of pressure washers

Bend Restrictors On Each End

Prevents excessive wear on connectors

Adapter D10027 Needed To Convert Fittings To Female M22 Threads
Specifications
Hose
Hose Material
Wire Reinforced
Hose Connections
Threaded
Accessories
Inflow
1/4" Threaded (Male)
Outflow
1/4" Threaded (Male)
Overview
Consumer Warranty
90 Days
Specifications
Hose
Hose Material
Wire Reinforced
Hose Connections
Threaded
Accessories
Inflow
1/4" Threaded (Male)
Outflow
1/4" Threaded (Male)
Overview
Consumer Warranty
90 Days
Search Product Q&A's
Answered by Jim. the Pressure Washer Expert
Looking for pressure washer hose for troy-bilt model 020416-3000 psi-2 cycle
David Wettlin
from Alabama
June 21, 2015
Answer
High pressure hoses can be either 'replacement', 'extension'- or come with an adapter to link 2 together and work as either. I'm sorry, there isn't a list of Troy-bilt hoses to see exactly what you would need, but you should be able to find something that will work on our website.
You would need a hose rated to at least 3000 PSI, and you will need to match the connectors that come on your unit. Just click on this
3000 PSI hose page
and look carefully at the connectors listed (and pictured) to find the one that matches the ones that came with your unit.
Make sure that you have matched not only the type of connectors your Troy-bilt has, but the gender. If need be you could add
an adapter from this list
to make the correct connections.
Was this answer helpful?
Yes
0
No
0
Expert Recommended Accessories
Hand Picked By Our Expert Jim
Required Accessories
Add All Required
+
Ask Jim, Our Product Expert, A Question!
*Required Fields
+
Thank You For Submitting Your Question
Your submission has been sent successfully. Please give our experts up to two business days to respond.
Media Gallery
JGB Blue Eaglewash 50-Foot (1/4") 3000 PSI High Pressure Hose