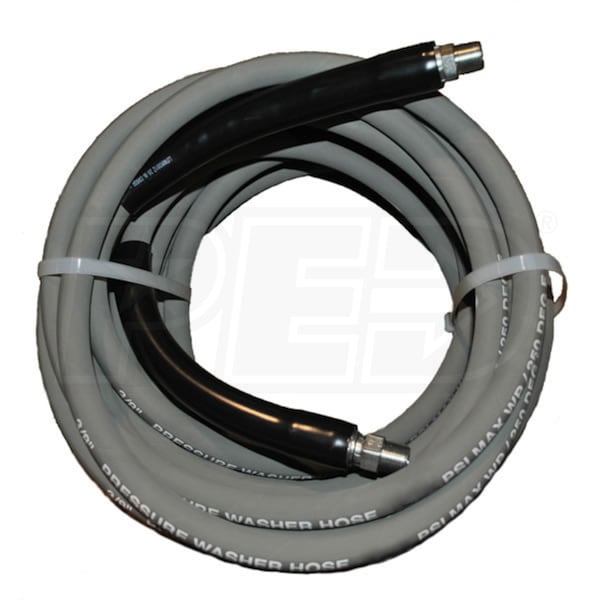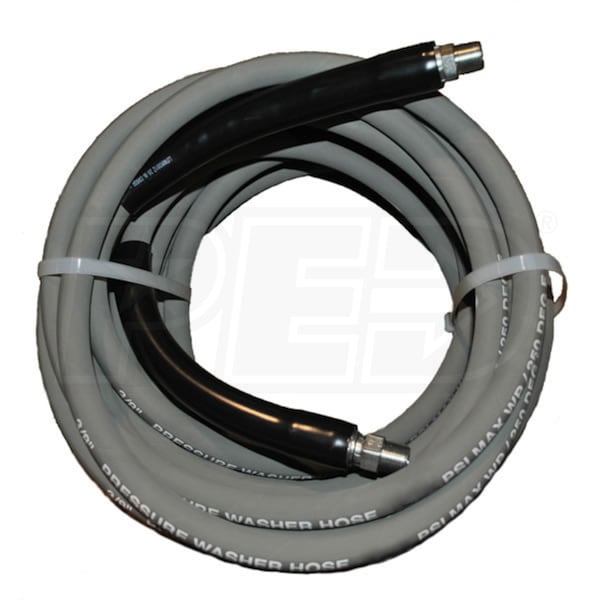 Hover to zoom
1 Of 5
JGB Gray Eaglewash 100-Foot (1/4") 3000 PSI High Pressure Hose
Product Description

Specs

Reviews

2

Product Q&A

Recommended Accessories

How-To Articles
Grade
Style

Inflow
1/4" Threaded (Male)
Outflow
1/4" Threaded (Male)
Inflow
1/4" Threaded (Male)
Outflow
1/4" Threaded (Male)
Features
Features
Prosumer Grade High Pressure Hose

Sturdy hose made with quality components

Rated for use with machines producing up to 3000 PSI

Modified Neoprene & Synthetic Rubber Reinforced Cover

Flexible & oil resistant

1 wire braid reinforced & modified nitrile liner for durability

Use With Hot Or Cold Water Pressure Washers

Rated for water temperatures up to 310°F (154°C)

1/4" Male NPT Threaded Connectors

Fits many brands of pressure washers

One end has a swivel fitting to help prevent kinking

Bend Restrictors On Each End

Prevents excessive wear on connectors

Adapter D10027 Needed To Convert Fittings To Female M22 Threads
Specifications
Hose
Hose Material
Wire Reinforced
Hose Connections
Threaded
Accessories
Inflow
1/4" Threaded (Male)
Outflow
1/4" Threaded (Male)
Overview
Consumer Warranty
90 Days
Grade
Style

Inflow
1/4" Threaded (Male)
Outflow
1/4" Threaded (Male)
Inflow
1/4" Threaded (Male)
Outflow
1/4" Threaded (Male)
Features
Features
Prosumer Grade High Pressure Hose

Sturdy hose made with quality components

Rated for use with machines producing up to 3000 PSI

Modified Neoprene & Synthetic Rubber Reinforced Cover

Flexible & oil resistant

1 wire braid reinforced & modified nitrile liner for durability

Use With Hot Or Cold Water Pressure Washers

Rated for water temperatures up to 310°F (154°C)

1/4" Male NPT Threaded Connectors

Fits many brands of pressure washers

One end has a swivel fitting to help prevent kinking

Bend Restrictors On Each End

Prevents excessive wear on connectors

Adapter D10027 Needed To Convert Fittings To Female M22 Threads
Specifications
Hose
Hose Material
Wire Reinforced
Hose Connections
Threaded
Accessories
Inflow
1/4" Threaded (Male)
Outflow
1/4" Threaded (Male)
Overview
Consumer Warranty
90 Days
Specifications
Hose
Hose Material
Wire Reinforced
Hose Connections
Threaded
Accessories
Inflow
1/4" Threaded (Male)
Outflow
1/4" Threaded (Male)
Overview
Consumer Warranty
90 Days
Be the First to Write a Review
Do you own this product?
Please share your insights with fellow shoppers.
Search Product Q&A's
Answered by Jim. the Pressure Washer Expert
Can I use this with a electric power washer
Edwin Martinez
from New York
July 04, 2016
Answer
Unfortunately the consumer electrics, like yours, all use a manufacture specific connection. There is no way to switch out the things to make it compatible. Also there are no adapters out there to use. You would have to stick with you brand washer's products. I would have nothing compatible with that unit.
Was this answer helpful?
Yes
0
No
0
Hello. I have a 3000psi, 2.5gpm pw. Come with I believe 25ft,1/4 plastic piece of crap hose. I want to buy a 100' hose for it. Questions are......should I stay with 1/4 with that length or needs 5/16 maybe because of the length? I think i read someplace a lose of 1psi per ft. 100 psi lose is fine then. But hose size might matter at other end.Definitely want rubber. I will also be putting on a reel eventually. Anything special there.....will a 1/4 or 5/16 hose make a difference as to which reel for connections? Please advise. Wouldn't want to order wrong items. Somewhat of a newbie I guess so please be gentle. Thanks for any advise.
Tim Rea
from Florida
June 02, 2016
Answer
Tim,
I would recommend jumping up to a 5/16" hose. This is a stronger and more durable hose than the 1/4" hose that comes standard with your unit. I would recommend purchasing 2 of the 50FT Simpson hoses model 40226. The 50FT hose comes with an adapter that you can attach the 2 hoses together for 100FT. You will not see any performance loss. I have attached a link for you to view the hose I am recommending.
Simpson 50FT Hose
Was this answer helpful?
Yes
0
No
0
Expert Recommended Accessories
Hand Picked By Our Expert Jim
Required Accessories
Add All Required
+
Ask Jim, Our Product Expert, A Question!
*Required Fields
+
Thank You For Submitting Your Question
Your submission has been sent successfully. Please give our experts up to two business days to respond.
Media Gallery
JGB Gray Eaglewash 100-Foot (1/4") 3000 PSI High Pressure Hose