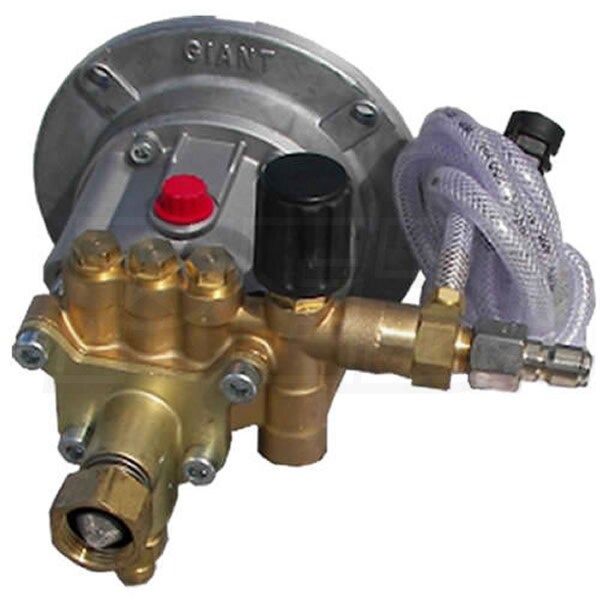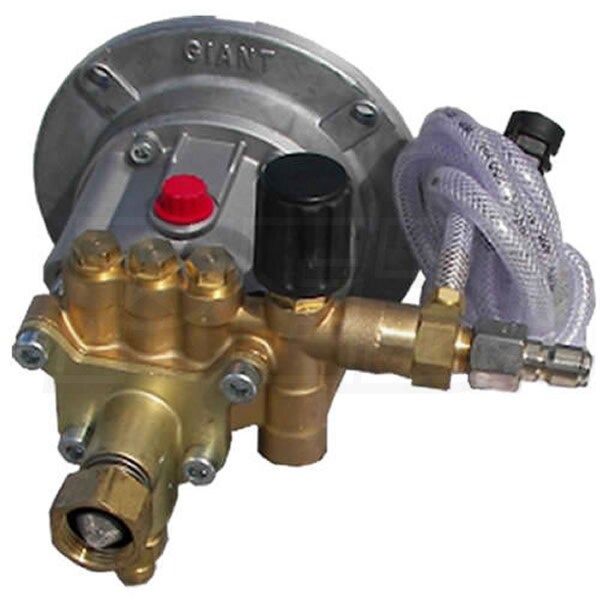 Hover to zoom
1 Of 5
Pressure-Pro Fully Plumbed Giant DeVilbis 2500 PSI 2.5 GPM Triplex Pressure Washer Pump w/ Plumbing Kit
Product Description

Specs

6

Reviews

1

Product Q&A

Recommended Accessories

How-To Articles

Manuals
Grade
Style

Inflow
Garden Hose (Female)
Outflow
3/8" Snap Coupler (Male)
Inflow
Garden Hose (Female)
Outflow
3/8" Snap Coupler (Male)
Features
Features
Why Repair A Worn Out Pump?

Fully Plumbed are ready to go - 4 bolts off - 4 bolts on.

Get a great quality replacement assembly for less than a repair

Giant Brand 2.5 GPM Replacement Pump With Plumbing

Replaces D22306 oil free strap pumps

Be sure to check Owner's Manual PDF for correct attachment points

Built In Thermal Relief Valve

Protects the pump from overheating

Adjustable Unloader

Allows you to set the pressure to suit the task

Includes Siphon Injector

Allows siphon application of pressure washer safe soaps

Specifications:

Inlet port 1/2" NPT; discharge port 3/8" NPT

Vertical swash plate bore 7/8" x 3/16" keyway

Be Sure To Measure Shaft & Bolt Holes Accurately

There is a 25% restock fee on returned pumps

Please Call Us For Sizing Assistance w/ Information Below:

1. Age of Pump and Model # (must be no more than 15-yrs old)

2. Is the pump Vertical or Horizontal

3. Shaft Size - 3/4", 7/8" (vertical ONLY), 1", or Belt Drive XXmm

4. Engine Brand and HP (model # if available would be helpful)

***Shaft Size Measurements Must Be Precise***
Specifications
Pump
Accessories
Pump Type
Triplex Plunger
Inflow
Garden Hose (Female)
Outflow
3/8" Snap Coupler (Male)
Maximum GPM
Gallon per Minute
2.5
Chemical Injections
Siphon Tube
Overview
Product Length
7.86 Inches
Product Width
6.95 Inches
Grade
Style

Inflow
Garden Hose (Female)
Outflow
3/8" Snap Coupler (Male)
Inflow
Garden Hose (Female)
Outflow
3/8" Snap Coupler (Male)
Features
Features
Why Repair A Worn Out Pump?

Fully Plumbed are ready to go - 4 bolts off - 4 bolts on.

Get a great quality replacement assembly for less than a repair

Giant Brand 2.5 GPM Replacement Pump With Plumbing

Replaces D22306 oil free strap pumps

Be sure to check Owner's Manual PDF for correct attachment points

Built In Thermal Relief Valve

Protects the pump from overheating

Adjustable Unloader

Allows you to set the pressure to suit the task

Includes Siphon Injector

Allows siphon application of pressure washer safe soaps

Specifications:

Inlet port 1/2" NPT; discharge port 3/8" NPT

Vertical swash plate bore 7/8" x 3/16" keyway

Be Sure To Measure Shaft & Bolt Holes Accurately

There is a 25% restock fee on returned pumps

Please Call Us For Sizing Assistance w/ Information Below:

1. Age of Pump and Model # (must be no more than 15-yrs old)

2. Is the pump Vertical or Horizontal

3. Shaft Size - 3/4", 7/8" (vertical ONLY), 1", or Belt Drive XXmm

4. Engine Brand and HP (model # if available would be helpful)

***Shaft Size Measurements Must Be Precise***
Specifications
Pump
Accessories
Pump Type
Triplex Plunger
Inflow
Garden Hose (Female)
Outflow
3/8" Snap Coupler (Male)
Maximum GPM
Gallon per Minute
2.5
Chemical Injections
Siphon Tube
Overview
Product Length
7.86 Inches
Product Width
6.95 Inches
Specifications
Pump
Accessories
Pump Type
Triplex Plunger
Inflow
Garden Hose (Female)
Outflow
3/8" Snap Coupler (Male)
Maximum GPM
Gallon per Minute
2.5
Chemical Injections
Siphon Tube
Overview
Product Length
7.86 Inches
Product Width
6.95 Inches
Search Product Q&A's
Answered by Jim. the Pressure Washer Expert
Mike want to replace my Giant 2500 psi gxrh 2422 pump which is on a Honda 5.5 gx160 what do you recommend Thanks Rod
Rod Brown
from Michigan
May 25, 2015
Answer
For your Honda GX160, I would recommend the AR pump model RMV25G30D. I have attached a link for you to view that item. The AR pump is the best consumer grade pump in the industry and I would not hesitate to recommend it.
AR Pump
Was this answer helpful?
Yes
0
No
0
Expert Recommended Accessories
Hand Picked By Our Expert Jim
Required Accessories
Add All Required
+
Ask Jim, Our Product Expert, A Question!
*Required Fields
+
Thank You For Submitting Your Question
Your submission has been sent successfully. Please give our experts up to two business days to respond.
Media Gallery
Pressure-Pro Fully Plumbed Giant DeVilbis 2500 PSI 2.5 GPM Triplex Pressure Washer Pump w/ Plumbing Kit