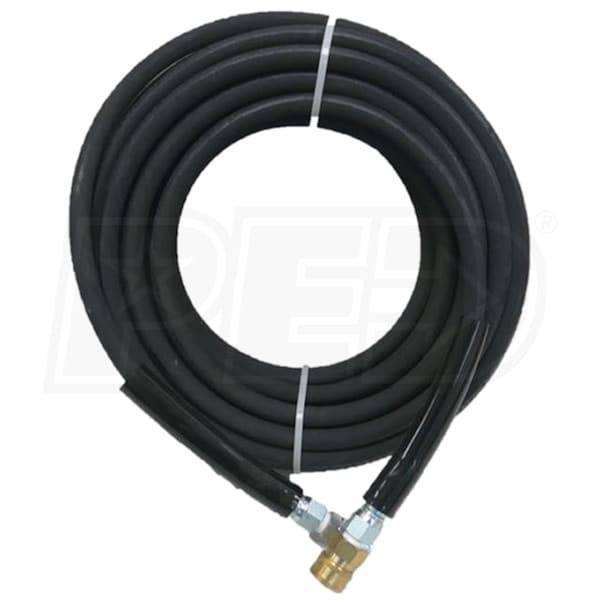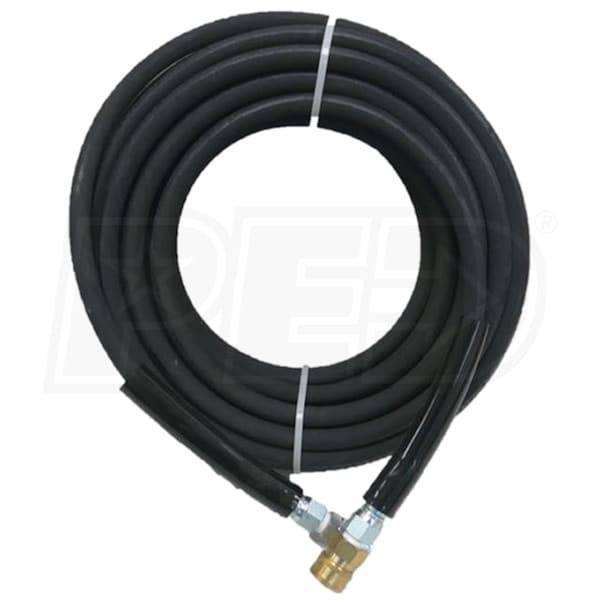 Hover to zoom
1 Of 5
Raptor Blast R1 100-Foot (3/8") 4000 PSI High Pressure Hose w/ Quick Connectors (Hot / Cold Water)
Product Description

Specs

1

Reviews

1

Product Q&A

Recommended Accessories

How-To Articles
Grade
Style

Inflow
3/8" Snap Coupler (Male)
Outflow
3/8" Snap Coupler (Female)
Inflow
3/8" Snap Coupler (Male)
Outflow
3/8" Snap Coupler (Female)
Features
Features
Durable Hose For Hot & Cold Water Pressure Washers

Use for water temperatures -40°F to 275°F (310°F max)

Not for steam use

Tough Cover

Extra steel wire for additional density

Adds extra protection & wear resistance

Superior Flexibility

Lays out smoothly with fewer kinks

Oil Resistant Tube & Cover

Ideal for workplace cleaning

Heavy Duty PVC Bend Restrictors

Saves wear & tear where the connectors attach to the hose

Swivel Fitting On One End

Helps keep the hose from tangling

Quality Quick Connectors

Easy on, easy off for efficient setup
Specifications
Accessories
Accessory Grade
Professional
Inflow
3/8" Snap Coupler (Male)
Outflow
3/8" Snap Coupler (Female)
Overview
Consumer Warranty
90 Days
Product Length
100' Inches
Grade
Style

Inflow
3/8" Snap Coupler (Male)
Outflow
3/8" Snap Coupler (Female)
Inflow
3/8" Snap Coupler (Male)
Outflow
3/8" Snap Coupler (Female)
Features
Features
Durable Hose For Hot & Cold Water Pressure Washers

Use for water temperatures -40°F to 275°F (310°F max)

Not for steam use

Tough Cover

Extra steel wire for additional density

Adds extra protection & wear resistance

Superior Flexibility

Lays out smoothly with fewer kinks

Oil Resistant Tube & Cover

Ideal for workplace cleaning

Heavy Duty PVC Bend Restrictors

Saves wear & tear where the connectors attach to the hose

Swivel Fitting On One End

Helps keep the hose from tangling

Quality Quick Connectors

Easy on, easy off for efficient setup
Specifications
Accessories
Accessory Grade
Professional
Inflow
3/8" Snap Coupler (Male)
Outflow
3/8" Snap Coupler (Female)
Overview
Consumer Warranty
90 Days
Product Length
100' Inches
Specifications
Accessories
Accessory Grade
Professional
Inflow
3/8" Snap Coupler (Male)
Outflow
3/8" Snap Coupler (Female)
Overview
Consumer Warranty
90 Days
Product Length
100' Inches
Search Product Q&A's
Answered by Jim. the Pressure Washer Expert
Does this hose have brass or stainless steel quick connects?
Margaret Mulberry
from Illinois
July 08, 2015
Answer
This hose has brass quick connect fittings.
Was this answer helpful?
Yes
0
No
0
Expert Recommended Accessories
Hand Picked By Our Expert Jim
Required Accessories
Add All Required
+
Ask Jim, Our Product Expert, A Question!
*Required Fields
+
Thank You For Submitting Your Question
Your submission has been sent successfully. Please give our experts up to two business days to respond.
Media Gallery
Raptor Blast R1 100-Foot (3/8") 4000 PSI High Pressure Hose w/ Quick Connectors (Hot / Cold Water)