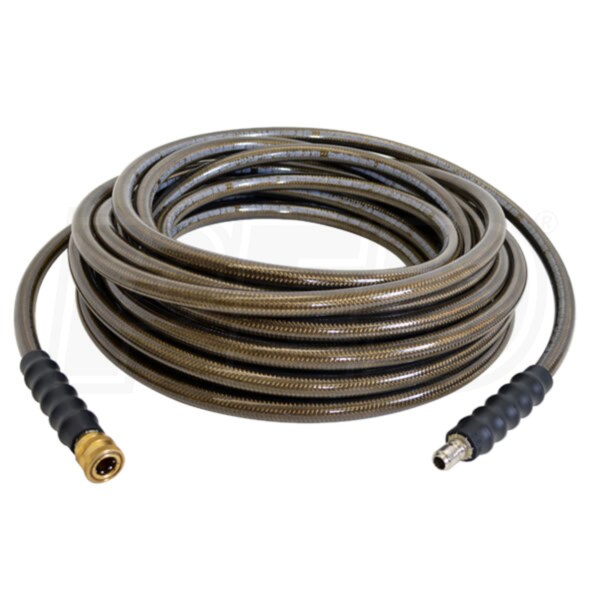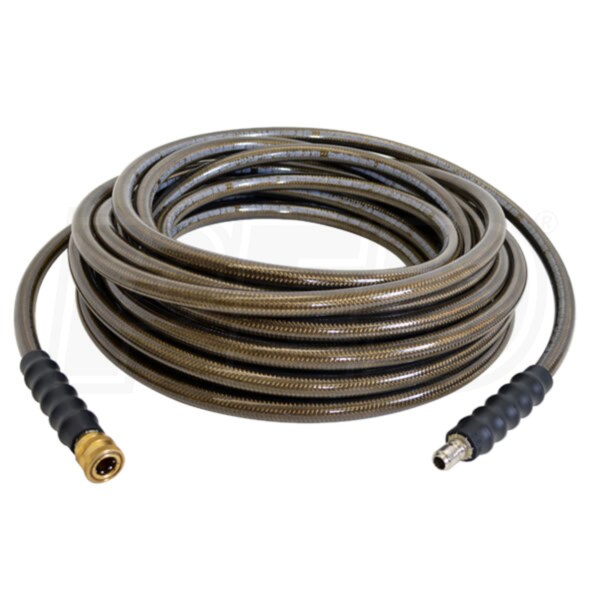 Hover to zoom
1 Of 5
Simpson Monster 150-Foot (3/8") 4500 PSI High-Pressure Hose w/ Quick Connectors
Product Description

Specs

5

Reviews

1

Product Q&A

Recommended Accessories

How-To Articles
Grade
Style

Inflow
3/8" Snap Coupler (Male)
Outflow
3/8" Snap Coupler (Female)
Inflow
3/8" Snap Coupler (Male)
Outflow
3/8" Snap Coupler (Female)
Features
Features
Finest Hose Available For Cold Water Pressure Washers

Dual braid technology features polyester braid over tough liner

Brass coated steel braid covers the polyester braid

Clear, non-marring outer jacket over the brass coated steel braid

Tough And Durable

Up to 4500 PSI working pressure

Rated up to 140°F; use for cold water applications only

Includes 6 inch Rubber bend protectors on both ends

Fits Most Gas Pressure Washers Up To 4000psi

Fitted with 3/8" male and female quick-connect fittings
Specifications
Hose
Hose Material
Polyurethane
Hose Connections
Quick-Connect
Accessories
Accessory Grade
Professional
Inflow
3/8" Snap Coupler (Male)
Outflow
3/8" Snap Coupler (Female)
Overview
Consumer Warranty
90 Days
Product Height
3/8 Inches
Additional Model Numbers
MH15038QC, 41032
Grade
Style

Inflow
3/8" Snap Coupler (Male)
Outflow
3/8" Snap Coupler (Female)
Inflow
3/8" Snap Coupler (Male)
Outflow
3/8" Snap Coupler (Female)
Features
Features
Finest Hose Available For Cold Water Pressure Washers

Dual braid technology features polyester braid over tough liner

Brass coated steel braid covers the polyester braid

Clear, non-marring outer jacket over the brass coated steel braid

Tough And Durable

Up to 4500 PSI working pressure

Rated up to 140°F; use for cold water applications only

Includes 6 inch Rubber bend protectors on both ends

Fits Most Gas Pressure Washers Up To 4000psi

Fitted with 3/8" male and female quick-connect fittings
Specifications
Hose
Hose Material
Polyurethane
Hose Connections
Quick-Connect
Accessories
Accessory Grade
Professional
Inflow
3/8" Snap Coupler (Male)
Outflow
3/8" Snap Coupler (Female)
Overview
Consumer Warranty
90 Days
Product Height
3/8 Inches
Additional Model Numbers
MH15038QC, 41032
Specifications
Hose
Hose Material
Polyurethane
Hose Connections
Quick-Connect
Accessories
Accessory Grade
Professional
Inflow
3/8" Snap Coupler (Male)
Outflow
3/8" Snap Coupler (Female)
Overview
Consumer Warranty
90 Days
Product Height
3/8 Inches
Additional Model Numbers
MH15038QC, 41032
Search Product Q&A's
Answered by Jim. the Pressure Washer Expert
My NON-MARKING hose is leaving marks!! Help?
Margaret Mulberry
from Illinois
October 17, 2014
Answer
Regarding non-marking leaving "marks" the non-marking hose jacket is a silicone rubber compound. When being used it does not permanently mark or staining the surface.

However all hoses, standard and non-marking blue and gray, when being dragged across a rough surface have small particles of the rubber outer cover abraded off. With non-marking hose there is no carbon black in the jacket material that stains or permanently marks the surface. The small particles of rubber jacket however will show and can collect in depressions on the surface or where rinse water is channeled by the hose itself or other equipment. These particles are easily rinsed away. High temperature operation softens the silicone rubber jacket material and causes the hose to abrade easier leaving more jacket material on the surface.

Standard black pressure washer hose is a different rubber compound that contains carbon black. When black hose is exposed to water, high temperatures and many common pressure washer chemicals the carbon black will leach out of the rubber jacket and permanently stain the surface.

Was this answer helpful?
Yes
1
No
0
Expert Recommended Accessories
Hand Picked By Our Expert Jim
Required Accessories
Add All Required
+
Ask Jim, Our Product Expert, A Question!
*Required Fields
+
Thank You For Submitting Your Question
Your submission has been sent successfully. Please give our experts up to two business days to respond.
Media Gallery
Simpson Monster 150-Foot (3/8") 4500 PSI High-Pressure Hose w/ Quick Connectors