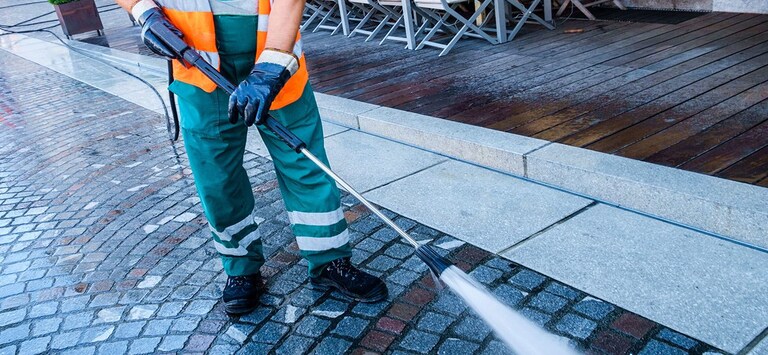 Best Commercial Pressure Washers of 2023
Best-Selling & Top-Rated Commercial Pressure Washers
For your business, you need the best tools that work as hard as you. Whether you're just starting your own business or just looking for the best kit money can buy, you want equipment that will last.

To help you pick the perfect one, we put together the Best Commercial Pressure Washers of 2021 based on our best-selling, highest-rated models with expert recommendations to ensure you get the perfect type for your needs. So whether you're looking for the best individual commercial unit or a kit, we've got you covered.

Starting or running your own cleaning business? Read up on how to expand your pressure washer business. You can also peruse our other lists of Best Pressure Washers.

Happy cleaning! 

---
Best Commercial Pressure Washers List

You can scroll through the full recommended list of commercial pressure washers categories below. Or, click on a specific category that interests you.


Best Commercial Business Kit
1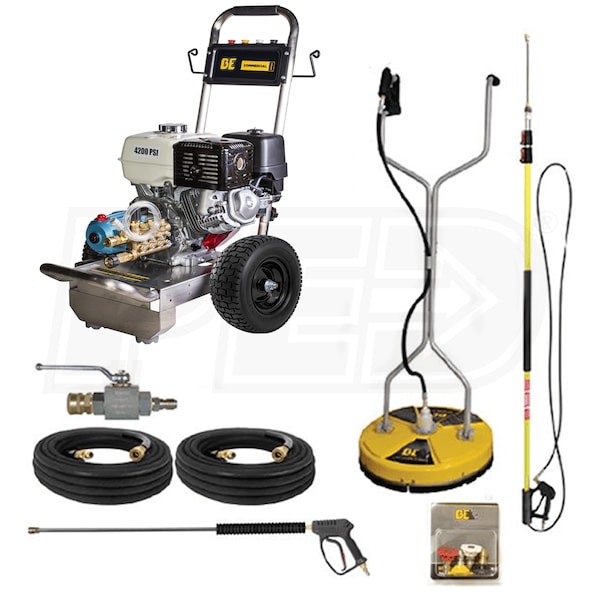 Expert Review
EVERYTHING you need is in this BE pressure washing kit! This washer comes with a Honda 13HP GX engine, a CAT triplex pump, and oversized vibration-reducing tires to make cleaning easier than ever. A Honda engine and CAT pump are set on a durable stainless-steel frame with convenient on-board tip storage and hose/gun hook. In addition, the 20" BE Whirl-A-Way surface cleaner will drastically reduce your cleaning time! It also includes a telescoping wand and extra 50' hose!
Features
Ideal for Estates, Farms, & Light Commercial Applications
High quality pressure washer components save time & money
Powerful 13-HP Commercial Grade GX390 Honda Engine
Starts easily, exceptionally quiet & lower fuel consumptions
CAT 67DX Triplex Plunger Pump
4 gallons per minute cleans quickly and economically
Adjustable pressure lets you suit the water force to the task
Durable Stainless Steel Frame With Oversize Foam-Filled Tires
Anti-vibration rubber foot prevents creeping during operation
Frame cut-outs to easily change engine oil
Professional Style Spray Gun & Wand (Model: 85.205.026)
Two 50' x 3/8" steel braid reinforced hose (Model: 85.238.153)
Quick connect nozzles in 0°, 15°, 40°, & soap nozzle (Model: 85.210.040BEP)
---
Best Commercial Portable Pressure Washer
2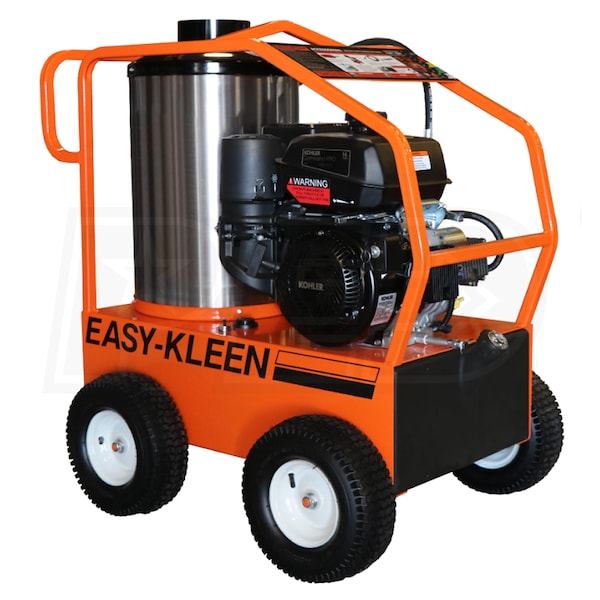 Expert Review
Like all Easy Kleen pressure washers, this machine is a commercial-grade cleaning machine! With a commercial-grade 14 HP engine and a Commercial Duty 3.5GPM Triplex Pump, this unit with clean anything you could dream of with ease. Plus, the oil-fired burners provide 350,000 BTUs for fast heating! The 150-degree temp rise gives you the option to get tough stains removed without scrubbing or damaging the surface with high PSI. With the diesel-fired burner, you have a 10-quart tank with an adjustable thermostat to better control the temperature, too. Lastly, the electric start lets you begin with the touch of a button! (battery not included). Roll it around on its impossibly tough 12 gauge one-piece steel frame roll cage, and it may just be the last pressure washer you ever need.
Features
Schedule 80 Heating Coil With Stainless Steel Shell
3.5 GPM Commercial Duty General Triplex Plunger Pump
Durable oil bath crankcase, stainless valves & brass manifolds
14-HP Kohler Command Pro Commercial Grade Engine
Easy starting, quiet & reliable performance (battery not incl.)
Achieves a 145°F to 150°F rise in temperature over ambient
Completely sealed with ceramic blanket for total efficiency
Quality North American Made 12 Volt Oil-Fired Burners
Adjustable thermostat for efficiency & dependability
Rugged 12 Gauge One-Piece Roll Cage Steel Frame
Powder coated to resist rust & corrosion
All welded, with a lifting bar for easy transport
13" pneumatic wheels on 3/4" axles maneuver easily & quietly
Saves on heat-up time & fuel every time you use it
Adjustable pressure lets you suit the task at hand
---
Best Commercial Belt-Driven Pressure Washer
3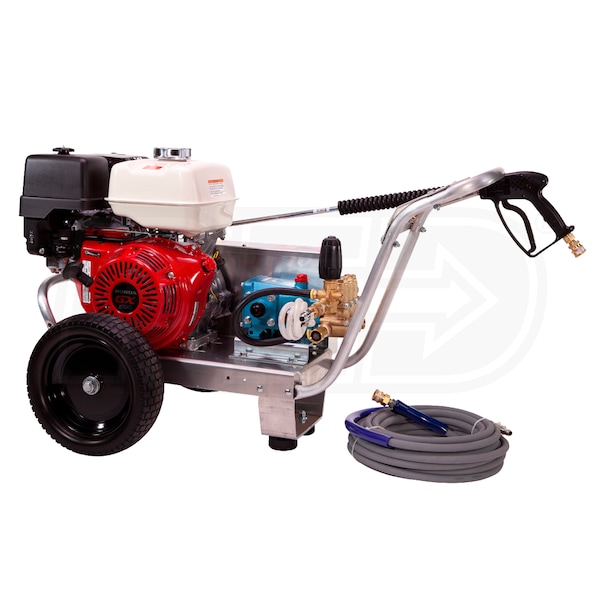 Expert Review
So why is this unit at the "Best" choice, when it looks so much like our "Better" choice? The difference becomes apparent when you look closely- it's the CAT brand pump. Our "Good" choice has a reliable General brand pumps- good pumps at a good price. CAT pumps have the same reputation in the pump business that Honda has in small engines. Durable and easy to service, this unit will work as hard as you do, day in and day out.
Features
Pressure-Pro Eagle Series Professional Gas Pressure Washer
Powerful 13-HP Honda GX390 Commercial Grade
Easy to start; quiet and reliable with low oil shutdown
Precision engineered components result in lower vibration
Exclusive CAT Brand Belt Drive Triplex Plunger Pump
Ceramic components & belt drive run cooler, last longer
Siphon tube detergent injection lets you use a wide variety of cleaners
General Pulsar Modular Unloader With EZ Start Valve
Allows you to customize the pressure to suit the job
Revolutionary Aircraft Grade Aluminum Frame
Dual padded shock absorbing feet
Lightweight; no welds to crack, break, or fail
Lifetime frame warranty protects your investment
---
Best Truck-Mount (Skid) Pressure Washer
4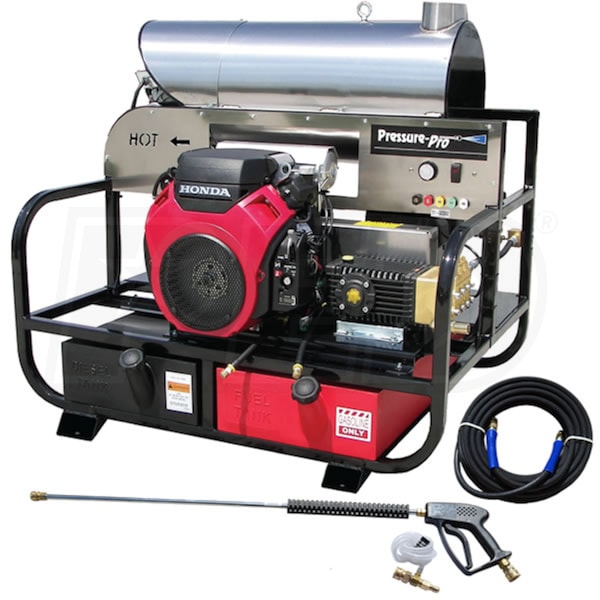 Features
Skid Mounted Power For Industrial Use
8 gallons per minute gets large jobs done efficiently
Powerful 688cc Honda GX 690 Engine With Electric Start
Starts with the turn of a key; Includes marine battery box (12V Battery Sold Separately)
TSF2021 Triplex Plunger Pump by General Pump
Adjustable pressure adds versatility
Rugged steel low-profile frame; powder coated finish resists rust
Reliable Beckett Burner
Adjustable thermostat to suit the task at hand
High limit overtemp protection & safety relief valve for your protection
Super efficient insulated schedule 80 coil
Dual Built-In Fuel Tanks
Two convenient 12 gallon tanks: one for diesel, one for gas
---
Best Pressure Washer Trailer
5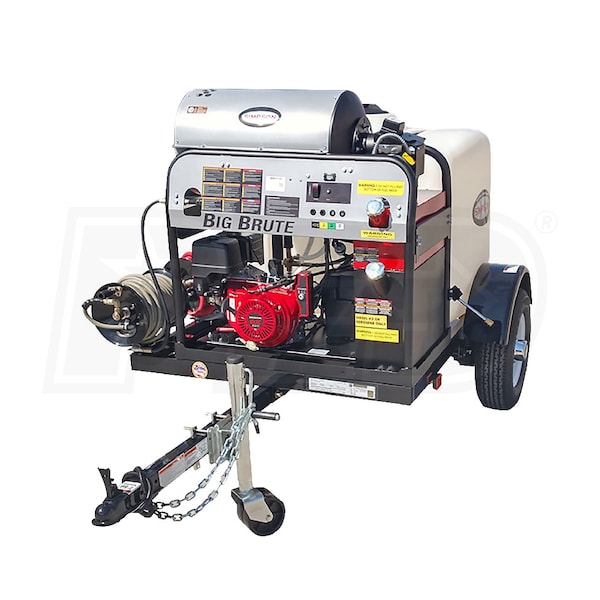 Expert Review
What gives you top-of-the-line performance with no water supply on-site? This is the machine you need! This trailer-mounted washer is equipped with a Honda GX390 engine with an electric start, a Comet pump, and a burner for hot water washing performance that can't be beaten. You can take your water supply on-the-go with this 200-gallon tank. Once you park, you can rely on the garden and high-pressure hose reels on board to give you the cleaning range you need.
Features
Hot Water Mobile Washing Simpson Trailer Pressure Washer
Engineered with power and performance
Perfectly suited for contractors, municipalities, resorts, etc.
12V oil fired burner uses #2 diesel or Kerosene and has a max heat rise of 120°
Commercial-Grade Honda GX390 OHV Engine w/ Electric Start
Full pressure lubrication with spin-on oil filter
GX Series offers premium features and quality
More power, quieter performance and lower fuel consumptio
Requires 12-Volt 14AH Battery (Not Included)
High-Performance Comet Triplex Plunger Pump
Ceramic pistons run cooler & last longer
Commercial quality & durability; can be rebuilt
Adjustable pressure and thermal relief valve
Welded Box Steel DOT Construction
Large 13" pneumatic tires for easy towing
3500 lb. single axle construction & 2" ball coupling
LED lighting package with metal license plate holder
200-Gallon Water Tank
Easy to read water levels, steel straps & drain petcocks
Makes job-site setup a snap; no need to hunt for water hookup
---
Best Sanitizing Pressure Washer
6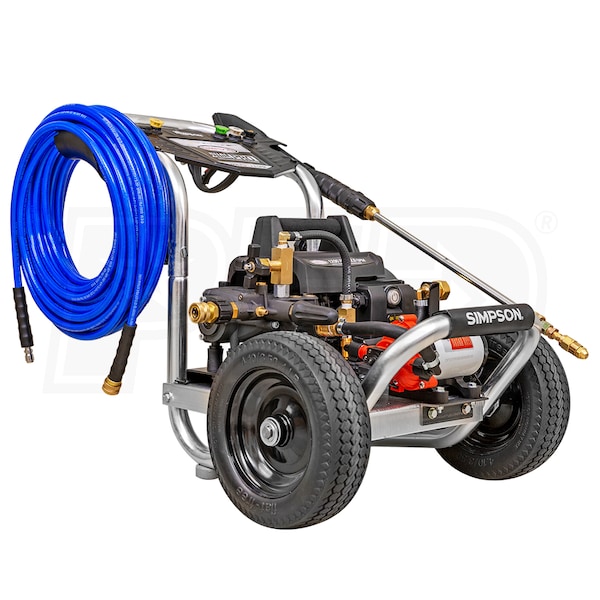 Product Discontinued
Sorry, this product is no longer available.
Please check back next season
Features
Simpson All-In-One Commercial Grade Pressure Washer
90 PSI (.06 GPM)Mister & powerful 1200 PSI (2 GPM) for pressure washing
Offers versatility, portability, and power to remove dirt and germs
Professional Misting Nozzle
Can be used with disinfectants like Vital Oxide
Delivers in uniform mist for an outstanding disinfection application
Sanitizer and Disinfectant Ability
Designed for Health Care, Education, Grocery, Retail, Farming, Food Processing, Public Transportation, Manufacturing Facility, Veterinary, Maintenance & Hospitality and Fitness Facilities
Self-Priming AAA Industrial Triplex Pump
Runs cooler & lasts longer than axial pumps
Draws water or chemicals vertically up to 5 feet through its large 5/8" supply hose
Electric 1.6-HP Induction Motor
120-volt with 35ft power cord with GFCI
Designed to operate from any standard 15-amp outlet
---
Best Wall-Mount Pressure Washer
7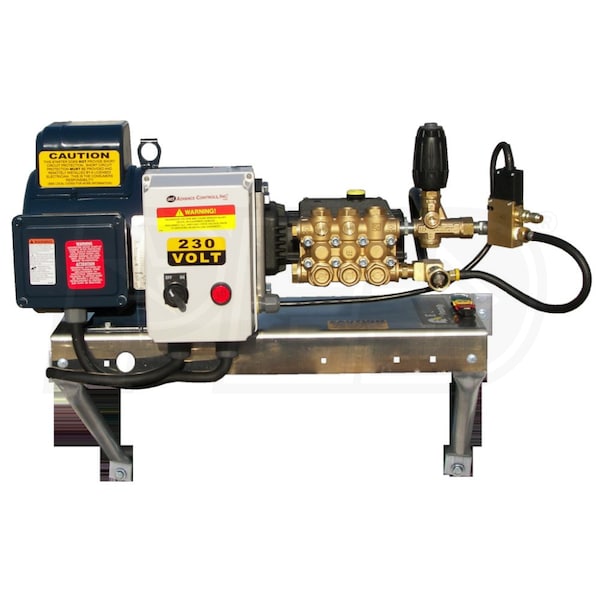 Expert Review
This Pressure-Pro model gives you all the same cleaning ability as the EE3015G but with a sturdy wall mount and auto stop-start. It includes a 3 horsepower commercial grade 12 amp induction motor and 3 GPM's of cleaning flow power! The auto stop-start feature will prolong the life of this model considerably. A great option for car wash applications when you need the pressure washer to start as you pull the trigger and stop when you release it. The 3400 RPM pump is quiet, too. When including the Thermo Sensor to prevent overheating in bypass mode and a 50 mesh inlet filter to further protect from dirty water, this model is a great option at an even better price.
Features
Professional Eagle Series Wall Mounted Pressure Washer
Heavy duty shelf mounted unit for convenience and security
3-HP Commercial Grade 12 Amp Induction Motor
230-volt motor comes with 12-foot cord; add your own plug
Triplex Plunger Pump by General Pump
3400 RPM pump is quiet and powerful
Ceramic components run cooler, last longer
Easy to maintain and rebuild
Professional Quality Gun/Wand Assembly
5 quick connect nozzles: 0º, 15º, 25º, 40º, chemical application
50 feet of steel reinforced, high-pressure hose
Thermo Sensor
Prevents overheating in bypass mode
---
Best Jetter
8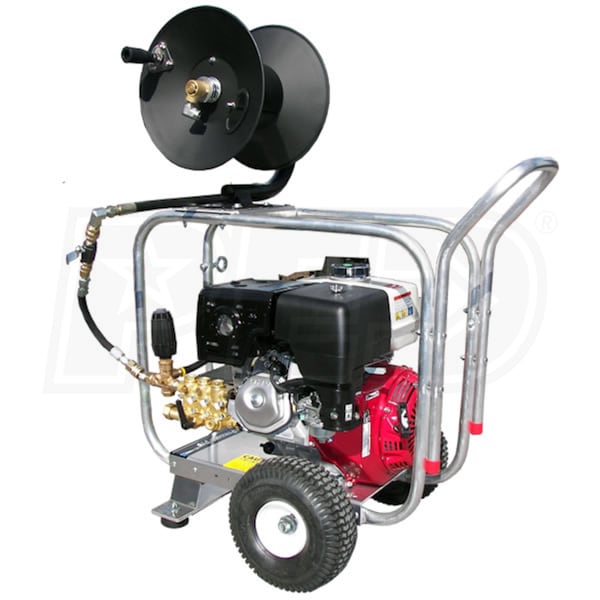 Features
Pro-Jet Drain Cleaner
Self contained & powerful
Cleans out pipes without damage from moving parts
Honda GX390 Engine
Easy to start & reliable
Smooth performance is exceptionally quiet
Oil Alert
Protects the engine & makes maintenance easier
General Triplex Plunger Pump
Ceramic plungers run cooler & last longer than axial pumps
Adjustable Pressure
Use more or less pressure to suit the pipes you're cleaning
---
Was this article helpful?