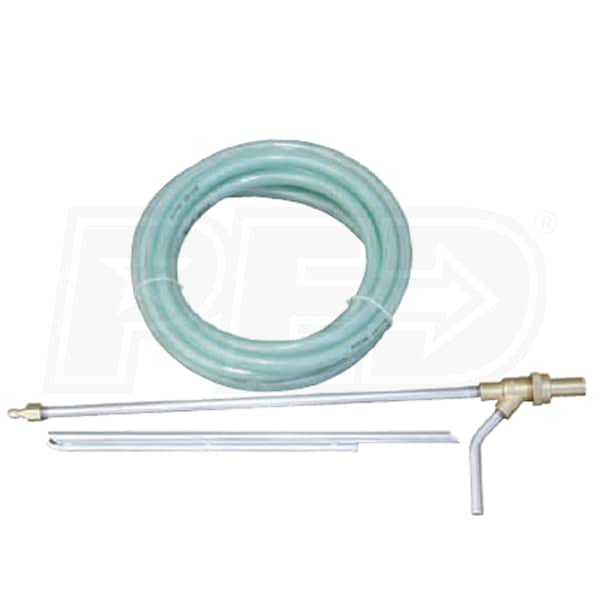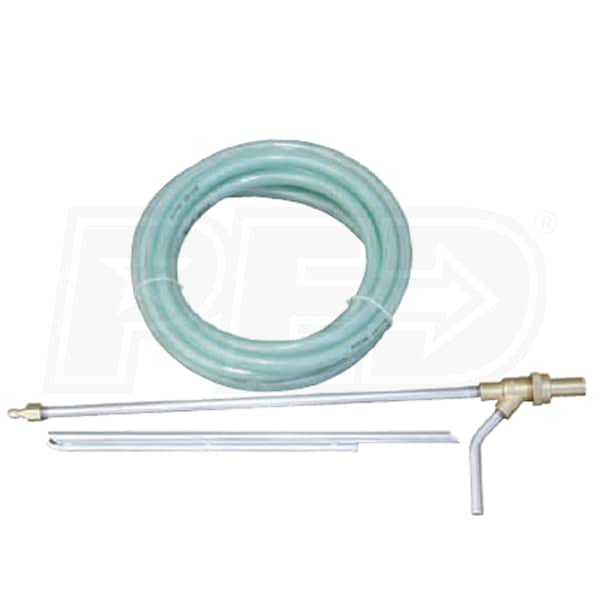 Hover to zoom
1 Of 5
General Pump 3500 PSI Sandblasting Kit
Product Description

Specs

16

Reviews

2

Product Q&A

Recommended Accessories

How-To Articles

Manuals
Grade

Style

Inflow
1/4" Snap Coupler (Male)
Outflow
Wet Sandblast
Inflow
1/4" Snap Coupler (Male)
Features
Features
Wet Sandblaster For Abrasive Cleaning

For suction-fed injection of sand into water stream

Maximum Working Pressure 3500 PSI

Minimum working pressure 1500 PSI

Maximum flow rate 8 GPM; minumum flow rate 3 GPM

Maximum rated temperature 200°F

Parts Included:

20' polyurethane hose 1/4" diameter; outlet;

16" Aluminum sand wand; mixing nozzle & seal

24" Water/Sand Outlet (3 Ports)

Port 1: gun connection (1/4" male quick-connect plug) 18" Input

Port 2: sand wand connection 5" angled lance input

Port 3: rubber water/sand nozzle holder (6/16" circular) output

Handles Several Sizes & Types Of Media

Permanent nozzle included

A PDF download with instructions can be found under the Specs Tab

Works With Many Brands Of Pressure Washer
Specifications
Spray Gun
Spray Gun Connection
Quick-Connect
Hose
Hose Material
Polyurethane
Accessories
Inflow
1/4" Snap Coupler (Male)
Minimum GPM
Gallon per Minute
3.0
Overview
Consumer Warranty
90 Days
Grade

Style

Inflow
1/4" Snap Coupler (Male)
Outflow
Wet Sandblast
Inflow
1/4" Snap Coupler (Male)
Features
Features
Wet Sandblaster For Abrasive Cleaning

For suction-fed injection of sand into water stream

Maximum Working Pressure 3500 PSI

Minimum working pressure 1500 PSI

Maximum flow rate 8 GPM; minumum flow rate 3 GPM

Maximum rated temperature 200°F

Parts Included:

20' polyurethane hose 1/4" diameter; outlet;

16" Aluminum sand wand; mixing nozzle & seal

24" Water/Sand Outlet (3 Ports)

Port 1: gun connection (1/4" male quick-connect plug) 18" Input

Port 2: sand wand connection 5" angled lance input

Port 3: rubber water/sand nozzle holder (6/16" circular) output

Handles Several Sizes & Types Of Media

Permanent nozzle included

A PDF download with instructions can be found under the Specs Tab

Works With Many Brands Of Pressure Washer
Specifications
Spray Gun
Spray Gun Connection
Quick-Connect
Hose
Hose Material
Polyurethane
Accessories
Inflow
1/4" Snap Coupler (Male)
Minimum GPM
Gallon per Minute
3.0
Overview
Consumer Warranty
90 Days
Specifications
Spray Gun
Spray Gun Connection
Quick-Connect
Hose
Hose Material
Polyurethane
Accessories
Inflow
1/4" Snap Coupler (Male)
Minimum GPM
Gallon per Minute
3.0
Overview
Consumer Warranty
90 Days
Search Product Q&A's
Answered by Jim. the Pressure Washer Expert
I have an Ex-cell XR2750 pressure washer; rated at 2750 psi @ 2.5 gpm. Will I be able to use either the General Pump 3500 PSI Sandblasting Kit or the General Pump 5500 PSI Sandblasting Kit or do I need a different pressure washer?
Matt
from Florida
January 10, 2013
Answer
Unfortunately your pressure washer would not be able to properly operate either one of the sandblast kits you mentioned. The GP 3500 psi sandblasting kit requires at least 3 gpm's and the 5500 psi version requires 3.5 gpm's. Sorry, we do not carry a wet sandblasting kit that would work with your pressure washer ratings.
Was this answer helpful?
Yes
0
No
0
Hi, will the General Pump 3500 PSI Sandblasting Kit work with an electric power washer?
Dan
from Virginia
September 19, 2011
Answer
Yes this product will work with an electric pressure washer as long as it meets the psi and gpm requirements of at least 1500 psi and 3.0 gpm. Also, the electric pressure washer would need to have a quick connect coupler on the end of the wand.
Was this answer helpful?
Yes
0
No
0
Expert Recommended Accessories
Hand Picked By Our Expert Jim
Required Accessories
Add All Required
+
Ask Jim, Our Product Expert, A Question!
*Required Fields
+
Thank You For Submitting Your Question
Your submission has been sent successfully. Please give our experts up to two business days to respond.
Media Gallery
General Pump 3500 PSI Sandblasting Kit