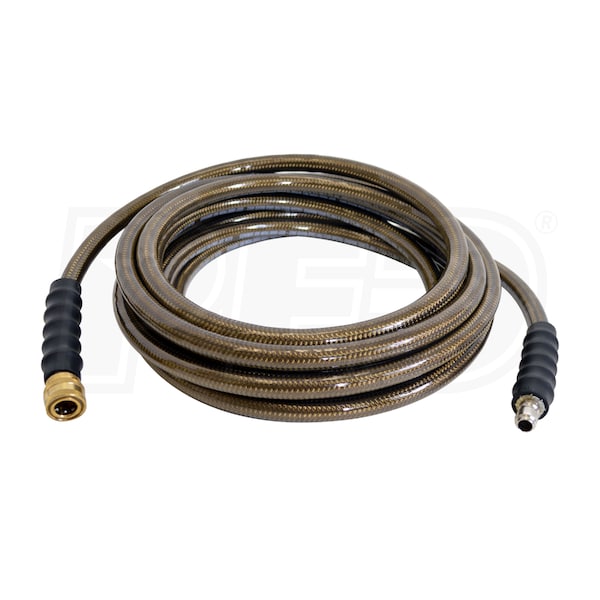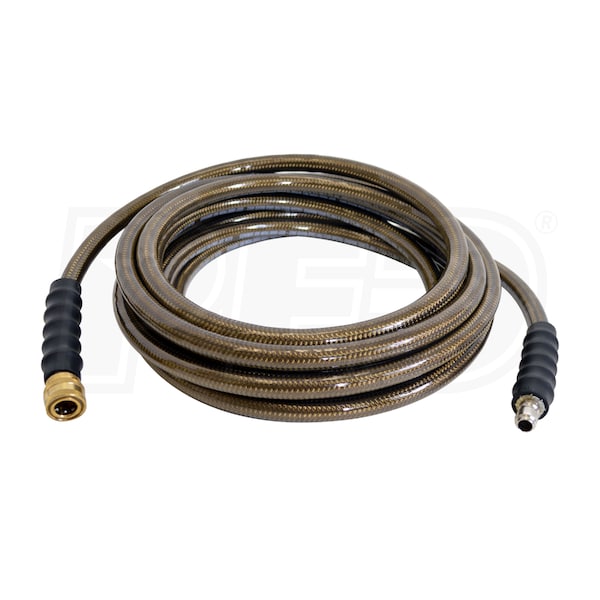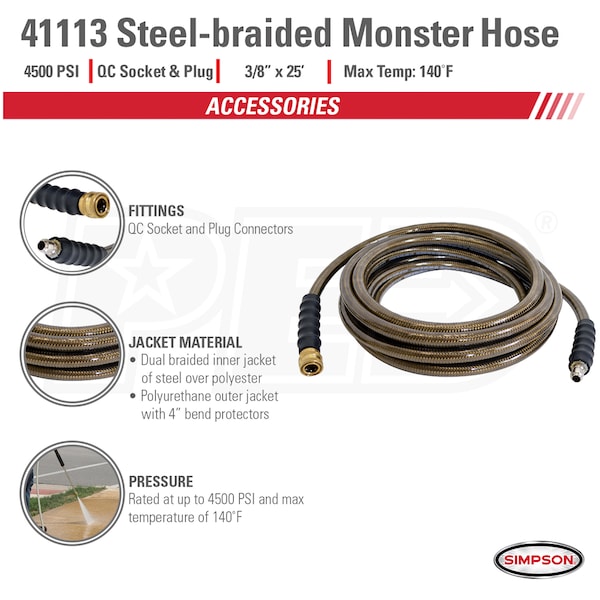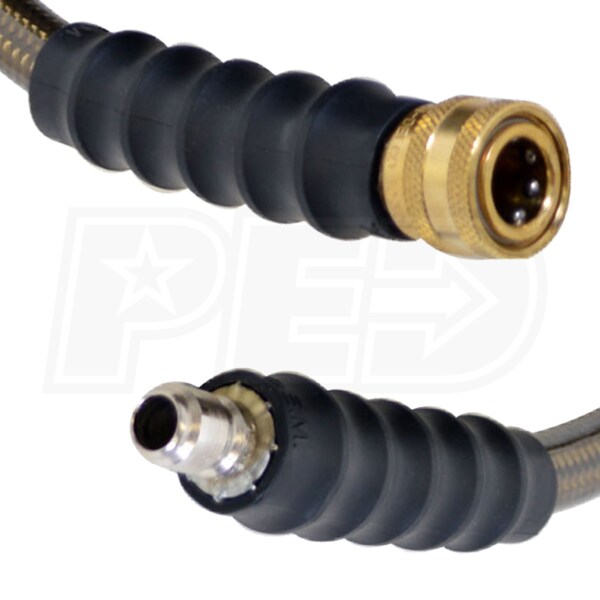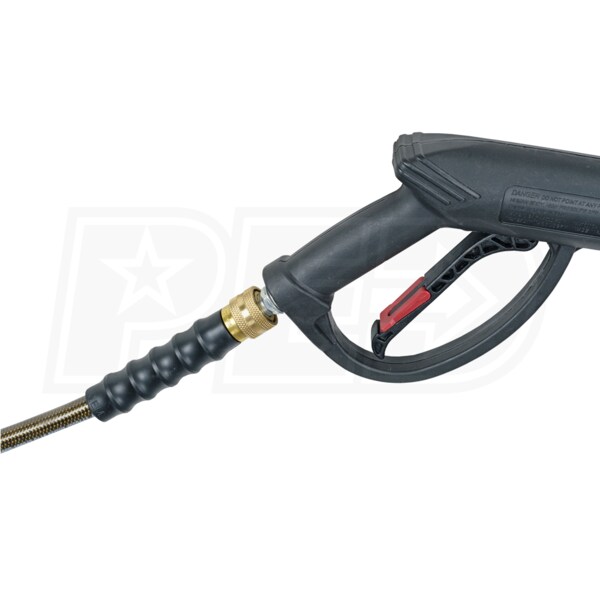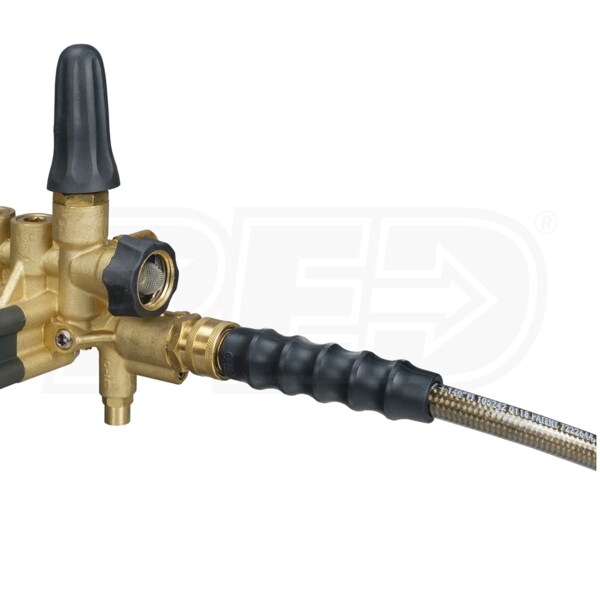 Hover to zoom
1 Of 5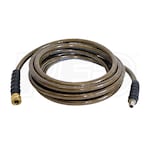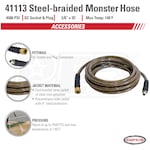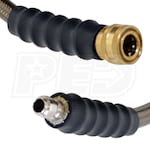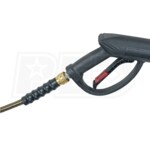 Simpson 25-Foot (3/8") 4500 PSI Replacement / Extension Hose w/ Quick Connectors
Product Description

Specs

3

Reviews

2

Product Q&A

Recommended Accessories

How-To Articles
Grade
Style

Inflow
3/8" Snap Coupler (Male)
Outflow
3/8" Snap Coupler (Female)
Inflow
3/8" Snap Coupler (Male)
Outflow
3/8" Snap Coupler (Female)
Features
Features
Extension / Replacement Hose

Includes quick connectors to link two 3/8" hoses together

Works With Hot Or Cold Water Pressure Washers

Easily handles water up to 140°F & 4500 PSI

Multi-Layer Hose

Tough inner tube is overbraided by strong steel braid

Non-marking gray outer jacket is abrasion-resistant

6" Bend Protectors

Prevents wear & tear around the connectors; hose lasts longer
Specifications
Hose
Hose Material
Wire Reinforced
Hose Connections
Quick-Connect
Accessories
Accessory Grade
Professional
Inflow
3/8" Snap Coupler (Male)
Outflow
3/8" Snap Coupler (Female)
Overview
Consumer Warranty
90 Days
Commercial Warranty
90 Days
Product Height
3/8 Inches
Grade
Style

Inflow
3/8" Snap Coupler (Male)
Outflow
3/8" Snap Coupler (Female)
Inflow
3/8" Snap Coupler (Male)
Outflow
3/8" Snap Coupler (Female)
Features
Features
Extension / Replacement Hose

Includes quick connectors to link two 3/8" hoses together

Works With Hot Or Cold Water Pressure Washers

Easily handles water up to 140°F & 4500 PSI

Multi-Layer Hose

Tough inner tube is overbraided by strong steel braid

Non-marking gray outer jacket is abrasion-resistant

6" Bend Protectors

Prevents wear & tear around the connectors; hose lasts longer
Specifications
Hose
Hose Material
Wire Reinforced
Hose Connections
Quick-Connect
Accessories
Accessory Grade
Professional
Inflow
3/8" Snap Coupler (Male)
Outflow
3/8" Snap Coupler (Female)
Overview
Consumer Warranty
90 Days
Commercial Warranty
90 Days
Product Height
3/8 Inches
Specifications
Hose
Hose Material
Wire Reinforced
Hose Connections
Quick-Connect
Accessories
Accessory Grade
Professional
Inflow
3/8" Snap Coupler (Male)
Outflow
3/8" Snap Coupler (Female)
Overview
Consumer Warranty
90 Days
Commercial Warranty
90 Days
Product Height
3/8 Inches
Search Product Q&A's
Answered by Jim. the Pressure Washer Expert
Is this hose compatible with the Rigid RD80746 pressure washer?
Emanuel
from Maryland
July 04, 2016
Answer
Yes, your pressure washer had quick connect fittings on it. This would be the correct replacement hose for you.
Was this answer helpful?
Yes
0
No
0
Have a Ryobi 80030 300 psi 2.7 GPm Can this hose be used as a replacement hose for this unit??
Ray
from Pennsylvania
August 18, 2015
Answer
Yes, this unit would work as a replacement for your unit. From the specs shown online, your unit uses a quick connect attachment and this hose would work.
Was this answer helpful?
Yes
0
No
0
Expert Recommended Accessories
Hand Picked By Our Expert Jim
Required Accessories
Add All Required
+
Ask Jim, Our Product Expert, A Question!
*Required Fields
+
Thank You For Submitting Your Question
Your submission has been sent successfully. Please give our experts up to two business days to respond.
Media Gallery
Simpson 25-Foot (3/8") 4500 PSI Replacement / Extension Hose w/ Quick Connectors